Week Forty-Six: Professional Recipes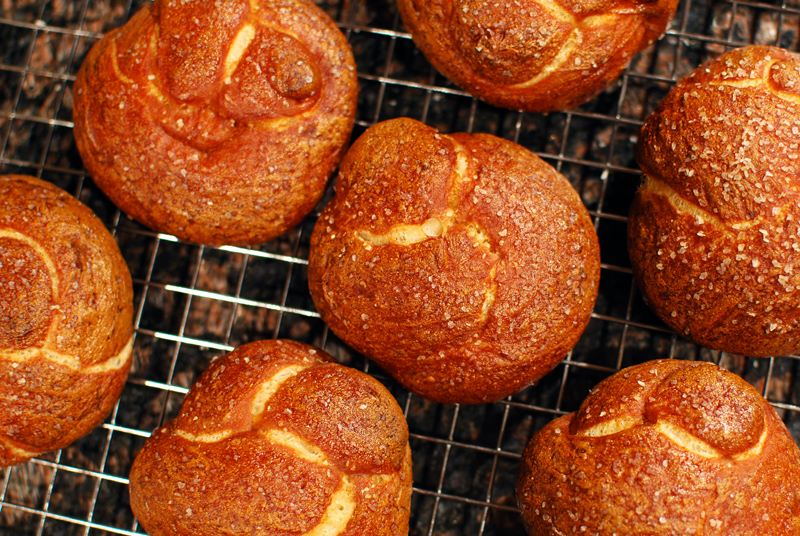 If I were forced to choose a favorite bread — for me, a Sisyphean task — boiled pretzels would surely be in the final running.  Something about their sticky, almost metallic-tasting skin, tight around the dense and ivory interior, just does it for me.  The pretzels I've made before have been quite good, so with such amateur successes under my belt, I was excited to try this professional-level recipe, from Wolfgang Puck's Cut in Las Vegas.
But if I'm honest, in the end I was a bit disappointed.  I wasn't sure if it was the recipe or the cook to blame (perhaps a little of both), but they weren't quite what I'd envisioned.  The recipe directs you to refrigerate the rising dough, during both proofing and fermentation.  Dutifully, I followed instructions, forgetting that Las Vegas usually runs about a thousand degrees hotter than does Chicago in November, and is about 1500 feet higher up than Chicago.
What does that have to do with anything?  Well, the extra heat and higher elevation both would make the yeast work more quickly.  Refrigerating the dough slows that activity down, and in such hot and high environments would result in a perfectly-leavened dough.  But in my cooler kitchen, closer to sea level, the technique resulted in a cold, totally un-puffed lump.
I know, some of you are crying foul over my claim that the outside temperature in Las Vegas has anything to do with the temperature inside, where the dough would be rising.  Yes, yes, air conditioning and all that.  But have you ever been in a professional kitchen, especially a steakhouse kitchen like this one, which surely has massive open-flame grills?  Those suckers are hot!  Air conditioning or not, I promise you that kitchen is far hotter than mine (where scarves are occasionally part of the uniform).
One thing the long, cool fermentation did provide, however, was a more complex flavor.  The pretzels themselves may have been flat, but they sure tasted good.  And I think this is now my new recipe for the poaching liquid; the flavor it imparted to the crust was fantastic.  Not too sweet, not too metallic, full and flavorsome, it was simply excellent.
The original recipe tells you to poach the pretzels for only 10 seconds per side, a shorter length of time than is typical.  I poached mine for closer to 20 or 30, which resulted in a stronger crust flavor than would otherwise occur.  The shorter poaching time would also ensure that the crust would not fully cook and set in the water, allowing for a bigger oven spring, and fluffier rolls.  Personally, I like my pretzels a bit dense, and I'm addicted to a strongly-flavored pretzel crust; hence, the increase in time.  The end result was still quite fluffy inside, though, more so than any other pretzel I've made.
Overall, this recipe holds great promise.  With the tag-team of good texture and fantastic flavor, this recipe would be unstoppable when made with the proper technique for the environment.  I'd like to have another go at these, to see if I can push them over the edge from pretty good to amazing.
Pretzel Knots
Adapted from Cut in Las Vegas, via Bon Appétit
Makes 8
For the dough:
9½ ounces (2 cups) unbleached bread flour
2 tablespoon packed brown sugar
1½ teaspoons salt
1 teaspoon instant yeast
1/2 cup water
1/4 cup buttermilk
1½ teaspoons vegetable oil
For the poaching liquid:
8 cups water
1/4 cup beer
1/4 cup baking soda
1/4 cup packed brown sugar
For finishing:
2 to 3 tablespoons vegetable oil
1 to 2 tablespoons coarse salt
1.  In the bowl of a stand mixer, whisk together the flour, sugar, salt, and yeast.  Add the water, buttermilk, and oil.  Using the dough hook attachment, mix on low speed until a rough dough forms.  Increase the speed to medium-low and knead for about 5 minutes, or until supple and smooth.  The dough should be sticky.  Transfer to a large lightly-oiled bowl, cover tightly with plastic wrap,  and refrigerate until doubled in size, about 45 to 60 minutes.
2.  Line a large baking sheet with parchment paper.  Turn the dough out onto a lightly-floured work surface.  Gently deflate, and divide the dough into 8 even pieces.  Keeping the unused pieces covered loosely with plastic wrap, roll each piece into a long rope, about 8 to 9 inches long.  Tie the ropes into single or double granny knots.  Transfer to the prepared baking sheet, and cover loosely with lightly oiled plastic wrap.  Refrigerate until puffy, about 30 minutes.  Preheat the oven to 450º F.
3.  To prepare the poaching liquid, combine the water, beer, baking soda, and sugar in a medium to large pot.  Bring to a boil over high heat, then reduce the heat to medium to keep the liquid at a lively simmer.  Cut the parchment paper between the pretzels so each rests on its own square.  Line a second large baking sheet with parchment paper.
4.  Gently lifting by the paper, lower each pretzel into the boiling water, removing the parchment as soon as possible.  Poach pretzels for 10 to 20 seconds on one side, gently turn over, and cook for 10 to 20 more seconds.  Transfer boiled pretzels with a skimmer or slotted spoon to the second baking sheet, letting the liquid drain off well.
5.  When all the pretzels have been cooked, let cool briefly, about 5 minutes.  Brush evenly with vegetable oil, and sprinkle generously with salt.  Bake the pretzels at 450º F for about 15 minutes, or until deeply browned.  Transfer to a wire rack to cool completely.  Serve warm.
Notes:
1.  Don't store pretzels in an airtight container, as the trapped moisture will make them look shriveled.  Pretzels can be stored at room temperature, uncovered, for about 1 day.  Remaining pretzels should be frozen in an airtight container (such as a zip top bag), and reheated unthawed in a 350º F oven for 5 to 10 minutes, or until heated through.