Week Forty-Six: Professional Recipes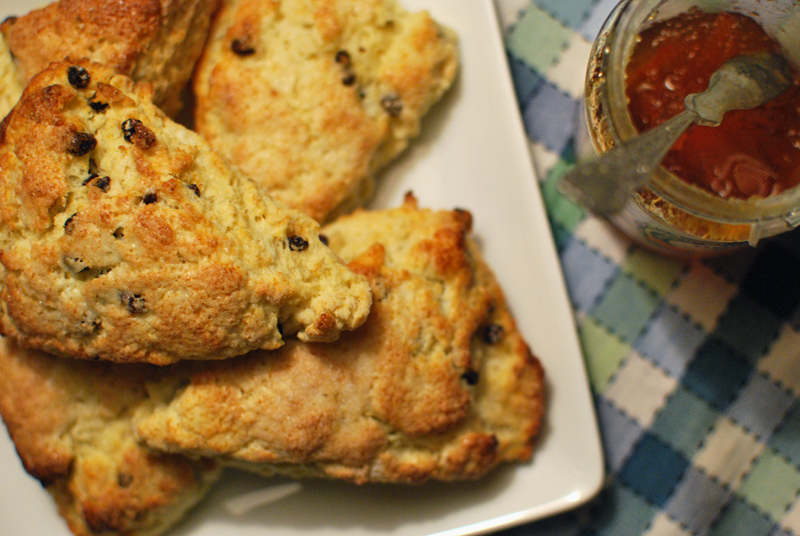 The Windsor Court Hotel in New Orleans is widely known for its elaborate and spohisticated Afternoon Tea, so when I saw their recipe for scones, I had to try them.  They were described as "unusual", but neither the method nor the ingredients held a clue as to why that word might be used.
A standard biscuit method is employed: cut cold butter into flour, add liquid, mix lightly.  The liquid used, however, is cream; a thing slightly out of the ordinary, as cream is generally used in the absence of butter.  Butter is used, but in a modest amount.
The resultant texture was far more fluffy than flaky, which was unsurprising given the lack of folding the dough over itself (a simple trick to get flaky biscuits).  But these scones were very rich despite their light texture, almost cake-like, but less sweet.  It's hard to pinpoint exactly why, but they tasted, somehow, exactly like a scone should.
Scones and biscuits, owing to their similar ingredient list and mixing techniques, are often interchangeable creatures, made as they are by many.  Cut a dough into a round, and it's a biscuit.  Cut it into a wedge, it's a scone.  But one bite of these scones, and there was no way you'd ever mistake one for a biscuit.  These are scones, through and through.
They're certainly less buttery than biscuits, which is the best guess as to their unmistakable nature.  Rich but not buttery, light but not flaky, they certainly are "unusual" in this world where scones and biscuits are too often the same.
Windsor Court Scones
Adapted from the Windsor Court Hotel, New Orleans
Makes 8 large wedges
11 ounces (about 2½ cups) unbleached all-purpose flour
5 teaspoons baking powder
4 teaspoons sugar, plus extra for finishing
1/8 teaspoon salt
6 tablespoons cold unsalted butter, cut into small pieces
3/4 cup heavy cream
2 large eggs, lightly beaten
1/3 cup dried currants
1 egg beaten with 2 tablespoons cream to make an egg wash
1.  Preheat the oven to 450° F, and grease a baking sheet or line with parchment.
2.  In a large bowl, whisk together the flour, baking powder, sugar, and salt.  Add the cold butter and cut in with a pastry blender or fingertips until the mixture resembles coarse meal.  Pea-sized lumps are okay.  Add the cream, eggs, and currants, and quickly fold together until it just forms a dough, drizzling a little extra cream over any dry spots if necessary.
3.  Turn the dough out onto a floured surface, and lightly flour the top.  Pat into a 1 inch thick round, and cut into 8 equal wedges.  Carefully transfer to the prepared baking sheet.  Brush the tops with the egg wash, and sprinkle with additional sugar.
4.  Bake the scones at 450° F for 13 to 15 minutes, or until lightly golden on top.  Let cool briefly on baking sheet before serving, or removing to a rack to cool thoroughly.
Notes:
1.  Instead of wedges, these may of course be cut into rounds.  I prefer scones in wedges, but they'll taste the same either way.
2.  Instead of using regular white sugar to sprinkle on top, a coarser and more sparkling texture may be gotten by using turbinado or raw sugar instead.