Week Twenty: Southern Breads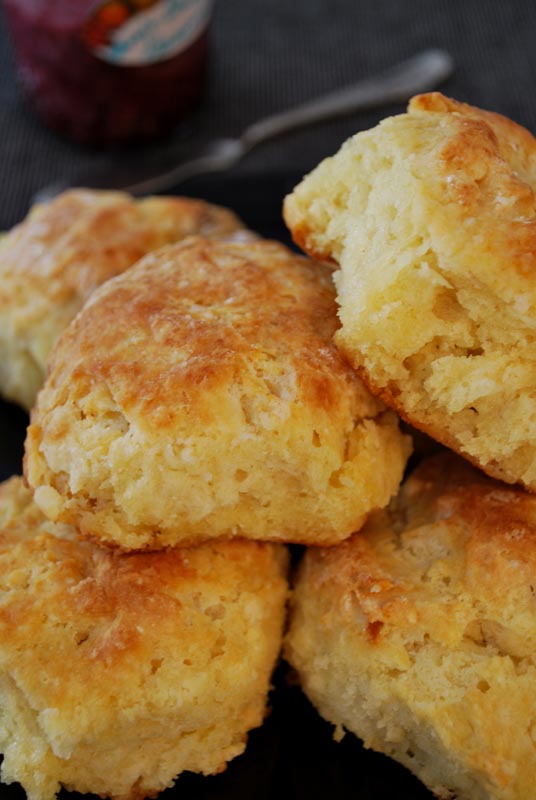 Oh, yes, we Southerners love our biscuits.  If you know what you're doing, you can whip them up in no time flat, and they'll go with every meal, from breakfast to dessert.  There's nothing like being woken up to the smell of sausages cooking in a skillet, while piping hot biscuits are being pulled from the oven.  So what if they come from a tube?  Biscuits are always delicious, and always apropos.
I have to say, canned biscuits are a secret weakness of mine.  I've finally tried my hand at from-scratch biscuits enough that I can manage some pretty good ones, but if I'm feeling rushed, I'll still fall back on that convenient standby.  (Please don't tell anyone.  I do have a reputation to uphold.)  Yes, I know the ingredient list is a mile long, and that they're full of preservatives from here to next Thursday.  But even my Old Kentucky Grandmother uses canned biscuits, and you just know Nanny is unimpeachable in the kitchen.
But honestly, there's no replacing a fresh, homemade, buttermilk biscuit, all warm and soft, with the most delightfully crunchy crust.  And even better, there's not even a hint of shortening in this recipe, unlike my last take on biscuits.  There was a reason for that, however, which I explained rather thoroughly in that post.  Flaky biscuits, like those, need rolling out to achieve those flakes, and therefore need the extra plasticity of shortening.  All-butter flaky biscuits would end up rather tough for all but the most experienced biscuiter.
Fluffy biscuits, however, need nothing of the sort.  All they need is a quick hand and a light touch, and you're halfway there.  It's all butter, all the time, here.  You need to move quickly, since the goal is to keep the butter cold while blending it into the flour.  If it melts into the flour, gluten starts forming, which makes your biscuits tough.  So move fast, use a pastry blender, or a food processor.
But I don't have a food processor big enough to make a batch of biscuits.  And I don't have a pastry blender.  I do have cold hands, though, and that's good enough.  I also have a little trick: rather than get my hot little fingers all over large pieces of butter, melting it; I cut the butter into little bits first, then freeze them while preparing the other ingredients.  Mixing small bits of very cold butter into flour with your hands is much, much easier, and requires hardly any handling at all.  The trick is to cut the butter into as small pieces as you can manage.  (I had a chef instructor at culinary school who swore by grating a stick of well-frozen butter into the flour, then simply tossing it to coat, no real handling needed.  Theoretically I agreed; however, I could never get the hang of grating frozen butter without melting it in my hand.  To each his own.)
Additionally, once you've added the buttermilk to the flour mixture, you need only to mix until just moistened.  Once any liquid hits that flour, gluten starts forming.  The more gluten that forms, the tougher your biscuits become.  You can either stir in the moisture gradually (which supposedly produces a better result), but I actually prefer to add it all at once, and fold it together in as few strokes as possible.  If it still looks dry, you can always drizzle a little more buttermilk over the dry bits, and fold once or twice.
These are baked in a cake pan or pie tin, with the sides touching.  This helps the biscuits rise higher in the oven, since they essentially grab onto each other as they rise.  You can also bake all these biscuits together in a 9 x 18 inch baking dish, or even clustered together on a baking sheet.  They stay softer and more moist this way; but if you prefer crusty-edged biscuits, you can certainly spread them apart and bake them separately.
No matter how you bake them, though, you'll end up with a fluffy, crumbly biscuit, barely sweet, and full of buttery flavor.  I could eat a plateful of these just plain, but they're the perfect biscuit for any application.  Split them with a fork, and make sausage biscuit sandwiches for breakfast.  Poach an egg, blend up some hollandaise, and you can serve eggs Benedict to some very lucky brunch guests.  Serve these biscuits alongside fried chicken (even store-bought), or with a hot bowl of white beans and ham hocks.  These would also be the perfect biscuit topping for any casserole dish that uses one (chicken pot pie, for example).  And for dessert, do as they do at Commander's Palace (where this recipe originates) – split them in half, top them with quartered strawberries and vanilla whipped cream, and enjoy the best strawberry shortcake you've ever had.
Fluffy Buttermilk Biscuits
Adapted from Commander's Kitchen, by Ti Adelaide Martin and Jamie Shannon
Makes 16 biscuits
2 sticks cold unsalted butter
4 cups unbleached all-purpose flour
2 tablespoons sugar
2 1/2 tablespoons baking powder
1/2 teaspoon kosher salt
1 3/4 to 2 cups cold buttermilk
1 teaspoon baking soda
1.  Preheat oven to 400° F.  Cut each stick of butter lengthwise into 4 pieces, then cut crosswise into as small pieces as possible.  Pile loosely on a small plate, or in a bowl, and freeze while preparing remaining ingredients.
2.  In a large bowl, sift together the flour, sugar, baking powder, and salt.  Add butter and very quickly pinch and rub in with fingertips, tossing the mixture around to be sure to reach all pieces of butter, until the mixture resembles coarse meal.  Pea-sized lumps are just fine.  Mix together 1 3/4 cups of the buttermilk and all the baking soda.  Add buttermilk mixture, and fold quickly but gently with a fork or nonstick spatula just until large moist clumps form.  If dough looks dry in places, drizzle additional buttermilk over in small amounts, and fold once or twice.
3.  Turn dough out onto a well-floured surface.  Press dough gently into a flat round, at least 3/4 inch thick.  Using a round cutter, cut as many biscuits as possible.  Do not twist cutter; press straight down into the dough.  Transfer biscuits to an ungreased, nonstick cake or pie pan, so that they touch each other.  This helps them rise taller, and keeps them moister.  If you prefer a crusty-sided biscuit, space them evenly on an ungreased baking sheet.
4.  Bake biscuits at 400° F for about 20 minutes, or until lightly golden brown on top.  Let cool in pan a minute, then remove biscuits to a wire rack to cool completely.  Serve warm. 
Notes:
1.  Biscuits can be stored at room temperature, wrapped tightly in aluminum foil, for 6 to 8 hours.  Before serving, rewarm in a 350° F oven for 5 minutes.  If not eating within that time, freeze, wrapped in foil.  To serve, bake unthawed and unwrapped, for 10 minutes at 350° F.