Week Twenty: Southern Bread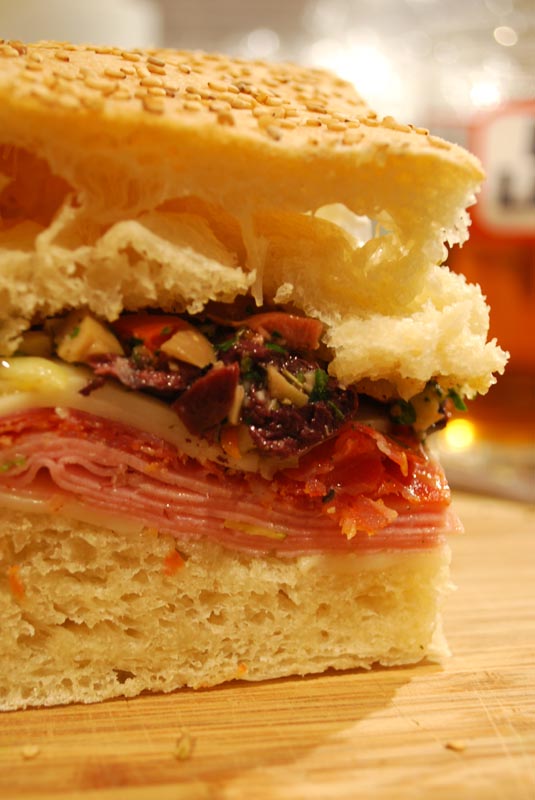 I know that most of you have never heard of a muffaletta, let alone had one.  And it's a crying shame that it's been all but overlooked by outsiders in favor of that other beloved New Orleanian sandwich, the po-boy.  Nothing against a po-boy, mind you; I absolutely love a good po-boy.  (And I'm still on the quest for the secret to baking my own po-boy bread!)  But the muffaletta is a unique delicacy, often regarded as one of the great sandwiches of the world.
Legend has it the muffaletta (muff-uh-LET-tuh, or moof-uh-LOT-tuh) was invented by one Salvatore Lupo, a Sicilian immigrant who, in 1906, opened the Central Grocery in the heart of New Orleans' French Quarter.  Around the same time, he started crafting a sandwich of sliced Italian meats and cheeses, topped with olive salad, on muffaletta ("little muffin", possibly maybe?) bread, a large, flat loaf topped with sesame seeds.  The sandwich became extremely popular, but remained a firmly local treat until about 1960 or so.  You're still hard pressed to find a half-decent version outside of New Orleans, but at least some people have heard of it, these days.
The Central Grocery still makes the definitive version, but there are some notable contenders to the title: the nearby Napoleon House (still the best Pimm's Cup in town), R&O, Frankie & Johnny's, and Nor-Joe, to name only a few.  Now, some will tell you that the Napoleon House's version is blasphemy, since they toast the sandwiches before serving.  Me, I can't see the point in getting your panties in a bunch over sandwich temperature.  Some like it hot, some like it cold, to-may-to, to-mah-to.
What is important, though, is the olive salad.  Some people insist that you have to have specific meats, but typical inclusions are ham, capicola, salami, mortadella, and everything in between.  Some also insist that emmental is the cheese to go with, as they do at the Central Grocery, but most places use provolone, mozzarella, or both.  I say, use whatever quality meats and cheeses best suit you; but you'd better not skimp on that olive salad.  God help you if you cheap out on the olive salad.  In New Orleans, you can buy jars of it ready-made, and depending on where you get it from, it can be quite good.  Yes, Central Grocery sells theirs.
But if you live out of town, you're going to have to make your own.  This is not a hardship, as it's quite easy, and homemade is usually the best way to go with such things.  Oh, and make a large batch, because you'll use more than you realize on the sandwich, and you'll definitely want some left over to toss into pasta, serve with fish, or top another sandwich with.
This recipe makes a giant round of bread, one that's pretty good on its own, but becomes outstanding when used as the base for a muff.  You need a fairly dense-crumbed bread, one that can stand up to the oil-rich olive salad without falling apart.  The sesame seeds on top can be left off, but don't serve that sandwich to any New Orleanians.  You will be sussed out.
As you can see in the picture above, my bread developed a quite large air bubble right in the center of the loaf, just under the crust.  For that reason alone, I should've put the olive salad under the meat and cheese, not on top.  That is also where it traditionally goes (so the oil can soak into the thicker bottom crust); but I was rushing a little, and rather forgot.  Also, I've always had a thing about putting meat on top of loose things in a sandwich.  It just doesn't seem right.
Besides, I wanted to take a picture of my olive salad in situ, to show scale (below).  In case you missed it, this is a massive friggin' sandwich.  Just massive.  They say a whole muffaletta serves 4 (or 2 hangovers), so a quarter-sandwich per person.  But my boyfriend and I split a quarter for dinner (with side salad), and were fully satisfied.  But then, maybe my bread came out a skosh bigger than the typical muffaletta bread; it's hard to say.  However you choose to split it is up to you; just make sure you've got some friends around to share with!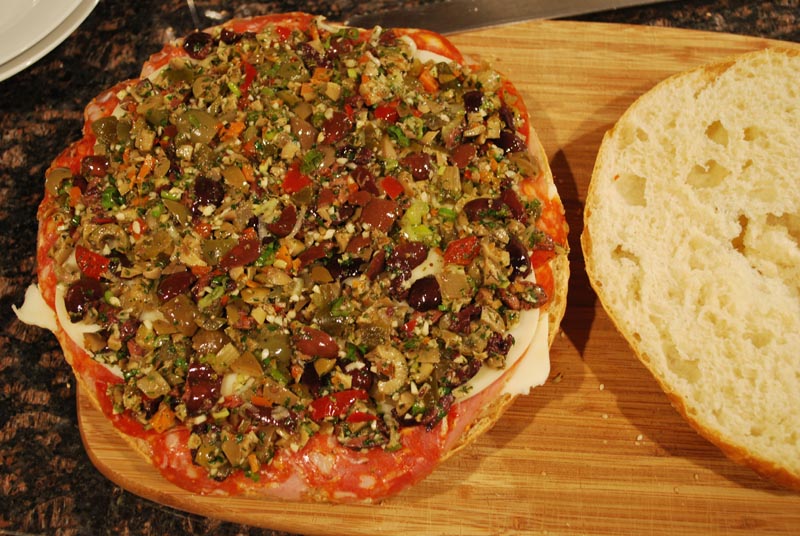 Muffaletta Bread
Adapted from King Arthur Flour
Makes 1 large round
For starter:
4 1/2 ounces (1 cup) unbleached all-purpose flour
1/8 teaspoon instant yeast
1/2 cup water, at room temperature
For dough:
1 pound (about 3 1/2 cups) unbleached all-purpose flour, divided
1/4 teaspoon instant yeast
1 cup water, at room temperature
1 1/2 teaspoons salt
Sesame seeds
For finished sandwich:
1 loaf muffaletta bread, split horizontally
1/3 pound mortadella, sliced thinly
1/3 pound salami, sliced thinly
1/4 pound mozzarella, sliced thinly
1/4 pound provolone, sliced thinly
Olive salad, recipe below
1.  Make the starter by whisking the flour and yeast together in a medium bowl.  Add the water and mix together until smooth, kneading if necessary to moisten all the flour.  Cover the bowl with plastic wrap, and let stand at room temperature overnight, or for 8 to 12 hours.
2.  To make the dough, reserve a handful (about 1 ounce) of the flour.  Set aside.  Whisk together the remaining flour and yeast in the bowl of a stand mixer.  Add the water and all of the starter.  Using the dough hook, mix together until all flour is moistened and a rough dough forms.  Cover the bowl with plastic wrap, still on the mixer, and let stand 20 minutes.
3.  Uncover the bowl.  Add the salt and knead until the dough is soft and comes together in a cohesive ball, adding the reserved flour as needed to achieve the proper consistency.  The surface will look a bit rough.  If the dough stick to the dough hook, you may need to knead the dough by hand on a work surface to evenly distribute the salt.  Transfer the dough to a large, lightly oiled bowl.  Cover with plastic wrap, and let rise for 1 hour.
4.  Using a nonstick spatula, gently deflating and fold the dough over itself in a tri-fold (like you're folding a letter).  Cover and let rise again for 2 hours.
5.  Repeat the folding procedure, then turn the dough out onto a lightly floured surface.  Shape the dough into a 14 inch round, taking care to make it as smooth and evenly round as possible.  You can use a rolling pin, or just press and stretch it with your hands.  Transfer the dough to a parchment paper-lined or lightly-greased baking sheet.  Cover loosely with lightly oiled plastic wrap, and let rise until nearly doubled in size, about 1 1/2 to 2 hours.
6.  Preheat the oven to 425° F.  Spritz or lightly brush the top of the loaf with water, and sprinkle it liberally with sesame seeds.  Put the loaf in the oven, and bake at 425° F for about 25 minutes, or until golden brown.  Transfer to a wire rack to cool thoroughly before slicing horizontally, filling, quartering, and serving.  Can be made a few hours ahead and stored wrapped in plastic at room temperature.  Muffalettas should always be served at room temperature.
Olive Salad
1/2 cup pimiento-stuffed green olives, good quality
1/2 cup Kalamata olives, pitted
1 cup mild Giardiniera (drained if not homemade)
1/3 cup non-pareil capers, rinsed
1/2 cup habanero-stuffed green olives, chopped finely
5 to 10 cloves garlic, chopped finely
3 or 4 green onions, chopped
3 tablespoons fresh parsley, chopped
1/2 teaspoon Creole seasoning (such as Tony Chachere's)
1 teaspoon dried oregano (2 teaspoons fresh)
1 teaspoon Herbes de Provence
Olive oil
Black pepper
1.  Combine all ingredients together in a large, non-reactive bowl, adding olive oil and black pepper to taste.  Mix with your hands, squeezing and crushing the whole olives.  Correct seasoning if needed, and let stand at least 1 hour at room temperature.  Mixture will keep several weeks in refrigerator, sealed tightly.
Notes:
1.  If you don't have time to wait for the starter, it can be omitted.  In this case, double the yeast in the dough to 1 teaspoon.  Proceed as directed, adjusting flour levels as needed.
2.  After shaping the loaf in step 5, it can be covered loosely and refrigerated overnight.  Let the loaf sit at room temperature while you heat the oven, for at least 30 minutes before baking.
3.  You can add or substitute ham in the finished sandwich if you like, but I'm a fan of salami and mortadella on their own.
4.  In the olive salad, proportions are variable according to taste.  No one's going to come find you in the night if you add pickled pearl onions, or omit capers.  I love the heat of the habanero-stuffed olives, but if you can't find them (I get mine at Whole Foods), feel free to substitute with pimiento-stuffed ones.
5.  And speaking of pimiento-stuffed olives, I recommend getting them from a reputable bulk olive bin, not in jars.  They tend to be mushy and gross in jars.  If you have no bulk olive bins around, replace them with plain green olives of good quality, and roasted red peppers (homemade or jarred).
6.  I will come find you in the night if you use canned black olives.
7.  You can use 2 teaspoons Italian seasoning instead of the oregano and Herbes de Provence, if you like.
8.  Muffalettas keep extremely well wrapped very tightly in plastic, and refrigerated.  Some people even weight theirs down, to let the olive salad soak into the bread.  Some also say they're even better the second day.  Bring them to room temperature before eating.