Week Twenty: Southern Breads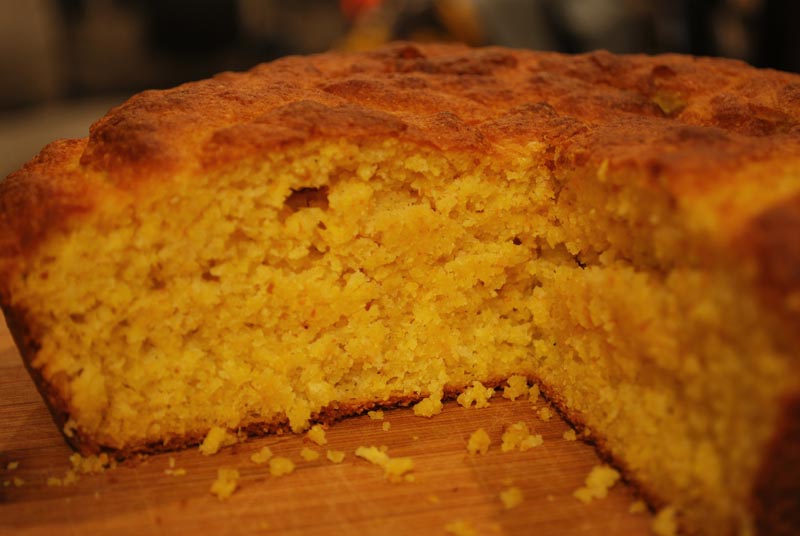 When I decided to focus on Southern Breads this week, there was one bread I knew I had to feature: Southern-style cornbread.  Unlike its sweeter, more cake-like Northern counterpart (and my preferred style of cornbread, hometown notwithstanding), Southern cornbread is decidedly savory, and usually rather flat.  And for the most part, it rather tastes that way to me, too.
I know, half of my problem was growing up on those lovely little blue boxes of Jiffy Corn Muffin Mix, which lists sugar as its third ingredient (and it's delicious).  But considering that I don't otherwise have much of a sweet tooth, could that really be all there was to it?  I wasn't really convinced.  Knowing what wonderful cooks Southerners can be, how come so much of their cornbread just tastes dry, crumbly, and overwhelmingly of bacon fat?
A revelation came recently, in the form of boiling water.  When I recently made the vaguely-titled Swedish Peasant Bread, it used a scalding technique, wherein you pour boiling water over some of the flour and let it sit for a little while.  That method produced some of the best bread I've ever made, and is a much-reminisced-about part of this project.  (Seriously, if you haven't made it, you really should.  It's shockingly good.)  And then again, when I made Anadama Bread, with its fairly high percentage of cornmeal in a yeast-risen dough, I was surprised by the lack of graininess, usually a problem when including cornmeal in bread dough.  Again, the difference was the use of a boiling water-cornmeal mush, rather than raw cornmeal.
So when I found this recipe from John Folse, that master of the Southern and Creole/Cajun kitchen, that used a scalding technique, I knew I had to try it.  Not only that, but it listed bacon fat, that answer to all your Southern cooking problems, as its first ingredient – but there's barely more than a tablespoon.  Could this be the recipe to change my mind?  Might I finally cross over to the cornbread of my birthland?
I have to say, this is probably the best Southern cornbread I've ever had.  The scalding method eliminates much of the dry, sawdust-y texture of many a hoe-cake I've tried; and there wasn't a bit of greasiness to it, just a welcome back note of full-flavored bacon fat to accentuate the cornmeal.  Lightened by the use of all-purpose flour, this bread was far thicker than the typical flat cornbread below the Mason-Dixon, but it was still not quite as airy as my favorite Northern-style cornbread.  Denser, yes, but not unpleasantly so, and quite moist.  The flavor of corn was in full force, and yet was tender, not too crumbly.
I'm not sure how authentic some sticklers might find this, but it's from John Folse, and that's a good enough authority for me.  Will I make this again?  Absolutely; and a large plate of creamy red beans and rice would be the ideal match.  Am I totally converted?  Well, let's just say I'll put this in rotation with my favorite Northern-style recipe.  What can I say?  I grew up on Jiffy!
[By the way, John Folse makes a damn good triple cream cow's-milk cheese, his award-winning Fleur-de-Lis.  If your local cheesemonger can get you some, you have to try it.  I can get it at Whole Foods in Chicago, even.]
Southern-Style Cornbread
Adapted from John Folse
Makes one 8 inch round
4 teaspoons bacon drippings (or 2 teaspoons butter and 2 teaspoons vegetable oil)
1 cup yellow corn meal, preferably stone ground
1 cup all-purpose flour
1 tablespoon sugar
1/2 teaspoon salt
2 tablespoons baking powder
1 tablespoon baking soda
3/4 cup rapidly boiling water
1/2 cup buttermilk
1/4 cup milk
1 large egg, beaten lightly
1.  Adjust oven rack to lower middle position and heat oven to 450º F.  Set 8-inch cast iron skillet with bacon fat (or butter and vegetable oil, see note 1 below) in heating oven.
2.  Measure 1/2 cup cornmeal into a medium heatproof bowl. Mix together the remaining cornmeal, sugar, salt, baking powder, and baking soda in a small bowl, and set aside. Pour the boiling water all at once into the 1/2 cup cornmeal; stir to make a stiff mush.  Whisk in the buttermilk and milk gradually, breaking up any lumps until smooth, then whisk in the egg.  Set aside until the oven is fully preheated.
4.  When oven is preheated and skillet very hot, stir the dry ingredients into the mush mixture until just moistened.  Carefully remove the skillet from oven.  Pour the hot bacon fat into the batter and stir to incorporate, then quickly pour the batter into the heated skillet.
5.  Bake at 450º F until golden brown, about 20 minutes.  Remove from the oven and instantly turn corn bread out onto a wire rack.  Cool for 5 minutes, then serve immediately.
Notes:
1.   If using butter and vegetable oil instead of bacon fat, you may want to add it to the hot pan after it has preheated, rather than heating it in the pan with the oven.  Butter has a lower smoke-point than bacon fat, and may scorch.  If it starts to smoke, and you're concerned, better to cook the bread in a less-than-fully-hot skillet, rather than with burnt butter.
2.  If you don't have a cast iron skillet, a 9 inch round cake pan or a 9 inch square baking pan, greased lightly with butter and not preheated, will also produce acceptable results.  In this case, though, you may want to double the recipe, and baking the bread for 25 minutes.