Week Forty-Six: Professional Recipes
Ah, figs.  I discovered figs late in life, as my mother (who cannot abide the multitudinous seeds) never kept them in the house.  In contrast to her, I have come to find the seeds irresistable, crunchy and surprising beneath the flesh.
I often daydream about one of my all-time favorite hors d'oeuvres: a whole fresh fig, preferably soft and nearly over-ripe, stuffed ungraciously with a walnut or almond and a bit of blue cheese through a slit cut in its side, dignity preserved with a cloak of thin prosciutto wrapped around tenderly, and baked until the meat turns crisp.  They are as good at room temperature as they are warm.  Drizzled with the smallest bit of honey, and eaten in one bite, it's one of the more amazing things you'll ever put in your mouth.
The regrettably short season for fresh figs means that I become actually giddy when I see them appear in the grocery store each year, with exactly the above preparation in mind.  But for the rest of the year, I must turn to dried figs to get my fix, and it just isn't the same.  It has always fascinated me how very different fresh figs are from dried figs.  Fresh, they are vibrant and winey; dried, they are richer, jammy, and somehow more subdued.
But as much as I prefer the fresh sort, the dried ones have their charms as well.  For example, dried figs can turn into all sorts of confections that fresh ones never could, like the traditional Spanish fig and almond cake, pan de higo.  And while fresh figs can certainly stand up brilliantly to cheese, I think dried figs have the edge there.  Their relaxed flavor tends to match a wider variety of cheese than does the more fleeting taste of a fresh fig.
This leads me to why today's bread is so delightful: it is perfect to serve with cheese.  Rather than offering up a plate of cheese, a plain baguette, and a mound of dried figs, to be awkwardly negotiated between dish, hand, and mouth; this loaf combines chopped bits of dried fig with a flavorful bread, eliminating any tricky juggling.
The texture is rather dense, but considering this serving recommendation, it is appropriately so.  Ciabatta, with its large holes, is all well and good; but it becomes a little disappointing when even sizeable pieces of cheese will fall right through.  A closer crumb means that even runny cheeses can be handled with ease.
Calimyrna figs are used in this bread, a type that I was less familiar with, tending more often towards black Mission figs.  Their flavor is sweeter, more herbaceous, and reminiscent of Fig Newtons (but in the best possible way).  Paired with the licorice notes of fennel, and the slight tartness of rye flour, the combination of flavors is delightful and bright.
I found this dough to be extremely stiff, much stiffer than the high-hydration doughs I'm accustomed to.  But once the figs were added in, the problem resolved itself somewhat, as the dough loosened up a bit.  The figs I used were extremely moist, however; if your figs are drier and harder, you may want to soften them by soaking in a little warm water, or even wine or a liquor.  Their moisture, too, will help the bread keep longer, up to a few days at room temperature.
This is a useful recipe to have on hand, as it makes a charming and flavorful addition to any hors d'oeuvre menu.  It makes excellent use of dried figs in all their robust glory; and in between fig seasons, I need any little fix I can get.  It might not be a fresh fig clad in crisp prosciutto, but spread a slice of this bread with a creamy blue cheese, and you'll hear no complaints from me.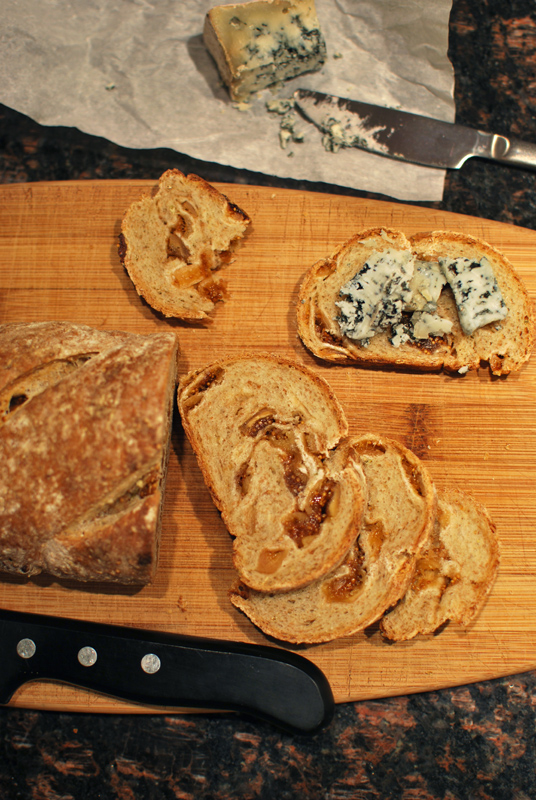 Fig and Fennel Bread
Adapted from Clarke's, London
Makes two 12 inch loaves
14 ounces (about 3 cups) unbleached bread flour, plus extra as needed
4½ ounces (1 cup) rye flour
1 to 2 tablespoons fennel seeds, to taste
1 tablespoon salt
1 tablespoon sugar
2¼ teaspoons instant yeast (1 packet)
1¼ cups warm water (105° to 115° F)
1 tablespoon olive oil
8 ounces dried Calimyrna figs, chopped (about 1½ cups)
1.  In the bowl of a stand mixer, whisk together the flours (reserving a handful of the bread flour), fennel, salt, sugar, and yeast.  Add the water and oil.  Using the dough hook, mix at low speed until a rough dough forms.  Scrape the bowl as needed, increase the speed to medium-low, and continue kneading until smooth and elastic, 5 to 6 minutes.  The dough should be stiff and clear the sides of the bowl; add the reserved flour as needed.
2.  Turn the dough out onto a work surface.  Flatten slightly, and place chopped figs on top.  Pulling the dough around the figs, knead them in until evenly distributed, dusting with flour as needed to prevent sticking.  If any pop out, just poke them back into the middle.
3.  Shape the dough into a round ball, and place in a large, lightly oiled bowl turning the dough to coat.  Cover tightly with plastic wrap, and let sit at warm room temperature until doubled in volume, about 60 to 90 minutes.
4.  Lightly grease a baking sheet, or line with parchment.  Turn the dough out onto a lightly floured work surface, taking care to deflate as little as possible.  Cut dough into two even halves.  Shape each piece into a loaf about 12 inches long.  Transfer the loaves to the prepared baking sheet, leaving about 2 inches in between the two.  Cover loosely with lightly oiled plastic wrap, or a slightly damp kitchen towel (not terry cloth).  Let rise at warm room temperature until almost doubled in volume, about 1 hour.  Thirty minutes before baking, preheat the oven to 400° F.
5.  Using a sharp serrated knife or razor blade, decisively slash each loaf 3 times with diagonal cuts, letting only the weight of the blade press into the dough.  Bake at 400° F for 30 to 35 minutes, or until golden brown and baked through.  An instant read thermometer should register about 200° F when inserted into the center.  Transfer to a wire rack to cool completely before slicing.
Notes:
1.  This recipe specifies Calimyrna figs, which may be called Turkish figs.  They are pale in color, not like the smaller black Mission figs.  Mission figs may be used, but the taste will be different; Calimyrna figs go especially well with the fennel.