Week Thirty-Seven: Viennoiserie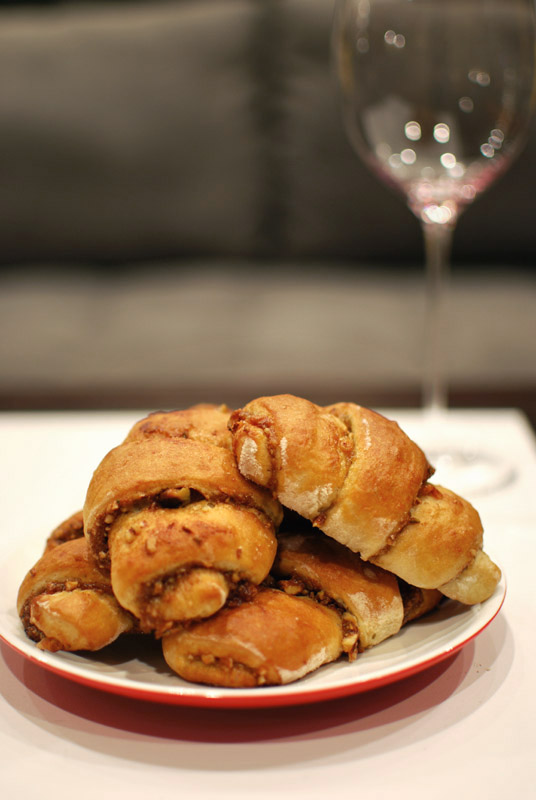 Maybe I'm the only person in the world who thinks that a classic rugelach has just as much right to be considered a Viennoiserie as a croissant.  Maybe I'm not.  But I do think that this delightful pastry, too often regarded as a mere cookie, deserves a place in that rarefied world.  It's bready in texture, yeast-risen (traditionally), and not overly sweet, all characteristics of your work-a-day Viennoiserie.
Rugelach, that most famous sweet from the world of Jewish cuisine, is often regarded as a cookie for good reason: it's often made just like a cookie, tiny, crisp, and chemically-leavened.  But historically, they were yeast-leavened, and in the best bakeries, they are larger and softer, rendering them more pastry-like.  The dough contains either cream cheese or sour cream, lending a welcome tangy counterpoint to the sugary filling.  They can be made into spirals, but purists might say that the more labor-intensive crescent shape is the only true form for a rugelach.
That crescent shape isn't the only similarity between a classic rugelach and a croissant; they may also share a common ancestor, the kipfel.  Rugelach are actually known as kipfel in parts of Germany, but the kipfel itself dates back to at least the 13th century.  It's difficult to ascertain exactly what a kipfel was, but it seems to have been a crescent-shaped, unfilled pastry, made with some sort of sour dairy product.  The deliniation from kipfel into croissant (same shape) and rugelach (similar dough) is easy to see.
The rugelach that I've made for today uses a yeast-leavened dough made with sour cream, as that is apparently the proper match (cream cheese being usually reserved for the chemically-leavened dough).  I filled them with fig jam and an even mixture of pistachios, walnuts, and almonds, purely because I love those flavors together.  You could use instead any number of fillings: any flavor jam or preserves, any type of nut, dried fruit, chocolate, poppy seeds, or a combination of all of the above if you're feeling indulgent.  You're only limited by your imagination.
This recipe makes 24 good-sized rugelach, about the size of a small croissant.  You could make them smaller, but once you taste one, you'll be glad you didn't.  These rugelach are tender as can be, with very little gluten-y chew to the dough.  The sugar filling is sweet without being cloying, and the finely chopped nuts bring a lovely crunch to the texture.  You could enjoy these just as easily for breakfast, over a cup of tea and a newspaper, as you could for dessert, aside a bitter espresso with a lemon twist (and that glass of wine wasn't half bad with one, either).
Rugelach
Makes 24 rugelach
For the dough:
13 ½ ounces (3 cups) unbleached all-purpose flour, plus extra for dusting
3 tablespoons sugar
1 tablespoon instant yeast
1/2 teaspoon kosher salt
1/2 cup (1 stick) butter, melted and cooled
1/2 cup sour cream
1 egg
1/2 cup milk, at room temperature
1/4 cup water, at room temperature
1/8 teaspoon almond extract
For the filling:
1/2 cup brown sugar
1 ½ cups nuts, toasted and finely chopped (any kind, or a mixture)
1 ½ tbsp ground cinnamon
1 cup jam or preserves (any flavor)
1 egg beaten well with 1 tablespoon water, to make an egg wash
1.  To make the dough, whisk together the flour, sugar, yeast, and salt.  Set aside.  In the bowl of a stand mixer, whisk the melted butter and sour cream together.  Add the egg, and whisk until well blended.  Mix in the milk, water, and almond extract.
2.  Add the dry ingredients to the wet ingredients.  Using the paddle attachment, combine at low speed until fully incorporated, about 2 minutes.  The dough should look very sticky and wet.
3.  Lay two long sheets of plastic wrap on a work surface.  Scrape half of the dough onto each sheet of plastic wrap, dividing as equally as possible.  Wrap the dough in the plastic wrap, completely but not too tightly.  Refrigerate the dough for 30 minutes.  Preheat the oven to 375º F.
4.  While the dough chills, make the filling.  Whisk the sugar, cinnamon, and nuts together.  Place the jam in a bowl, and break up with a fork.  You may need to heat the jam briefly in the microwave until warm (not bubbling) in order to make it spreadable.  If your jam has large chunks of fruit in it, you can purée it quickly in a food processor until smooth.  Lightly grease two large baking sheets, or line with parchment paper or silicone mats.
5.  Unwrap one piece of chilled dough, leaving the other in the refrigerator, and place on a well-floured surface.  Roll the dough out to a 12 inch circle, or about 1/8 inch thick.  Gently spread half of the jam over the dough.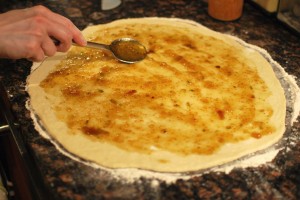 Dust liberally with half of the sugar and nut mixture.
6.  Using a pizza cutter (or any other suitable device), cut the circle into 12 equal wedges, as you would cut a pizza.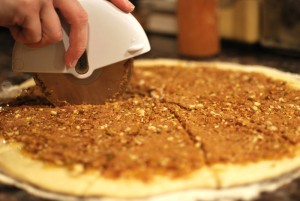 Starting with the wide edge (the "pizza crust" side), roll each wedge up into a tight spiral, ending with the point of the wedge.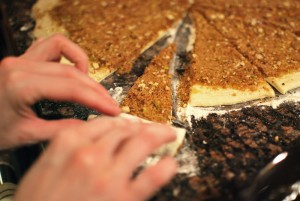 Transfer the rugelach to the prepared baking sheet, placing so that the tip of the wedge is on the bottom.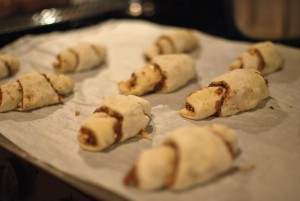 Form into a crescent shape, or leave straight.  Repeat with each wedge, and with the second piece of chilled dough.
7.  Let the rugelach sit at room temperature until lightly risen and puffy, 20 to 30 minutes.  When ready, lightly brush each with the egg wash, taking care not to press too hard and deflate.
8.  Transfer the rugelach to the oven, and immediately reduce the temperature to 350º F.  Bake at 350º F for 20 to 25 minutes, or until golden brown.  Let cool on the sheets for 5 minutes, then remove to a wire rack to cool thoroughly.
Notes:
1.  For the filling, I used fig jam and an even mixture of pistachios, walnuts, and almonds.  Any flavor combination you like will certainly be just as good.
2.  To make spiral-style rugelach, instead of these crescents, roll the dough out into a rectangle in step 5, rather than a circle.  Fill as directed with the jam and nut mixture, then roll up into a cylinder, jelly-roll-style.  Cut the cylinder crossways into 1 inch pieces, and place as-is on the prepared baking sheet (do not turn the cut side up).  Bake as directed, checking after 15 minutes, as they may bake more quickly.