Week Thirty-Seven: Viennoiserie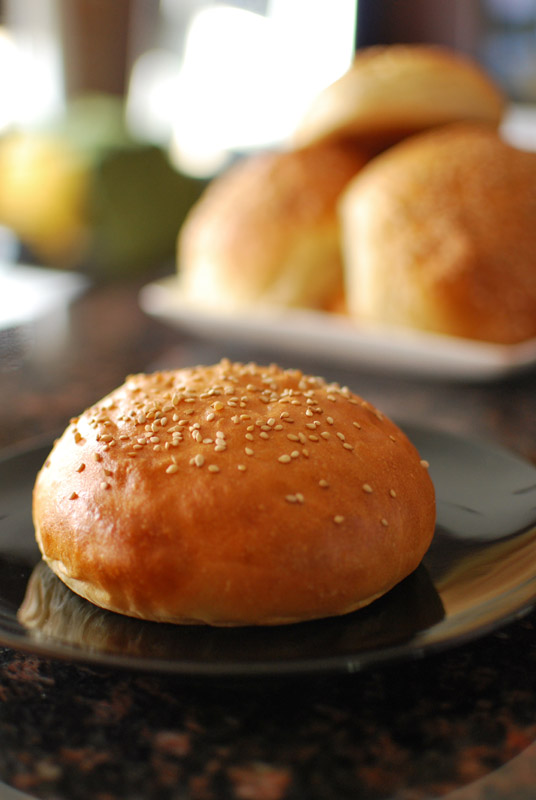 This week, I'll be discussing a type of bread that many people may not even think of as bread.  The French term for this group is Viennoiserie, and literally translates to "Viennese specialties".  Though many people mistakenly equate the word with "breakfast pastries", it refers to any baked good made with leavened dough enriched with ingredients like butter, milk, eggs, and sugar.  Sweeter and richer than most breads, they're not quite yet pastry; but if that renders them bread no longer, then I'll eat my hat.
In honor of Labor Day, I've made what are quite possibly Plato's Ideal burger buns.  I know, I know, I've already made burger buns.  And they were pretty good, but these are just exquisite.  To be successful, a good burger bun must be mild-flavored, so as not to overwhelm any fillings, but it must not taste insipid either.  It must be soft enough to bite into easily, but must also be sturdy enough to stand up to the juciest burger.  Oh, and it should look pretty, too.  Does this brioche bun cover all those bases?
Yes, and in spades.  Previously, my burger buns were a jacked-up, posh version of the sort of bun you find on any grocer's shelf – quite tasty, but maybe a little too soft.  It had a good flavor, but still reminded me a bit of those pale imitators, a bit sweet, a bit too doughy.  Today's buns, however, taste complex but subtle, not overly rich, not too bready.
The dough here is a light version of brioche, that queen of all enriched breads.  Brioche is typically an unsweet, very rich bread, with a flaky texture and sturdy structure.  Made less buttery, then, it is the perfect base for the ultimate burger bun.  Because of the sturdiness, it can easily handle any burger, the crisp-toasted crust providing an adequate barrier for runaway jus.
This recipe originally comes from Comme Ça, a restaurant in Las Angeles that I've never been to.  The New York Times, however, has.  They enjoyed themselves so much, in fact, that they dubbed the Comme Ça burger the best in the entire nation.  And since you obviously can't have a good sandwich without good bread, I figured this bun had something going for it.  After I saw the gushingly blissful review over at Smitten Kitchen, I knew I had to try it.
All the hype is for good reason.  This really is an amazing burger bun.  The flavor is spot on, neither too mild nor too assertive.  That showy, buttery quality of a standard brioche is tamed here, leaving only an accent to pair beautifully with a charred beef burger (think maitre d'hotel butter atop a sizzling filet), yet the "please dunk me in some coffee or something, already!" characteristic remains; these buns beg to be drenched in dripping meat juice.
And talk about pretty!  These golden beauties will turn heads, even before you fill them with anything.  Personally, I like sesame seeds on my burger buns, but feel free to omit them if you like.  However, don't omit the egg wash on top; it's what gives them their pretty sheen and rich hue.  With their even-textured crumb, excellent flavor, and straightforward mixing method, these buns aren't just great, they're a perfect ten, sure to be the ideal accent to any burger.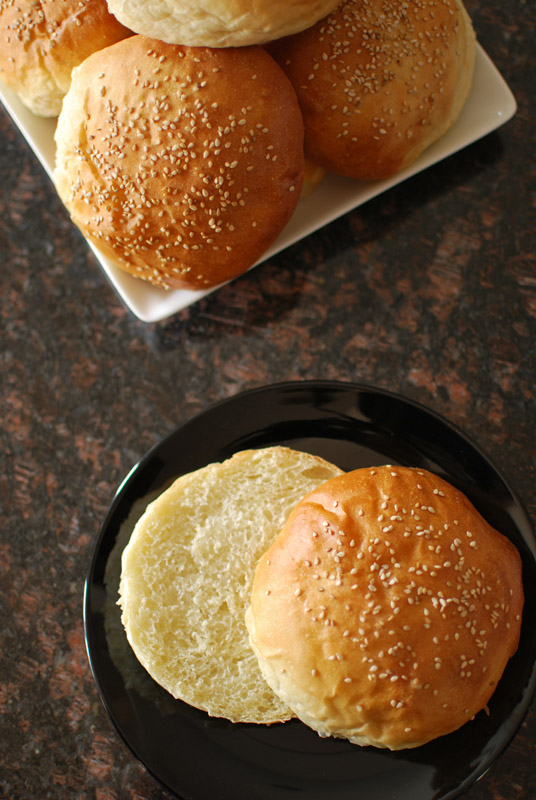 Light Brioche Buns
Adapted from Comme Ça in Los Angeles, via the New York Times
Makes eight 4 to 5 inch buns
15 1/2 ounces (about 3 1/4 cups) unbleached bread flour
2 ounces (about 1/2 cup) unbleached all-purpose flour
1 1/2 teaspoons instant yeast
1 1/2 teaspoons salt
1 cup water, at room temperature
1/4 cup milk, at room temperature
2 tablespoons honey
1 large egg, lightly beaten
2 1/2 tablespoons unsalted butter, at room temperature
1 egg, beaten with 1 tablespoon water, for egg wash
Sesame seeds, for finishing
1.  In the bowl of a stand mixer, whisk together the flours, salt, and yeast.  Add the water, milk, honey, and egg.  Using the dough hook, mix at low speed for 2 to 3 minutes, or until well-combined and smooth, scraping the bowl down as needed.  Add the softened butter in small pieces, kneading until fully incorporated.
2.  Increase the speed to medium-low, and knead for about 6 or 7 minutes, or until smooth and elastic.  The dough should look very sticky and slack.
3.  Scrape the dough into a large, lightly oiled bowl.  Cover tightly with plastic wrap, and let sit at room temperature for 1 to 2 hours, or until doubled in size.
4.  Lightly grease a large baking sheet or two smaller ones, or line with parchment paper.  Turn the dough out onto a floured surface.  Being careful not to incorporate too much flour (which will make tough rolls), knead the dough a few times with lightly-floured hands, deflating it as you do so.
5.  Divide the dough into 8 equal pieces.  Keeping the unused pieces covered with plastic wrap, form each piece into a round ball with a skin stretching around the outside.  Flatten it slightly, dust off any excess flour, and transfer to the prepared baking sheet, smooth side up.  Cover loosely with lightly-oiled plastic wrap, and repeat with the remaining pieces of dough.
6.  Let rise at room temperature until doubled in size, about 1 to 1 1/2 hours.  Thirty minutes before baking, preheat the oven to 400° F, and position a rack in the lower third of the oven.
7.  When fully risen, remove the plastic wrap.  Gently brush each bun with the egg wash, taking care not to deflate them, and sprinkle each with sesame seeds before the egg wash dries.  Spray or sprinkle the buns with water, then transfer to the oven.
8.  Bake the buns at 400° F for 15 to 20 minutes, or until well-browned on top.  Remove to a wire rack to cool thoroughly before serving.
Notes:
1.  These  buns are best served split horizontally, brushed with a little butter or olive oil, and toasted quickly under a hot broiler.