Week Thirty-Eight: Spanish Breads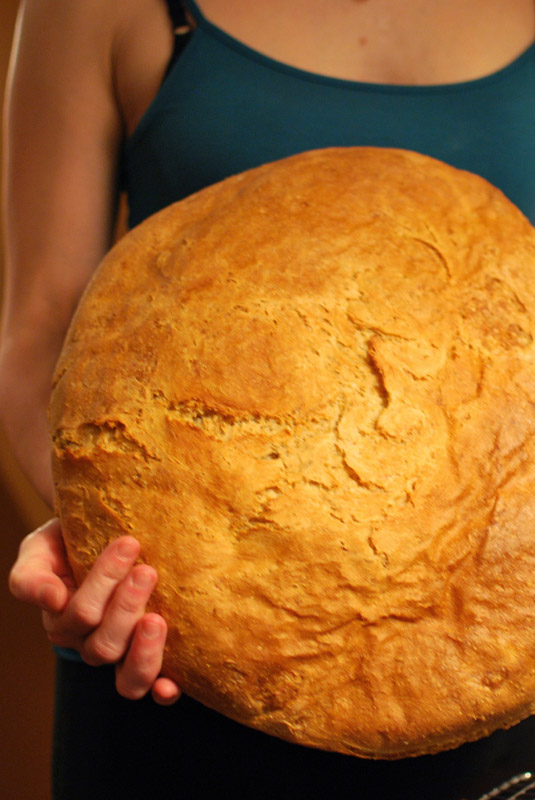 In Spain, loaves of bread are often gargantuan things, as big around as a large paella pan.  Richly brown as any chocolate, they're sold in quarters or halves, but just as commonly sold whole.  This is not only a reflection of the Spaniard's unwavering adoration of the pan diario, but also has historical connotations.
Just as in many bread-baking societies, ovens in Spain were once communal.  Large loaves made for extra time between baking sessions, and also generally tasted much better than smaller loaves.  Poorer people, of necessity, used whatever grains they could, which often meant using a large percentage of whole-wheat or non-wheat flours.  And the Spanish, being the culinary innovators they are, figured out how to make those loaves taste pretty darn good.
Enter pan Gallego, or "bread of Galicia", the North-westernmost province in Spain.  Recipes for this toponymous bread differ as much as the type of wine served alongside, but this version uses a large percentage of centeno, or rye flour, which certainly would've been common in bygone ages.  Caraway seeds and a touch of olive oil add earthiness and fruit to complement the rye, while a handful of cornmeal gives a nod to the proximity of Galicia to Portugal, a country that grows a substantial amount of corn.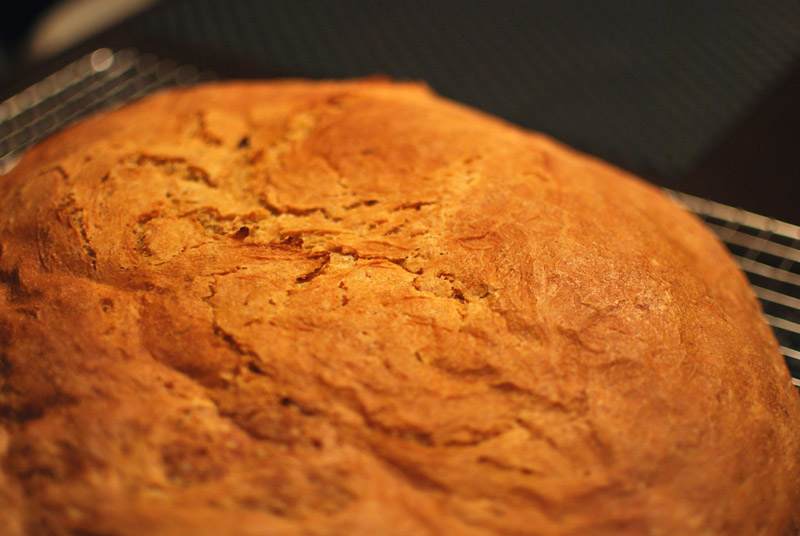 To mitigate the coarse texture and slightly bitter flavor of rye, an unleavened rye starter is left to ferment for up to a day, softening texture and taste.  This long fermentation also helps increase its keeping ability, important when baking such huge loaves as this.  Giant as this bread is, I don't suggest baking it into smaller portions.  Long and technical story short, the size greatly affects and improves the flavor and texture of the bread, leaving authenticity aside.
The slack dough transforms into a brown-crusted, homely-looking thing; but inside is an impossibly tender, airy crumb, especially considering the significant percentage of coarse whole grains used.  The unmistakable flavor of rye and caraway are there, but are swaddled in overtones of slight sourness, and an impeccable tooth.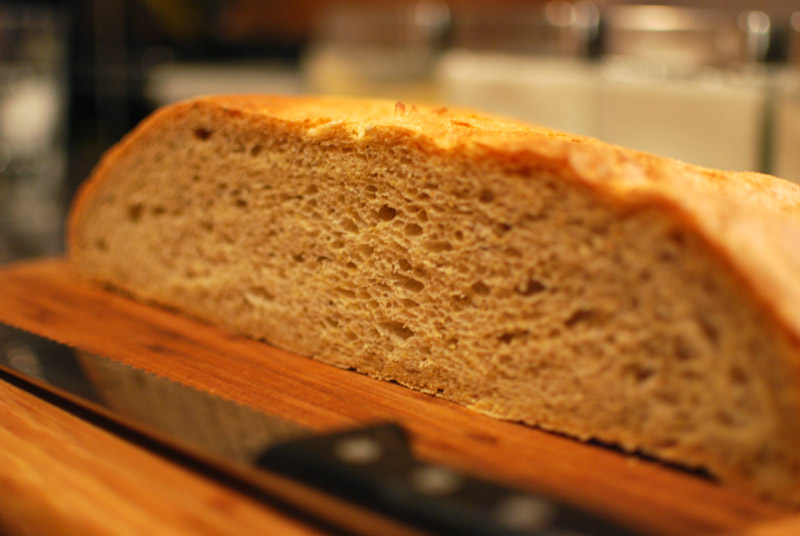 Lest you think I'm recommending you make a truly massive loaf of bread for no reason other than ars gratia artis, let me tell you about pa amb tomàquet.  This Catalonian specialty is sometimes mistakenly referred to as "Catalan bruschetta"; but if there's a Spaniard within spitting distance, he'll surely let you know your error.
As might be expected, there are about ten million different ways (each and every one the only and most proper way, of course) of making pa amb tomàquet.  But generally, it consists of toasting a slice of bread, rubbing with a clove of garlic (à la bruschetta), then not so much rubbing as squishing, scraping, or scrubbing a tomato half into the toast, until only the skin is left.  (Most say to discard this skin, but I found it irresistible; of course, Americans don't breed thick-skinned tomatoes especially for this purpose as the Spanish do.)  Coarse salt is sprinkled on top, and only then is a light drizzle of olive oil added, lest the bread soak up anything but tomato at first.
Such a simple idea, such facile execution, but what immensely complex flavors result!  It's actually astonishing how good it is, especially now, with those last, sweet, tomato hurrahs of summer, and such a fantastic loaf of bread as this pan Gallego.  No, I'm not suggesting you make an entire loaf of pan Gallego; I'm suggesting you make an entire pan Gallego's worth of pa amb tomàquet.
Let me know if you have any bread left over.
Pan Gallego de Centeno (Galician Rye Bread)
Adapted from Apple Pie, Patis, & Pâté
Makes 1 large loaf
For the starter:
9½ ounces (about 2½ cups) white rye flour (see note 1 below)
2¼ ounces (a scant 1/2 cup) cornmeal, preferably stone-ground
2 ounces (a scant 1/2 cup) whole wheat flour
1/2 teaspoon salt
1¼ cups water, at room temperature
For the final dough:
16 ounces (3¼ cups plus 1 tablespoon) unbleached bread flour
4 teaspoons instant yeast
2 teaspoons salt
9 ounces water, at room temperature
2 tablespoons olive oil
2 teaspoons caraway seeds
1.  To make the starter, whisk the rye flour, cornmeal, whole wheat flour, and salt together in a bowl.  Add the water, and stir until all the dry ingredients are moistened.  The mixture should be thick, but not very stiff.  There should not be any flour left dry; if there is, add a spoonful or two of extra water and mix to combine.  Cover tightly with plastic wrap, and let stand at room temperature for at least 12 and up to 24 hours.
2.  To make the final dough, whisk together the flour, salt, and yeast in the bowl of a stand mixer.  Add the water and olive oil, and mix with the dough hook on low speed until smooth, about 2 to 3 minutes.
3.  Add the starter in pieces, mixing on low speed to help each piece incorporate, until all starter has been added and the mixture is reasonably homogenous.  Increase the speed to medium-low, and knead until smooth and elastic, about 5 to 6 minutes.  The dough will be slack, and will not clear the sides of the bowl, but should form strands from the dough hook to the bowl as you mix.
4.  Add the caraway seeds, and mix on low speed until incorporated.  Transfer the dough to a large, lightly-oiled bowl.  Cover tightly with plastic wrap, and let sit at room temperature until 1½ times larger in volume, about 45 to 60 minutes.
5.  Lightly grease a large baking sheet, or line with parchment paper.  Turn the dough out onto a well-floured work surface.  Dust the top of the dough with flour, and, using floured hands, gently deflate the dough and shape into a flat round.  Fold the edges into the middle, pressing gently but firmly, shaping the dough into a round loaf.  Transfer the dough to the prepared baking sheet, seam side down.  Cover loosely with lightly-oiled plastic wrap, and let sit at room temperature until doubled in size, about 1 hour.  Adjust an oven rack to the lower-middle position, and preheat the oven to 475º F.
6.  Spray or sprinkle the loaf with water, then transfer to the oven.  Bake at 475º F for 10 minutes, opening the door every 2 minutes to spray with additional water.  After 10 minutes, reduce the temperature to 425º F, and bake for 15 minutes more, without spraying.  Next, reduce the temperature again, to 350º F, and bake for an additional 30 to 40 minutes, or until well-browned and baked through.  An instant-read thermometer should register about 200º F when inserted into the center.  Remove to a rack to cool completely before slicing.
Pa Amb Tomàquet (Bread With Tomato)
Slices of crusty bread
1 clove garlic (optional)
Very ripe fresh tomatoes
Coarse salt
Good quality extra-virgin olive oil
1.  Slice the bread, and toast it lightly under a hot broiler.
2.  If using, cut the garlic in half horizontally, and rub it over the bread.
3.  Cut the tomato in half horizontally, and rub it over the bread until the bread is very stained, and the tomato is reduced to a shell of its former self.
4.  Sprinkle the bread with a little salt, drizzle lightly with olive oil, and serve immediately, perhaps with some Serrano ham, anchovies, Manchego cheese, or canned tuna.
Notes:
1.  If using medium rye flour and measuring by volume, add an extra tablespoon to total 9½ ounces.  Pumpernickel rye flour, though, should still measure 2½ cups.
2.  This bread should keep at room temperature for several days in an air-tight container.  Re-crisp by heating in a 350º F oven for 3 to 4 minutes.
3.  A "cheater's method" for pa amb tomàquet, which prevents the bread from going soggy as it sits, from Lobstersquad: Cut the tomatoes in half, and grate them into a bowl.  Add salt and olive oil to the tomato pulp, to taste.  Serve with toasted bread, rubbed with garlic or not according to preference, and a knife for spreading.
4.  Pa amb tomàquet should be made with a very soft, very ripe tomato.  In Spain, canned tomatoes are blasphemy in this application; but if it's winter, and you're really craving some of this, I wouldn't say a word to anyone.