Week Thirty-Eight: Spanish Breads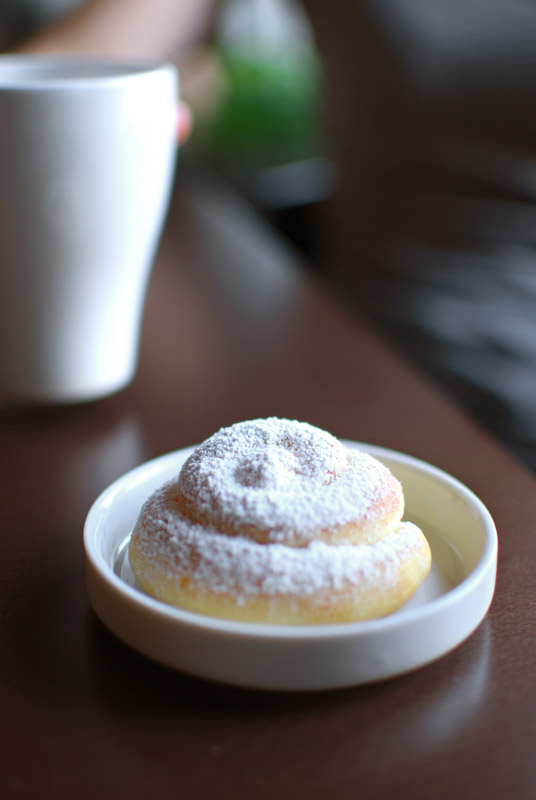 The sun is just up, beginning to turn the dusty light a flattering shade of terra cotta.  The patisseria offers, among many other things, an ensaïmada; but the small, sweet spiral is all you care to breakfast on after dining so well and so late the night before.  Careful to avoid inhaling the powdery dusting of sugar, your teeth sink through the outer crust into the soft interior.   But you can't avoid losing a few motes of sugar, as the bread resists your bite, pulling at your hand and letting go in slow layers.
The dough, sweet and rich, is made richer yet by being rolled up with pork fat before being coiled into the snail shell shape.  It isn't quite as indulgent as it might sound; it's simply the pork-addicted Mallorcan's answer to the croissant, and is very nearly as light.  Gleaming, the sweet topping proves an effective antidote to the salt of Mediterranean air.
You finish, the middle of the spiral saved for last as the best bite of all, and savor the sweetness licked from each finger with eyes closed.  Bitter dregs of now-lukewarm coffee rinse the flavor from your palate, and the idea of going back for a second ensaïmada tempts you, and strongly.  But the lure of the warming and ever more crowded sand is stronger, and you decide against it.  You might be on an island, but you're still in Spain after all, and there will always be another piece of bread to enjoy around every vibrant corner.
This recipe is a rather bastardized version of the far more elaborate and lardy (literally) version found in Mallorca, resulting in an item that is more bread than pastry.  The overall effect, though, is quite pleasant, if less than authentic.
Ensaïmadas
Adapted from Bread, by Christine Ingram and Jennie Shapter
Makes 16
1 large egg, at room temperature
1/2 cup milk, at room temperature
1 tablespoon olive oil
9½ ounces (2 cups) unbleached bread flour
1/4 cup sugar
1/2 teaspoon salt
1½ teaspoons instant yeast
3 tablespoons unsalted butter, melted
Powdered sugar, for dusting
1.  In the bowl of a stand mixer, whisk the egg until well blended.  Add the milk and oil, and whisk until combined.  Add the flour, sugar, salt, and yeast.  Using the dough hook, mix at low speed until all the flour is moistened and a rough dough forms.  Increase the speed to medium-low and knead for about 5 minutes, or until smooth and elastic.
2.  Transfer the dough to a lightly-oiled bowl, cover tightly with plastic wrap, and let sit at room temperature until nearly doubled in size, about 1 to 1½ hours.
3.  Turn the dough out onto an un-floured work surface.  Knead a few times to deflate, dusting lightly with flour as needed to prevent sticking.  Divide the dough into 16 even pieces, cover loosely with plastic wrap, and let rest for 5 minutes.  Line a large baking sheet with parchment paper.
4.  Keeping unused pieces of dough covered, roll each piece of dough out into a thin rope, about 15 inches long.  If the dough resists, cover and let rest while working on remaining pieces.
5.  When all pieces are rolled out, dip each one in the melted butter, letting any excess drip off.  Coil each rope into a spiral, on the prepared baking sheet.  Tuck the tail end underneath.  Repeat with remaining ropes.  Cover loosely with plastic wrap, and let sit at room temperature until doubled in size, about 1 hour.  Preheat the oven to 375º F.
6.  Bake the spirals at 375º F for 10 to 15 minutes, or until golden brown.  Remove from the oven and immediately dust with powdered sugar, ideally by sifting the sugar over the hot bread.  Transfer to a wire rack to cool.  Serve warm.
Notes:
1.  Ensaïmadas will keep at room temperature for about a day.  They may also be frozen and reheated in a 350º F oven for about 5 minutes, or until heated through.