Week Fifteen: Scandinavian Breads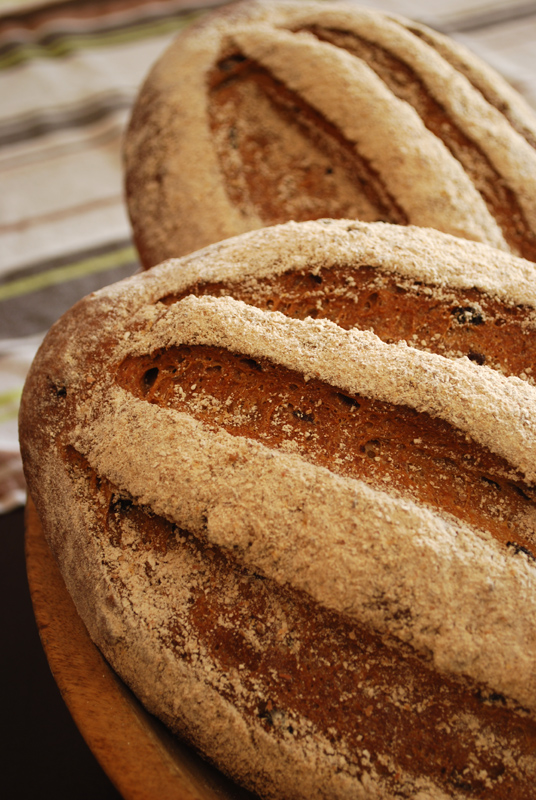 Well, it's Good Friday, which means that Easter is just days away, so I thought this bread was appropriate for today.  You see, Scandinavians are generally big fans of Easter.  Can you guess why?  Maybe it's the same reason I'm so excited about it – and no, it isn't the chocolate bunnies (though that doesn't hurt, either).  No, Easter is wonderful because it means that Winter is just about over!  For me, this means goodbye hats and gloves, hello tank tops!  For Scandinavians, though, this means goodbye Arctic winds, hello midnight sun!  It's generallly a big holiday, with many having a holiday from Maundy Thursday to the Tuesday after.
So Scandinavians like Easter.  But over there, it's just a little different from the Easter we Americans know.  For example, in Sweden and Finland, children dress up like witches, swat at people with branches of pussy willow, and go door to door for treats.  In Norway, they're fond of crime around Easter, whether in novel, tv show, or movie form.  They call it Paaskekrim.  Easter Crime, literally!  In Denmark, people send out anonymous "teaser" letters, sort of ransom-note style.  In Iceland, it's a little more family-oriented, and more like what Americans are used to.  But in all these nations, one common thread prevails: the food.
As with all important holidays, people like to celebrate Easter with food.  The Swedish smörgåsbord and the Norwegian koltbord are filled with fish (pickled, raw, cured, and everything in between), potatoes, eggs, cheeses, ham, Paskelbrygg (Easter beer), schnapps, and (of course) breads of every shape, size, and texture.  Limpa rye, the bread for today, is a special celebration bread, with orange, molasses, and spice flavorings.
In Sweden, "limpa" simply refers to the traditional makeup of the bread.  A limpa loaf is oblong, tapered at the ends, and is baked free form with no bread pan.  Usually, limpa is made with rye flour and various spices.  "Vortlimpa" is a style of limpa made traditionally with brewer's yeast (wort), a tradition that survives today in the form of recipes that include beer.  Molasses is a traditional flavoring, as is golden syrup, and you can use either one you like.  If you can't find golden syrup, but don't like the robust flavor of molasses, you can certainly substitute light corn syrup with a touch of honey for flavoring.
This bread turned out very pretty, with a nice rye flavor.  The spices might have been more assertive, and the orange flavor got a bit lost.  Perhaps I should've included some of the orange juice instead of just the zest, but I didn't think of it.  The port-soaked currants were just wonderful, though; they were lovely little bursts of flavor dotting each slice.  They will help the bread to keep longer too, because they retain moisture.  The crust was thick but soft, and turned a lovely brown.  With a soft, even crumb, this bread would enhance any Easter table.
Limpa Rye
Makes 2 loaves
1/2 cup warm water (105º to 115º F)
1/2 cup warm milk (105º to 115º F), divided
1 tablespoon active-dry yeast
1/2 cup sourdough starter (optional)
4 ounces rye flour, plus additional for dusting loaves
3 ounces currants (about 3/4 cup)
3 tablespoons port
1 1/2 teaspoons fennel seed
1 1/2 teaspoons caraway seed
2 teaspoons anise seed
1/2 cup light beer, at room temperature
3 tablespoons molasses
1/4 cup + 2 tablespoons vegetable oil
1 1/2 teaspoons salt
Zest of 1 large or 2 small oranges
8 ounces white whole wheat flour
12 ounces unbleached bread flour, divided
Water in a spray bottle
1.  In a medium bowl, combine the warm water and 1/4 cup of the warm milk.  Sprinkle the yeast over, stir to combine, and let sit until bubbly, about 2 to 3 minutes.  Stir in the rye flour and the sourdough starter (if using), until smooth and well combined.  Cover and let the sponge stand in a warm place for 1 hour, or until doubled in size.
2.  Pour the port over the currants and let stand, stirring occasionally, while the sponge rests.  Crush the fennel, coriander, and caraway in a mortar and pestle, or crush with a rolling pin if you lack a mortar and pestle.  Reserving 4 ounces of the bread flour (about 1 cup), combine the remaining 8 ounces with the white whole wheat flour and the salt.
3.  When the sponge has doubled in volume, transfer it to the bowl of a stand mixer fitted with the dough hook.  Add the remaining milk, the beer, molasses, oil, orange zest, crushed seeds, and currants with all the port.  Mixing at low speed, add the flour and salt mixture.  Increase the speed to medium.  Adjusting the consistency as needed with the reserved bread flour, knead until the dough is smooth and elastic, yet fairly stiff, about 8 minutes.  The dough should not stick much to the sides of the bowl.  Depending on the moisture level in your dough, you may need all or hardly any of the reserved flour.
4.  Transfer the dough to a lightly-oiled bowl, turning to coat all sides.  Cover with plastic wrap, and let rise in a warm place until doubled in size, about 1 hour.
5.  Without punching down the dough, turn it out onto a work surface.  Divide it into two equal pieces.  Press and shape the pieces into oval loaves, about 10 inches long.  Rolling the loaves under your hands, taper the ends slightly.  Transfer the loaves to a large baking sheet lined with parchment paper.  Cover loosely with plastic wrap, and let rise until almost doubled in volume, about 40 minutes.
6.  Preheat the oven to 375º F.  Spray or gently brush the dough with water, and dust with enough rye flour to coat.  Using a sharp serrated knife, make three quick slashes lengthwise down each loaf, being sure not to press into and deflate the dough.  Let sit 10 minutes, or until the oven is hot.
7.  Bake the loaves at 375º F for about 35 minutes, or until baked through.  Remove to a wire rack to cool.
Notes:
1.  The seeds in this bread are certainly open to whatever interpretation you prefer; fennel, anise, and caraway are simply the most traditional for this bread.  Other good options are coriander, ginger, a pinch of ground clove or cinnamon, nutmeg, or even black pepper.
2.  The loaves are fully cooked when they sound hollow when tapped on the bottom.  When in doubt, you can always use an instant-read thermometer: they are done when they hit about 200º F, though insertion into a hot currant may skew the reading a bit.
3.  For the vegetable oil, I used olive oil (since that's all I keep on hand), and it worked just fine, with no olive-y flavors overwhelming things.
4.  I specify white whole wheat here, rather than regular whole wheat, for its relative lightness.  If you can't find it, use instead 4 more ounces bread flour and 4 ounces whole wheat.
5.  If you don't have a sourdough starter, feel free to omit it.  In this case, you will very likely not use much of the reserved flour in step 3.