Week Fifteen: Scandinavian Breads Easter Bread!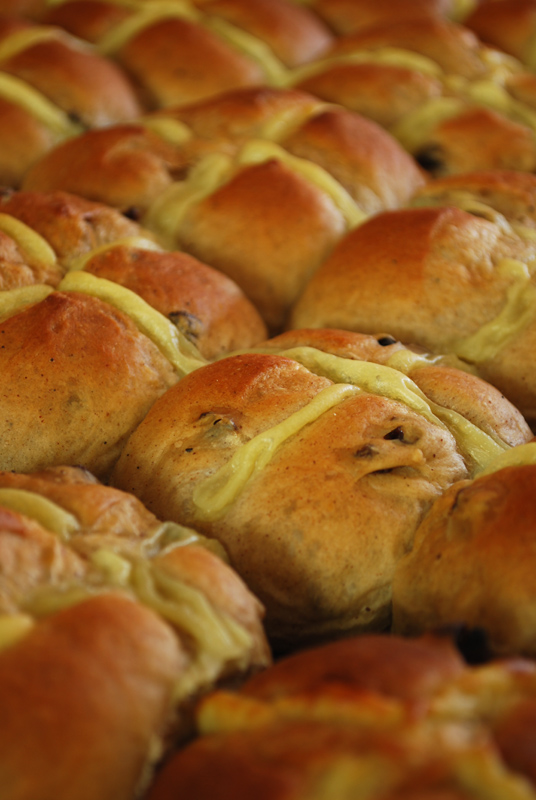 I just couldn't pass up the opportunity to make hot cross buns for Easter, so here we are.  Unfortunately, I am doing some fairly major renovation/redecorating this weekend, so I don't have a whole lot of time to devote to blogging.  But I did look up a little history of these wonderful, soft, spicy delights!
Hot cross buns are a decidedly British treat, though there are legends of their "true" origins that absolutely run the gamut, from Ancient Romans to Pagan Celts, and everything in between.  But the custom of serving them on Good Friday was actually a law set in place by Queen Elizabeth I – the Protestant monarch found them too Catholic in nature, but they were too popular to ban totally, so they were relegated to Good Friday and Christmas only.
These breads, full of currants and spices, are so rich and delicious that you probably don't need any butter melting all over them, but I can't resist gilding the lily.  It's just so good!  You absolutely can't beat it, warm from the oven, marshmallow-soft on the inside, caramel-brown on the outside, with a pat of butter soaking its flavor into everything… There's just nothing better to set off your Easter basket!
Hot Cross Buns
Adapted from Bo Friberg
Makes 36 buns
For dough:
2 tablespoons + 2 teaspoons active-dry yeast
2 cups warm milk (105º to 115º F)
1 tablespoon salt
5 ounces honey (a scant 1/2 cup)
2 eggs, beaten lightly
28 ounces to 32 ounces bread flour (about 6 1/4 to 7 cups)
2 teaspoons ground cinnamon
2 teaspoons ground allspice
1/2 teaspoon ground cloves
11 tablespoons butter (1 stick plus 3 tablespoons), room temperature
8 ounces currants (about 1 1/2 cups)
Zest of 2 lemons
For pastry-cream crosses:
1 pint milk
1 ounce cornstarch (about 1/4 cup)
4 ounces sugar, divided
1/4 teaspoon salt
2 eggs
2 ounces (4 tablespoons) unsalted butter
1/2 teaspoon vanilla extract
1.  Make pastry cream for crosses: place the milk and half the sugar in a heavy-bottomed saucepan.  Heat over medium until just bubbling at the edges and steaming.  This should not take too long; keep an eye on it.  Meanwhile, whisk the cornstarch, salt, and remaining sugar together, in a heat-safe bowl.  Add the eggs and mix until smooth.
2.  Slowly add about 1/2 cup of the hot milk in drips to the egg mixture while whisking rapidly.  Add another 1/2 cup gradually, whisking.  Add the tempered egg mixture back into the remaining milk in the saucepan.
3.  Place over medium heat and cook, stirring constantly, until the mixture comes to a boil and thickens.  Boil for a few seconds longer to make sure the raw starch taste completely cooks out.  Remove from heat, and add in the butter and vanilla, stirring until the butter incorporates totally.
4.  Pour the pastry cream into a bowl, and place a piece of plastic wrap directly onto the surface.  Let cool before storing in the refrigerator.  (Pastry cream will keep for about 4 days if properly stored.)
5.  Make dough: in the bowl of a stand mixer, stir the warm milk and honey together until the honey dissolves.  Stir in the yeast, and let stand until bubbling, about 3 to 4 minutes.  Add the eggs.
6.  Reserving a handful of the flour, add the remainder (about 28 ounces), cinnamon, allspice, cloves, and salt.  Using the dough hook, mix at low speed until a rough dough forms.  Add the softened butter in pieces, until incorporated, scraping the bowl down if necessary.
7.  Knead at medium speed, adding additional flour if necessary, for 8 to 10 minutes.  The dough should be soft and smooth, not liquidy, or too firm.  Transfer the dough to large bowl, cover with plastic wrap, and let rise in a warm place until doubled in size, about 1 hour.
8.  Turn the dough out onto a lightly-floured surface.  Knead in the currants and lemon zest by hand, until the dough is soft and smooth and the currants are well-distributed.  Cover loosely and let the dough rest for 10 minutes.
9.  Divide the dough into 2 equal pieces.  Roll the pieces out into a rope, about 18 inches long.  Cut each rope into 18 equal pieces.  Loosely covering the pieces not being used, round each piece under your hand into a little bun.  Place on a large baking sheet lined with parchment, about 1/2 inch apart.  Using a sharp knife, cut a cross on top of each bun, just deeply enough to penetrate the skin.  Cover loosely and let the buns rise until just less than doubled in size, about 45 to 55 minutes.
10.  Preheat the oven to 400º F.  If you have a piping bag with a 5mm tip, use it now; otherwise, place the reserved pastry cream in a large plastic zip-top bag, and cut a tiny bit of the corner off.  Pipe the pastry cream along the crosses cut into the buns.  Bake at 400º F for about 20 minutes, or until done.  Remove to a rack to cool.  Serve warm.
Notes:
1.  The crosses on this recipe are made from pastry cream (something every foodie should know how to make well; it's so useful and versatile!); but they're often made from a flour-water mixture, marzipan, icing, or simply by slashing into the dough.  Whatever you like will work just as well as anything else.
2.  If you don't have active-dry yeast, use 2 tablespoons instant yeast instead (from 3 packets).
3.  If you like, you can ice the baked buns with a simple powdered-sugar/milk icing.  Drizzle over before serving the warm buns.