Week Fifteen: Scandinavian Breads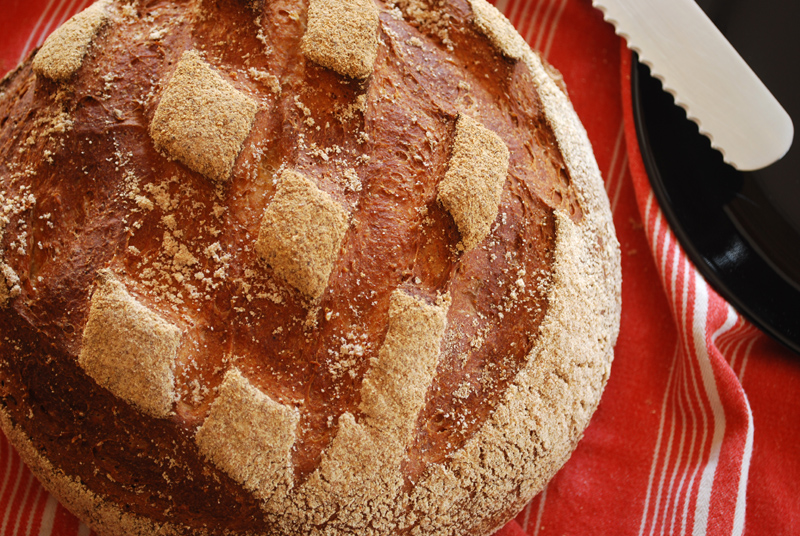 Yes, it's called joggar bröd.  Yes, it translates to "jogger bread".  Yes, it's Swedish.  Feel free to let out a joyful "Bork! Bork! Bork!" as you make this bread, if you like.  (What?  You thought I'd make it through a week of Scandinavian bread, and not make that reference at least once?  Come on, now.  Also, I'm fairly sure he's actually making joggar bröd there.  That's what it looked like when I made it, anyway.)
Ahem.  It's called "jogger bread" simply because it's full of whole-grain, good-for-you carbohydrates, the human body's main source of energy.  Joggers (or any other athlete) need a larger supply of carbs to fuel themselves; hence, joggar bröd.  From that description, you might think this bread would be one of those dense, heavy bricks you often see from Eastern Europe, like this Westphalian Pumpernickel I made a few months ago.
But this is not the case!  No, this joggar bröd bakes into a fluffy, light bread that belies the variety of hearty grains added to the dough.  The crust, though a little thicker than the typical artisan bread, softens as it stands, due to the honey, molasses, and maple syrup included, and their moisture-retaining properties.  These same liquid sweeteners bring a complex range of flavors to the bread, flavors that complement the myriad grains wonderfully.
You may be concerned, while baking, that the crust is darkening too much.  Don't worry about that one bit; the sweeteners and the milk will cause more browning than you'd normally see in a simpler water-flour-only bread.  Just don't remove the bread from the oven before it's cooked all the way through, despite any percieved over-browning.
But you know, if I'm honest, this wasn't my favorite bread of the week.  It was good, certainly; but not my favorite (that Peasant Bread was so good, anything else hardly had a chance).  It's very grainy and hearty, and I'm sure the dough could take any number of various flours and grains added or substituted in.  Maybe my palate was a bit "breaded-out" when I tried it; because the flavors were lovely, and the texture was nice as well, but for some reason, it just wasn't ringing any bells for me.  It's very pretty, though!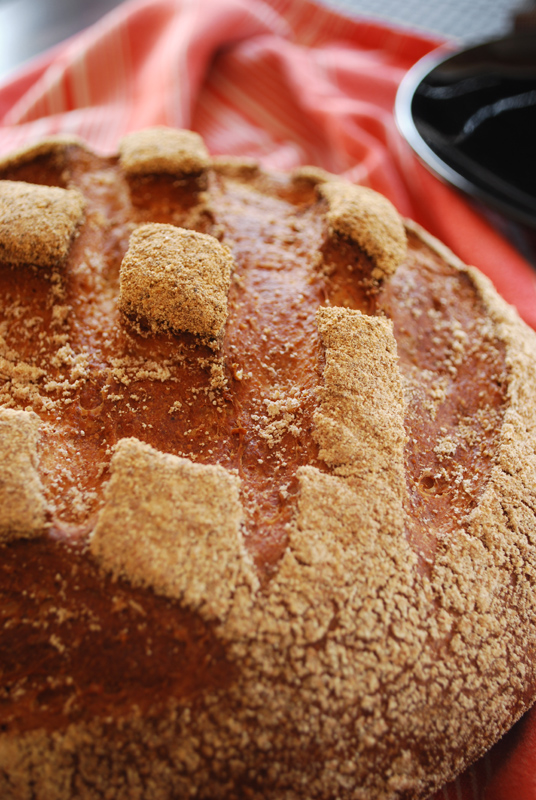 Joggar Bröd
Adapted from Bo Friberg
Makes 2 loaves
1/2 cup warm water (105º to 115º F)
1 cup warm milk (105º to 115º F)
2 tablespoons honey
1 tablespoon molasses
1 tablespoon maple syrup
4 1/4 teaspoons active-dry yeast
1 egg
1 tablespoon salt
1 1/2 ounces wheat bran (about 1/2 cup)
3 ounces cornmeal (about 1/2 cup)
2 ounces rolled oats (about 2/3 cup)
2 ounces flaxseed meal (about 1/3 cup)
8 ounces whole wheat flour (about 1 3/4 cups plus 1 tablespoon), plus extra for dusting
3 tablespoons unsalted butter, at room temperature
12 ounces unbleached bread flour (about 2 2/3 cups)
Water in a spray bottle
1.  Combine the water, milk, honey, molasses, and maple syrup in the bowl of a stand mixer, and whisk until dissolved together.  Sprinkle the yeast over, stir to combine, and let sit until bubbly, about 3 minutes.  In another bowl, whisk together the salt, wheat bran, cornmeal, oats, flaxseed, and whole wheat flour.
2.  Add the flour mixture and the egg to the yeast mixture.  Using the dough hook, mix at medium-low speed. Add the butter in pieces, and the bread flour, reserving a handful of flour to the side.  Continue to knead until the dough is smooth and elastic, about 8 minutes, adjusting the consistency of the dough with the reserved flour until fairly stiff and no longer sticking to the sides of the bowl.
3.  Transfer the dough to a large lightly-oiled bowl, turning to coat all sides with the oil.  Cover with lightly-oiled plastic wrap, and let sit at room temperature until doubled in size, about 1 hour.
4.  Punch the dough down, then cover and let rise a second time until doubled in size, about 1 hour.
5.  Punch the dough down again, turn out onto a lightly-floured surface, and divide into two equal pieces.  Knead lightly a few times, and form the dough into round loaves by pulling the outer layer of dough tightly around the ball, forming a skin that meets together in one seam.  Flatten the rounds slightly, spray or brush with water, and dust liberally with whole wheat flour.
6.  Transfer the loaves, seam side down, to a baking sheet lined with parchment paper.  Slash the tops of the rounds, cutting just deep enough to penetrate the skin, in a diamond-pattern grid.  Cover loosely with plastic wrap and let rise until doubled in size, about 45 minutes to 1 hour.  Preheat the oven to 425º F.
7.  Put the loaves in the oven, spraying the oven well with water.  Bake for 10 minutes at 425º F, opening the door to spray with water every 2 minutes or so.  Reduce the temperature to 400º F, and continue to bake for an additional 30 minutes, or until the loaves are well browned and baked through.  Remove to a rack to cool.
Notes:
1.  I used semolina flour instead of cornmeal (who knew I had run out?), and I experienced no adverse effects; though it may have come out more tender had I used cornmeal, as it produces no gluten, whereas semolina does.
2.  For slashing this dough (step 6 above), I suggest a small, sharp knife, or even a razor blade.  My standard tool, a long serrated knife, was just not agile enough to curve over the tops of the rolls, and cut a bit too deeply.  This didn't affect the flavor at all, but it gave the rolls more of a coronal nubbiness after baking, as opposed to a light pattern on top.  Whatever you prefer is fine, of course.