Week Fifty-One: Gift Breads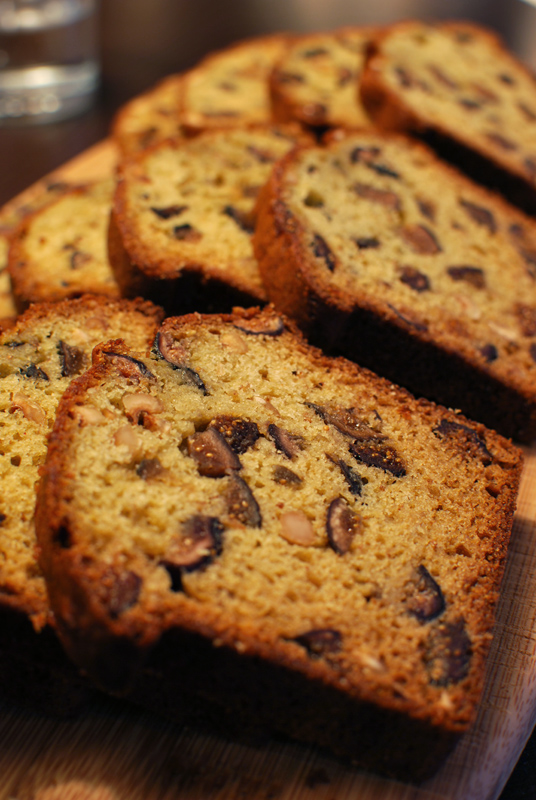 Today's gift bread is slightly on the lighter side, as it contains very little added fat and sugar, but it doesn't skimp one bit on flavor.  An ample amount of orange-juice-soaked dried figs studs the bread throughout, making each slice a pretty mosaic of the plum colored jewels.  Buttery and crunchy hazelnuts appear a bit less generously; but rather than seeming stingy, the effect is that each time a hazelnut is discovered in a bite, it is all the more satisfying.
This bread isn't so sugary that you'll feel it stuck to your teeth hours later, but the plentiful figs and orange juice provide plenty enough sweetness to do the job, while bringing their complex flavors to keep it interesting.
I wouldn't exactly call this bread a health food, but with so little added oil and refined sugar, you could certainly do much worse.  I've tried plenty of higher-fat, -sugar, and -calorie breads that don't come close to the fantastic flavors and moistness of this bread.  And looking at things that way, you absolutely couldn't do any better.
Fig Hazelnut Bread
Adapted from Cooking Light Magazine
Makes one 9 x 5 inch loaf
2 ounces (about 1/3 cup) hazelnuts
3/4 cup orange juice, preferably fresh
6 ounces (about 1 cup)  chopped dried figs
1/2 cup sugar
2 tablespoons olive oil
1 large egg
1 large egg white
6 3/4 ounces (1 1/2 cups) unbleached all-purpose flour
1 1/2 teaspoons baking soda
1/4 teaspoon salt
1.  Preheat oven to 350° F.  Lightly grease a 9 x 5 inch loaf pan.
2.  Roast hazelnuts on a baking sheet at 350° F for 15 minutes, stirring once halfway through.  When skins are very dark, roll nuts up in a kitchen towel (preferably a dark-colored one that won't show a stain).  Rub the towel between your hands, removing the skins.  Chop nuts while still warm, and set aside.
3.  Meanwhile, bring the orange juice to a boil.  Pour over the figs in a heatproof bowl.  Let stand at least 15 minutes.
4.  In a large bowl, combine the sugar, olive oil, egg, and egg white, whisking until smooth.  Stir in the figs and orange juice.
5. Whisk together the flour, baking soda, and salt in another bowl.  Add to the wet ingredients, along with the chopped hazelnuts, gently stirring together until just combined.  Transfer the batter to the prepared pan.
6.  Bake at 350° F for 45 minutes, or until golden brown and loaf feels firm when pressed gently in the center.  Let cool for about 10 minutes in the pan before removing to a wire rack to cool thoroughly.  Serve warm.
Notes:
1.  This bread will keep shockingly well, wrapped tightly, at room temperature for several days.