Week Fifty-One: Gift Breads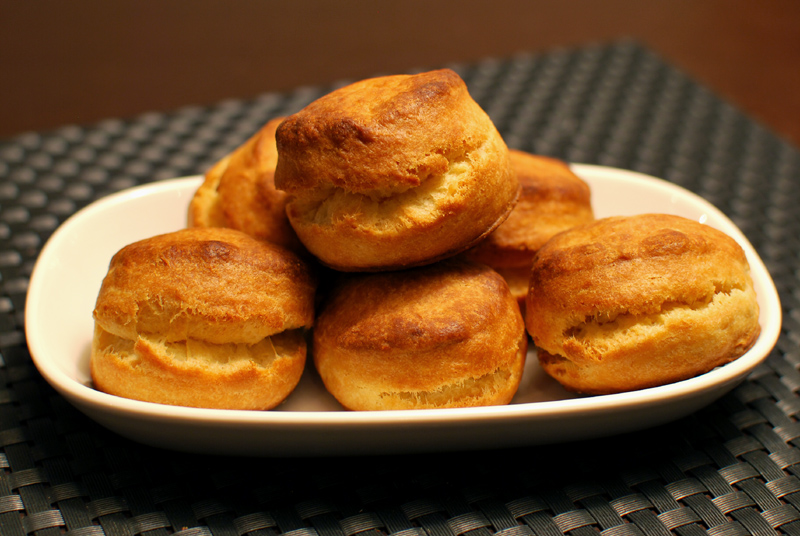 This bread isn't so much a gift for others as it is a gift for you, the host or hostess with sleepover guests.  Sure, we'd all love to have our guests wake up to visions of us looking like Donna Reed, makeup impeccably done, dressed to the nines, and presenting a Martha-esque breakfast spread of perfect biscuits, jam and butter, coffee, and heck, maybe some eggs too.  But we all know that's never going to happen, right?
Well, honey, get out your powder and blush, because I've got the rest covered.  Jam and butter?  Easy, just take them out of the fridge.  Coffee?  That's what that little "timer" button on the machine is for; set it up the night (or afternoon) before.  (French press users, you're on your own.)  Eggs?  Scramble them over low heat, so you don't forget them and burn them.  And the biscuits?  Pull them out of your freezer, bake, serve.  Modestly collect acclaim.
And the best thing is that I'm totally serious about the last part.  Today's recipe is for so-called Freezer Biscuits; that is, biscuits you make up to a month in advance, stash away unbaked in the freezer, and pull out and bake as many as you need whenever you need them.  They're like those God-awful, but so tantalizingly convenient biscuits sold in the frozen food aisle; but these are homemade and have no scary preservatives or "flavorings".  They bake best when totally frozen (in fact, they don't really work if thawed, or baked immediately after mixing), so there's not even any thawing down time.
But for me, convenience alone is not worth having to suffer through sub-par biscuits.  Admittedly, I've become a bit of a biscuit snob over the course of this year, so my standards are maybe higher than anyone else's.  These biscuits might be the easiest things in the world to cook, but so is opening a can of pre-made dough.  If these don't taste good, why bother?
To my great relief (and yes, amazement), these biscuits are just as good as a more standard biscuit, but with significantly less worry.  I purposefully over-kneaded this dough a little, just to see how they'd turn out if a biscuit novice tried this recipe.  I over-baked them slightly — actually a mistake, but a nice test all the same.  Finally, I first tried a biscuit from the last round of scrap-gathering and rolling, typically the toughest of the bunch.
All of this should have added up to a hockey-puck-biscuit experience, but this little guy was as tender as any biscuit I've made before.  Not the flakiest recipe, but fluffy as all get out, and they certainly did smile at me.  The only qualm I have with this recipe is the lack of buttery flavor that I've come to expect from a biscuit; but as there's no butter involved, all the fat coming from cream, I really can't hold that against it.  Besides, you can always add butter at the table; everyone does anyway.
I've kept these biscuits on the small side, because I personally can always have another biscuit, no matter how many I've had.  Smaller biscuits are therefore a good thing, a bit like biscuit cookies.  If you like yours larger, feel free to use a larger cutter; be aware that they will take even 5 to 10 minutes longer to bake in that case.
Easy, nearly foolproof, do-ahead, and delicious: could this be the perfect biscuit recipe?  The next time you have houseguests oohing and aahing over your homemade, freshly-baked biscuits, you be the judge.  I just hope you'll remember who to thank.  And no, you don't really have to put on makeup.
Freezer Biscuits
Adapted from Cook's Illustrated
Makes 25 to 30 two inch biscuits
13 1/2 ounces (about 3 cups) unbleached all-purpose flour, plus extra for dusting
2 tablespoons sugar
1 tablespoon baking powder
3/4 teaspoon salt
2 1/4 cups cold heavy cream
1.  Lightly butter a rimmed baking sheet, or line with parchment paper.
2.  In a large bowl, whisk together the flour, sugar, baking powder, and salt.  Stir in the cream with a nonstick spatula until a dough forms, about 30 seconds.
3.  Turn the dough out onto a lightly floured work surface and gather into a ball.  Knead the dough briefly until smooth, about 60 seconds, dusting with extra flour as needed to prevent sticking.
4.  Pat or roll the dough into a flat circle, about 3/4 inch thick.  Cut out the biscuits using a 2 inch round cutter.   Transfer the biscuits to the prepared baking sheet, leaving about 1/2 inch space in between.
5.  Gather up the scraps of dough, shaking off any excess flour, and reknead briefly to combine.  Pat or roll the dough again into a 3/4 inch thick round, and cut as many biscuits as possible.  Repeat the gathering, rolling, and cutting for a third time.  Any remaining scraps of dough should be either discarded or gently patted into rustic hand-formed biscuits.
6.  Wrap the baking sheet tightly with lightly oiled plastic wrap.  Freeze the biscuits until frozen solid, 6 to 8 hours.  Transfer the frozen biscuits to a plastic zip-top freezer bag, and freeze for up to 1 month.  Do not thaw before baking.
7.  To bake the biscuits, preheat the oven to 450º F, and place a rack in the upper-middle position.  Lay the frozen biscuits on a lightly buttered or parchment-lined baking sheet, spacing about 2 inches apart.  Bake at 450º F until puffed and golden brown, 15 to 20 minutes.  Serve immediately.
Notes:
1.   If baking a large amount of biscuits, bake only as many as will fit on one baking sheet at a time; do not bake more than one pan at the same time.