Week Thirty-Five: East Asian Breads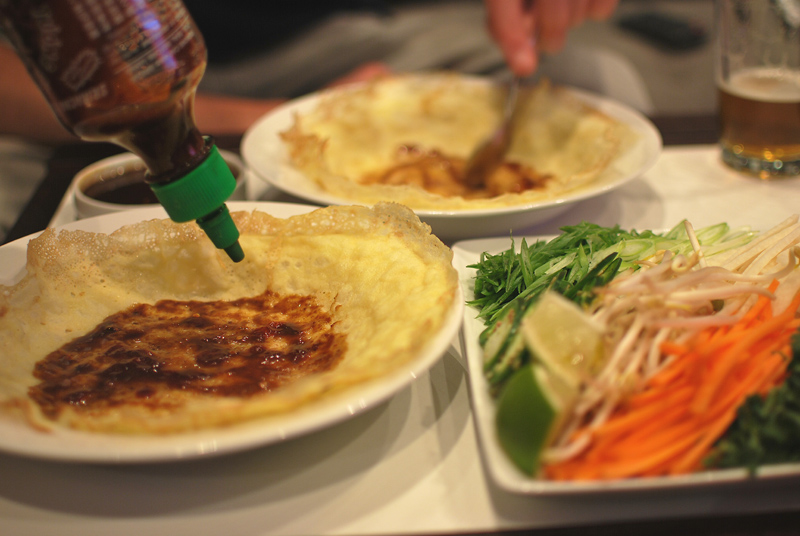 First, I'd like to clear up a little confusion.  I am making báo bǐng today, not bàobīng.  All clear?  Great.
For those of you who don't speak more than one dialect of Mandarin, let me explain.  There are two foods in Eastern Asia that go by the moniker "bao bing".  One is translated as "crushed ice", and is a Taiwanese dessert that can be sweet or savory, and can involve any number of different fruits, toppings (such as condensed milk or syrups), and gelatins.  Some variations are even served hot (sans ice, of course).
The other bao bing, the one I'll be discussing today, translates as "thin pancake".  It's very similar to a traditional French crêpe in shape, size, and cooking method, but is generally made with a high percentage of rice flour mixed with the wheat flour.  Another name for this bread is "mù xū bǐng", which may sound more familiar when I mention Moo Shu Pork.  You remember that thin wrapper you swaddle the pork in, right?  That's the mù xū (or, phonetically, moo shu), also known as bao bing.
Variations of bao bing exist all across East and Southeast Asia.  In Vietnam, they're known as bò bía, which becomes popiah in Taiwan, Singapore, and Malaysia.  Filipinos would recognize them as lumpia, but most Americans would probably call them "spring rolls".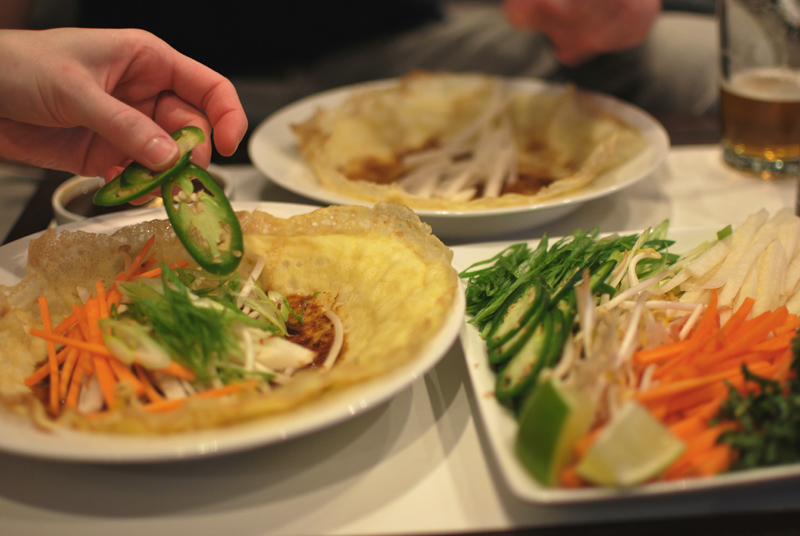 Bao bing can be fried, by typically are not, and are often served with a sweeter sauce, like fermented bean sauce, hoisin sauce, or a sweetened hot sauce.  Like their foreign counterparts, the crêpe and the tortilla, they can be filled with a huge variety of different foods.  You might see any combination of bean sprouts, jicama, carrots, lettuce, garlic, shallots, herbs, noodles, rice, cooked egg, peanuts, sausage, tofu, pork, shrimp, and on and on.  As you can see, you are only limited by the chef's imagination.
The cooking method for bao bing, as I mentioned earlier, is nearly identical to that of the French crêpe.  A thin batter is quickly whisked together, then left to relax in the refrigerator for at least an hour.  After resting, the batter is swirled across the bottom of a hot pan with that singular spin of the wrist that becomes so natural and deft after cooking a batch or two.
This batter, in contrast to the French one, is much thinner, quite watery even.  But where the crêpe relies mainly on gluten from wheat flour to hold it together, bao bing relies on egg protein to provide structure.  Most of the flour here is rice flour, which contains no gluten.  There is a touch of wheat flour, but the amount is so little that it hardly seems to do anything at all.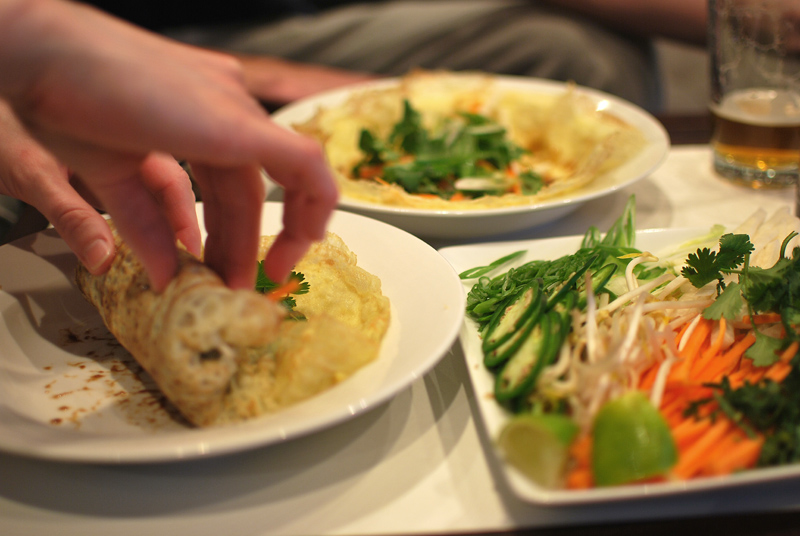 Bao bing end up with a pliant texture that will easily hold any filling, but that won't resist to the pressure of teeth biting easily through it.  The high percentage of rice flour gives a characteristic flavor, which is enriched by the flavor of egg yolk throughout.  It's mild and almost dull when eaten alone, but that simply means it adapts seamlessly to any flavor you choose to fill it with.
It's best to fill and eat these as soon as possible after making them, so it's ideal to have a friendly sous chef prepare the fillings while you cook the wrappers (or vice versa).  I've given some ideas for fillings below, which are some of my particular favorites.  Feel free, though, to omit, substitute, or swap anything you like.  Use whatever you have on hand, or whatever strikes your fancy.
Bao Bing (Chinese Crêpes)
Adapted from Spice, by Christine Manfield, Charlie Trotter, and Ashley Barber
Makes about 20 wrappers
For wrappers:
5 ounces (about 1 1/4 cups) fine rice flour
1 ounce (about 1/4 cup) unbleached all-purpose or cake flour
1/2 teaspoon kosher salt
4 large eggs, beaten until smooth
1 teaspoon vegetable oil
1 1/2 cups water, at room temperature
For filling (as needed):
Bean sprouts
Carrots, peeled and cut into matchstick-size pieces
Jicama, peeled and cut into matchstick-size pieces
Scallions, sliced thinly
Fresh cilantro
Fresh mint, minced
Jalapeño, sliced very thinly
Hoisin sauce
Sriracha sauce (or other hot sauce)
Fresh limes, cut in wedges for squeezing at the table
1.  Whisk together the flours and the salt in a medium bowl.  Add the eggs, oil, and water, and whisk until smooth (see note 1 below).  Cover with plastic wrap, and refrigerate for at least one hour.
2.  Heat a 10 inch nonstick skillet over medium to medium-high heat.  Brush lightly with oil.  Pour in enough batter to coat the bottom of the pan, about 1/4 to 1/3 cup.  Quickly swirl the batter around the pan, making as thin and even a layer as possible.
3.  When the batter is set, and before the underside has browned at all, remove the wrapper to a plate to cool.  Do not cook the top side.  Continue cooking the remaining batter, stacking the finished wrappers on top of one another.  Keep cooked wrappers covered with a cloth until ready to serve.
4.  To serve, fill with desired ingredients and sauces.  Roll up as you would a burrito, by folding two short ends over the fillings, then turning 90°, and rolling up fully into a cylinder.
Notes:
1.  Alternatively, you can process the batter in a blender or food processor, rather than whisking.  Continue as directed.
2.  Bao bing are best when freshly-made; they may be frozen if necessary, but do not refrigerate.
3.  If your wrappers end up with air bubbles or other holes in them, simply place a lettuce leaf on the wrapper before filling and rolling.  This will keep anything from coming through or tearing the wrapper.