Week Thirty-Five: East Asian Breads
You and your countertop are covered with flour.  Fat spirals of jade-studded dough sit in contemplation under a blanket of plastic wrap, waiting for their turn under the transformative weight of your rolling pin.  They emerge as thin rounds, to be cast into hot oil sputtering in a nearby pan.
Moments later, you pull them from that phoenix-fire, spotted with brown and glistening.  As they cool, the promising smell of cooked scallions wafts upwards, making you wonder if the certain burn on your tongue would be worth the immediate gratification of biting in at once.  It almost convinces you.
If you've ever enjoyed good scallion pancakes at a Chinese restaurant, you know what I mean.  A sadly less-than-common inclusion on dim sum and appetizer menus, scallion pancakes are deceptively simple, especially considering how excellent they can be.  Unleavened dough is filled with green onion and brushed with sesame oil, and is quickly pan-fried.  Tender, flavorful, and fast, they appeal to all but the very pickiest of diners.  They're often cut in wedges and served with a soy-based dipping sauce, but we didn't have time for any of those shenanigans, as you can see above.
Like yesterday's bao bing, these pancakes come to us from China.  They're a flatbread as well, but unlike the rice-flour based bao bing, are made entirely with wheat flour.  Though it's difficult to pinpoint the exact origins of this bread, that characteristic implies that it originated in the North of China, where wheat is far more plentiful than in the South.
The method involved in creating scallion pancakes also provides a clue to their roots, as they are made in a very similar fashion to parathas, those flaky Indian flatbreads.  Taking the ingredients and method into account, it seems most likely that they originated in Shanghai, a Northeastern city that boasted a large population of foreigners (who brought a demand for their familiar wheat flour), notably a sizeable percentage from India.  But whatever the pedigree, there's no denying the broad appeal of these savory delights.  Similar breads have become part of the culinary tradition of other parts of Asia, such as Japan's negiyaki, or Korea's pajeon.
When you finally do get take a bite of your freshly-made pancakes, you taste the funky, unmistakable essence of sesame oil, but it sits calmly in the background, letting the sweet pungency of the green onions take center stage.  The scallion bits that tried to escape the clutches of the dough are chided for their efforts by being charred in the cooking process, and they lend a pleasant smoky flavor.
The crunchy exterior gives way to a chewy and soft interior that pulls apart in layers.  The middle remains slightly undercooked if (in my opinion) you've done it properly.  Personally, I have a weak spot for under-done baked goods, and the doughy interior of these pancakes panders admirably to that love.  Feel free to cook these at a lower temperature for a longer time, if you prefer your bread well done.
The recipe may seem long and involved, but it's really quite easy, and goes quickly once you get the hang of it.  I've included copious pictures to help.  Scallion pancakes are often pan-fried in a shallow pool of oil, but I've reduced the amount of oil used to just a thin coating; I think it makes them less greasy.  Again, if you prefer yours cooked in more oil, don't let me stop you.
However you cook them, though, you're sure to win hearts with this one.  Just make sure to let them cool off a bit before giving into temptation and digging in; your tongue will thank you.
Chinese Scallion Pancakes
Adapted from Ming Tsai
Makes 8
4 1/2 ounces (1 cup) unbleached all-purpose flour
4 1/2 ounces (1 cup) white whole wheat flour
1/2 teaspoon salt
1 cup boiling water
1/2 cup thinly sliced scallions (about 3)
1 tablespoon sesame oil
Vegetable oil (such as canola) as needed for pan-frying
1.  In a heat-safe bowl, whisk together the flours and the salt.  Add the boiling water gradually, stirring until a dough forms.  When cool enough to handle, knead until smooth, dusting with flour if needed to prevent sticking.  Cover well with plastic wrap, and let rest at room temperature for 30 to 45 minutes.
2.  Divide the dough into 8 even pieces, and roll each into a round ball.  Using a rolling pin, on a floured surface roll each piece out into a flat round, about 5 to 6 inches in diameter.  Keep the unused pieces covered while working.  Brush each with a little of the sesame oil.
Sprinkle evenly with scallions.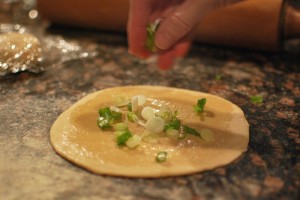 3.  Gently roll the dough up, jelly-roll style, into a long cylinder.
Tighten the cylinder by rolling underneath your palms.
Then, starting at one end, roll the cylinder up into a tight spiral.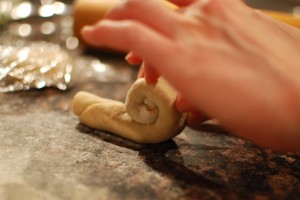 Gently pinch the seam to seal, and press to flatten the spiral slightly.
Keep covered while shaping the other pieces; let finished spirals rest for 10 to 15 minutes, covered.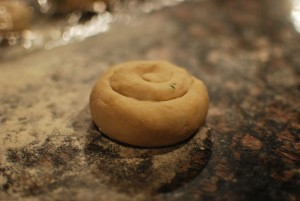 4.  On a floured surface, roll each spiral out to a flat disc, about 4 to 5 inches in diameter. 
Heat a non-stick pan over medium-high heat.
5.  Brush the bottom of the pan with vegetable oil, or pour in just enough to lightly coat the bottom of the pan, about 1 to 2 teaspoons.  Place one pancake in the hot pan, and cook for 1 to 2 minutes, or until deeply browned in places.  Flip over, and cook the other side for 1 minute, or until similarly colored.  Transfer to a plate, and continue cooking remaining pancakes.  Serve warm.
Notes:
1.  You can substitute additional all-purpose flour instead of the white whole wheat flour, if you prefer.
2.  These pancakes are best served as soon as possible, but are just fine at room temperature.  The uncooked, shaped dough may be wrapped well and frozen, and cooked as directed, unthawed.