Week Sixteen: Sandwich Rolls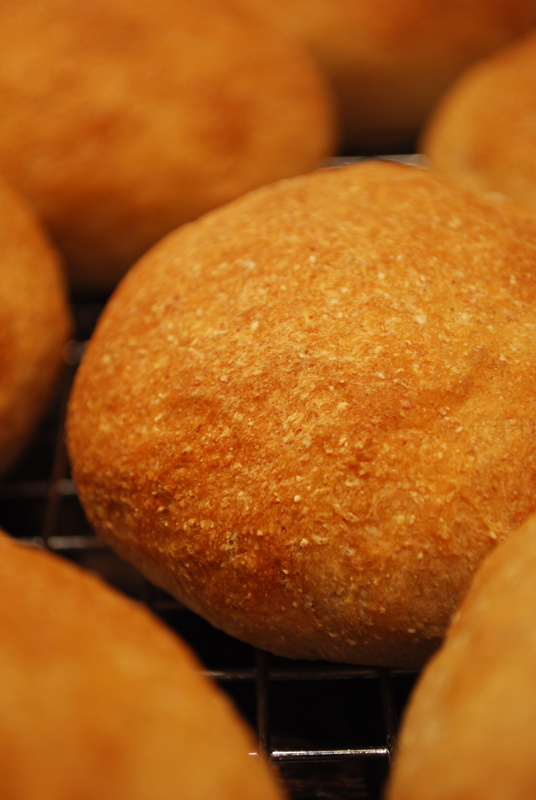 We all know we're supposed to eat more whole grains.  It's so much better for you, and I don't think you'll find any nutritional expert anywhere advising people to not eat more whole grains.  So if you're like me, you'll go up to the deli counter, and dutifully order your sandwich on the "wheat" option.  But seriously?  What does that even mean?  Isn't all the bread "wheat" bread?
Obviously, the deli vernacular refers to bread made from whole wheat flour as "wheat bread".  But the dirty little secret of whole wheat bread is that it's rarely made completely of whole wheat flour.  See, whole wheat flour alone won't make a very good bread.  For various technical reasons, a 100% whole wheat bread is often dense, dry, and not very good.  But if you mix whole wheat flour with white flour, though, you will get the best of both worlds: the fluffiness of white flour with the healthiness of whole wheat flour.  Complicating the issue, FDA regulations state that any bread made with at least 51% whole wheat flour may be labeled as "whole wheat bread".
Apparently, what this all means is that bread manufacturers can churn out any old sub-par loaf, made with at least 51% whole wheat flour, slap a "whole grain" label on it, and the health-conscious will eat it up.  Literally.  But does it taste good?  Rarely.  I have to admit, I often regret getting a whole wheat bread on my deli sandwich.  Crumbly and tasteless, I appease my tastebuds with the knowledge that I'm eating a bit more healthily.  I think most people in America operate under these assumptions: that you must either eat healthily, or eat food with flavor.
But I am here to assert that these two options are not mutually exclusive.  Healthy can equal delicious!  This bread below is such a chimera of good nutrition and tastiness.  I served sandwiches using this bread to a couple of white-bread-devotees, and to great success.  And oh yes, I quizzed them thoroughly about the quality of the bread.  Was it good?  Would you have ordered that bread at a deli?  Did it overpower the sandwich fillings?  Would you enjoy it again?  (Yes, yes, no, and yes.  Win.)
So here is a darn good recipe for a (mostly) whole wheat sandwich roll, one that provides a better nutritional profile than a standard white roll, but tastes much better than the typical wheat roll.  The next time you need to please a crowd of diverse tastes, consider giving this a try – it's the best of both worlds!
 Whole Wheat Sandwich Rolls
Makes 18
1 cup hot water (125º to 130º F)
1 cup hot milk (125º to 130º F)
4 1/2 teaspoons instant yeast (2 packets)
1/4 cup light brown sugar
2 tablespoons granulated sugar
1 tablespoon salt
12 ounces (about 3 cups) unbleached all-purpose flour
14 ounces (about 3 cups) whole wheat flour
1.  In the bowl of a stand mixer, whisk together the flours, and set aside a handful (about 1 or 2 ounces).  Add the salt, sugars, and yeast to the flour in the mixer bowl, and whisk to combine.  Add the hot water and milk.  Using the dough hook, mix at low speed until combined. Increase the speed to medium and knead until smooth and elastic, and the dough has pulled away from the sides of the bowl, about 8 minutes.
2.  Turn the dough out onto a lightly floured surface and knead two or three times, until the dough forms a skin around the outside. Place the dough in a lightly oiled bowl, smooth side up, and cover with plastic wrap. Place the bowl in a warm spot and let rise until doubled in size, 1 1/2 to 2 hours.
3.  Punch the dough down and turn it out onto a floured surface. Divide the dough into two equal pieces and roll each into a rope 24 inches long. Cut each rope into 12 even pieces. Roll each piece into a round ball and place seam-side down on a greased or parchment-lined baking sheet, about two inches apart.  Let rest for 5 to 10 minutes.
4.  Press each roll into a flat disc, about 4 inches across.  Spray the rolls with water and let rise again for about 40 minutes, or until nearly doubled in size.
5.  Preheat the oven to 400° F.   When the oven is fully heated, bake the rolls for 18 to 20 minutes, or until well-browned and baked through. Transfer to a rack to cool completely.  Slice horizontally and fill as desired.
Notes:
1.   If you like, you can replace both kinds of flour with white whole wheat flour, for a completely 100% whole-grain bread, with the necessary lightness.