Week Sixteen: Sandwich Rolls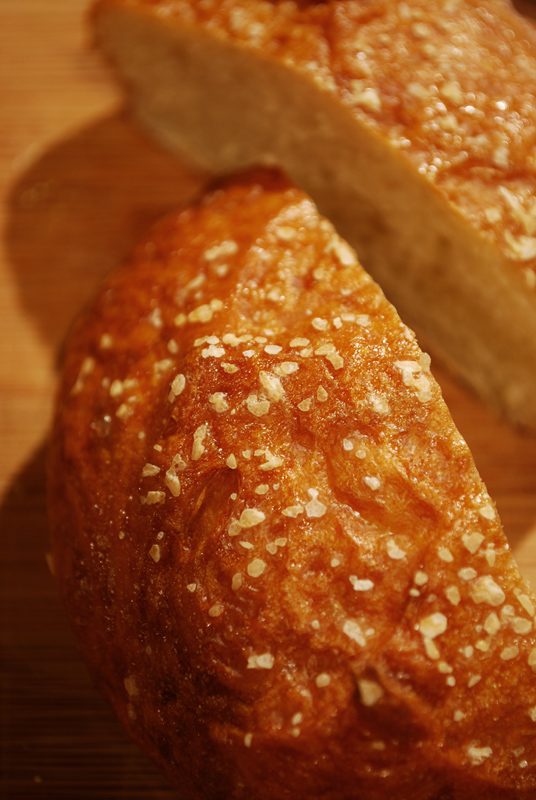 Pretzels are nothing new to Americans; legend has it that pretzels were brought over on the Mayflower.  Nor are pretzels new to Europe; the oft-repeated tale says that a Northern Italian monk created them as gifts for hard-praying children in 610 A.D. (though sources for that one are dubious).  Though I can't very well speak for Europeans, there is a new development in the American world of pretzels: the pretzel roll.  I have a hunch that they've been doing this in Germany for ages, but the pretzel roll is only recently starting to pop up on deli and bar menus all across the U.S.A.  And not a moment too soon, I say!
Have you ever had a pretzel roll sandwich?  They're so good!  The rolls have that characteristic chewy pretzel crust, that lovely coarse salt on top, but are bready enough to stand in for the ubiquitous and often boring white roll.  There's really not much that can beat a black forest ham and gruyère sandwich when it's on a pretzel roll, slathered with a good spicy brown mustard.  Unless, of course, it's the same roll, cradling instead some lovely Parma ham, with smoked gouda and caramelized onions.  I could eat those all day long.
While the pretzel roll is becoming more common, it isn't quite yet what I'd call "readily available".  This, of course, means that if you're jonesing for that singular, somehow almost metallic (in a good way) flavor, with the hearty breadiness underneath, you're going to have to make your own.  But luckily, I've found this recipe for your enjoyment (and mine).  It's remarkably fast, considering how well they turn out.  So, okay, it's not exactly a quick bread per se; but, only 1 hour rising time, seriously?  That's awesome!  And they're so good!  Try these for your next [insert sporting event here] party, set out a bar of sandwich fixings, and wait for the compliments to roll in.
(No pun intended.)
Pretzel Rolls
Adapted from Bon Appétit Magazine
Makes 8
For dough:
14 ounces bread flour, divided (about 3 cups plus 2 tablespoons)
2 1/4 teaspoons instant or quick-rising yeast (1 envelope)
1 teaspoon salt
1 teaspoon sugar
1 cup hot water (125°F to 130°F)
2 tablespoons hot milk (125°F to 130°F)
For boiling solution:
8 cups water
1/4 cup baking soda
2 tablespoons sugar
For finishing:
1 egg white, beaten with 1 tablespoon water to make an egg wash
Cornmeal
Coarse salt (e.g. pretzel or kosher salt)
1.  In the bowl of a stand mixer, whisk together 12 ounces of the bread flour (about 2 3/4 cups), yeast, salt, and sugar.  Add the hot liquids.   Using the dough hook, mix at low speed until a dough forms, about 1 to 2 minutes.  Increase the speed to medium-low and knead until dough is smooth and elastic, about 8 minutes.  Add the reserved flour as needed to achieve a slightly-firm consistency (the dough should clear the sides of the bowl, but still be a little loose).
2.  Transfer the dough to a lightly-floured surface, knead two or three times to form a skin around the outside, and form into a round ball, tightening the skin around the dough.  Place the dough seam-side down in a lightly-oiled bowl, turning to coat all sides.  Cover tightly with plastic wrap, and let rise in a warm place for 35 minutes.
3.  Flour a baking sheet, or line with parchment paper.  Transfer the dough to a lightly-floured surface.  Punch down, and knead briefly until smooth.  Divide the dough into 8 equal pieces.  Covering the ones not being used, form each piece into a round ball, and place seam-side down on the prepared tray.  Using a sharp serrated knife, cut a shallow "X" into the top of each roll.  Cover with a damp kitchen towel (not terry cloth), and let rise until nearly doubled in size, about 20 minutes.
4.  Preheat the oven to 375°F.  Lightly oil a second baking sheet, or line with parchment.  Dust liberally with cornmeal, and set aside.  Bring the 8 cups of water to boil in a large pot.  Add the baking soda and sugar slowly (the water will bubble up massively when you do this).
5.  Add each roll to the boiling mixture.  Cook for 30 seconds, then gently flip over.  Cook the second side for 30 seconds.  Remove the dough with a strainer or slotted spoon, draining a bit before transferring to the cornmeal-covered baking sheet, "X" side facing up.  Repeat with remaining dough.
6.  Let dough cool slightly before brushing each piece with the egg wash.  Dust with coarse or kosher salt liberally, or to taste.  Bake at 375°F for 25 minutes, or until well-browned.  Remove to a rack to cool.  Pretzel rolls are best served warm and fresh.  If not serving within some hours, wrap well and freeze after they have cooled completely.  Reheat in a 350°F oven until thawed.  They do not keep well in plastic at room temperature.
Notes:
1.  If using active-dry yeast instead, increase amount to 2 3/4 teaspoons.  Bring the water and milk to 105° to 115° F.  Dissolve the sugar in the water, add the yeast, and let stand until foamy, about 5 minutes.  Proceed as directed.
2.  You can, of course, add any flavorings you like to the dough.  A little ground mustard would be nice, as would dill, caraway, or fennel.
3.  In step 5, you can certainly cook as many pieces of dough as can fit in your pan; but I found it easiest to time properly by just cooking one or two at a time.
4.  These rolls can be shaped either as described here, or by rolling into ropes instead.  With the ropes, you can form traditional loose pretzel knots, or tie a tighter granny knot, which will form a pretty and more decorative roll.  Other than shaping, the recipe is followed exactly as written (though loose pretzels will be baked sooner, in about 18 minutes).