Week Forty-One: German Breads
If there was ever a bread to exemplify the German state, the pretzel might just be it.  Straightforward, beautiful in its simplicity, rustic and refined, each variation as excellent as the one before… and of course, goes perfectly with beer.
I must confess, I have a particular weakness for soft pretzels such as these.  Topped with an exuberance of salt, the smooth and taut skin entices with its somehow metallic taste, and the dense interior begs to be rolled up into soft dough cannonballs between your fingertips before popping in your mouth.  Dipped or smeared generously with a spicy, coarse mustard (but not too generously, lest it overwhelm the bread's subtlety), the flavors unfurl crisp as a flag in a stiff wind.
My favorite part, I think, is the bold interplay of tastes, textures, and sensations.  The crunch of salt is gone as soon as you notice it.  The yellow punch of mustard plays against the sweet grain of the pretzel on your tongue, as teeth puncture through the skin.  The cool shock and bitter fizz of the hoppy beer you wash it down with precedes an unapologetic desire to do it all again the very instant you swallow the last bite.
Much like their cousin, the bagel, soft pretzels are at their best when boiled; and, like the bagel, some cry heresy if made otherwise.  Mall pretzels are all well and good, if you happen to find yourself hungry in that culinary wasteland, but I'm certainly never going to seek them out for their own virtues.  Luckily, you don't have to, as easy as these are to make.
Perhaps it's the experience of the last nine months speaking here, but I didn't find these difficult at all to make.  If you can roll ropes of dough and fish things out of hot water (literally), you can surely make this recipe.  The shaping is the hardest part — and it does take a couple of tries to get the hang of it — but if all else fails, simply cut the long ropes in half and tie them into granny knots.  They'll taste the same, I promise.  One small hint: I found that, in shaping, if you press the two tail ends firmly into the dough underneath, they stayed put in the boiling and baking process.
I do hope you enjoy these pretzels as much as I have (they've been the bulk of my dinner for the last two nights, accompanied by a small mustard buffet).  Chewy, salty, bready, lightly grainy, covered in good mustard, and served with beer; what else could one possibly need?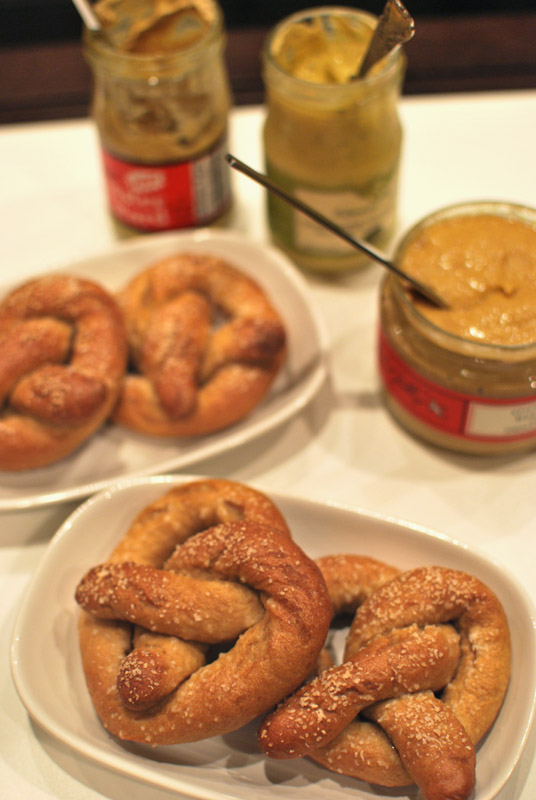 Soft Pretzels
Adapted from King Arthur Flour
Makes 16
13½ ounces (3 cups) white whole wheat flour (see note 1 below)
1½ tablespoons sugar
1 tablespoon salt
2 teaspoons instant yeast (see note 2 below)
1 cup water, at room temperature
1 cup light-flavored beer, at room temperature
9½ ounces (2 generous cups) unbleached all-purpose flour, plus extra for dusting
1/4 cup baking soda, for boiling mixture
1 egg, beaten with 1 tablespoon water to make an egg wash
Coarse salt, for sprinkling
1.  In the bowl of a stand mixer, whisk together the white whole wheat flour, sugar, salt, and yeast.  Add the water and beer.  Using the paddle attachment, mix on low speed until well combined.
2.  Switch to the dough hook attachment.  Add 1 cup of the all-purpose flour, and mix at low speed until incorporated.  Add additional all-purpose flour as needed to make a soft, but not sticky, dough.  You may need slightly more or less than the full 2 cups.  Knead at medium-low speed for 4 to 5 minutes, or until supple and smooth.  Transfer to a large lightly-oiled bowl, and let sit at room temperature until doubled in size, about 1 to 1½ hours.
3.  Preheat the oven to 450º F.  Turn the dough out onto a lightly-floured work surface.  Gently deflate, and divide the dough into 16 even pieces.  Keeping the unused pieces covered loosely with plastic wrap, roll each piece into a long rope, about 12 to 15 inches long.  If the dough resists, cover and continue working on the other pieces.  Shape the ropes into pretzels (or into twists, if you like).  Cover loosely while preparing the boiling mixture.
4.  Line a large baking sheet with parchment paper, or lightly-oiled aluminum foil.  In a large stock pot, dissolve the baking soda in 12 cups of water.  Bring to a boil.  Gently lower pretzels into the boiling water, in batches of 4.  Boil pretzels for 30 seconds on one side, gently turn over, and boil for 30 more seconds.  Transfer boiled pretzels with a skimmer or slotted spoon to the prepared baking sheet.
4.  When all the pretzels have been cooked, let cool briefly, about 3 to 5 minutes.  Brush evenly with the egg wash, and sprinkle generously with salt (or seeds, or sugar, if you prefer).  Bake the pretzels at 450º F for 12 to 15 minutes, or until deeply-browned.  Transfer to a wire rack to cool completely.  Serve warm.
Notes:
1.  If you don't have white whole wheat flour, you can substitute an even mixture of all-purpose flour and regular whole wheat flour.
2.  If using active-dry yeast, increase the amount to 1 tablespoon (from 2 packets).
3.  Don't store pretzels in an airtight container, as the trapped moisture will make them look shriveled.  Pretzels can be stored at room temperature, uncovered, for about 1 day.  Remaining pretzels should be frozen in an airtight container (such as a zip top bag), and reheated unthawed in a 350º F oven for 5 to 10 minutes, or until heated through.