Week Nine: Flatbreads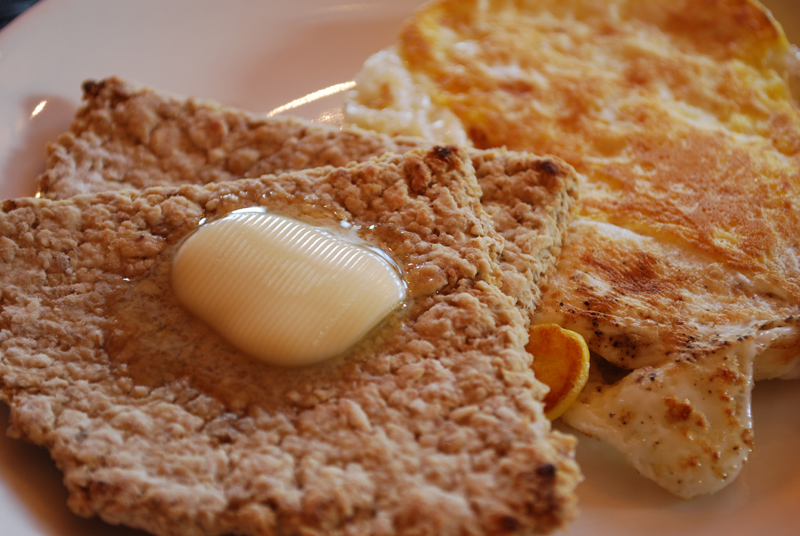 Note: I am out of the country this week.  I did actually make all these breads, and tried to make the effort to write posts for them all, but I didn't quite make it.  I hope this will suffice until I get back on Monday!
I know the Scottish aren't exactly renowned for their flatbreads, but they sure are known for their oats.  Flatbreads are ancient, and known in every culture as an easy way to get grain from plant to table in a most efficient and appetizing way; so it's not really surprising to see something like this recipe.
These oatcakes are quite good!  Make sure the oats you use are ground up pretty well; otherwise they'll never cook, and will just taste a bit raw.  I had to finish mine in the oven, since they were getting too brown, but they cooked up hearty and toothsome, just the perfect breakfast with a little butter and a fried egg on the side.  Fast, tasty, and wholesome, you can hardly find anything better!
Scottish Oatcakes
From Bread by Christine Ingram and Jennie Shapter
Makes 8 oatcake farls (fourths)
 1 cup regular oatmeal, ground fine in a food processor
1/4 teaspoon salt
1 pinch baking soda
1 tablespoon melted butter
3-4 tablespoons hot water
1.  Lightly oil a griddle or heavy frying pan. Mix the oatmeal, salt, and soda together in a bowl.
2.  Add the melted butter and enough hot water to make a dough.  Lightly knead on a surface dusted with oatmeal (or flour) until it is smooth.  Cut the dough in half.
3.  Roll each piece of dough out as thinly as possible into a round about 6 inches across and 1/4 inch thick.
4.  Cut each round into four quarters, or farls.  Heat the griddle or pan over a medium heat until warm.  Transfer four farls using a spatula to the griddle and cook over a low heat for 4 to 5 minutes.  The edges may start to curl.
5.  Carefully turn the farls over with a spatula, and cook for about 1 to 2 minutes more.  If preferred, the second side can be cooked under a preheat broiler until crisp, but not brown.  Transfer to a rack to cool.  Repeat with remaining farls.