Week Six: Italian Breads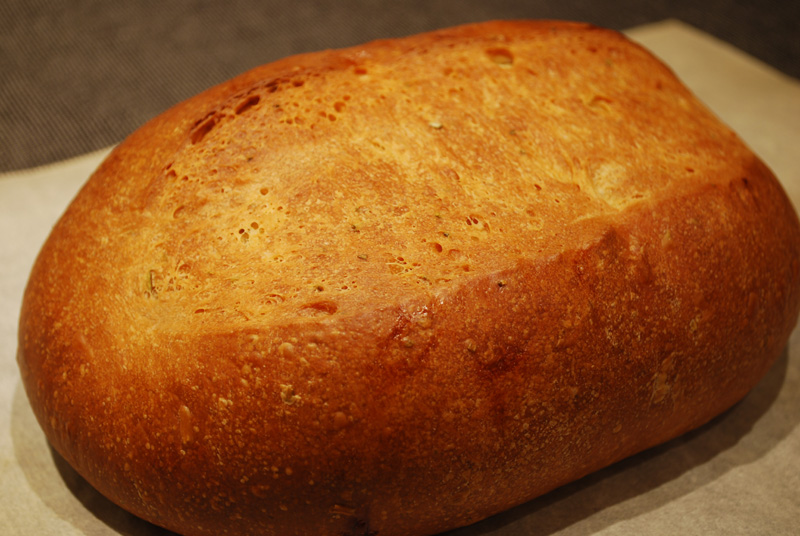 Okay, so this bread isn't exactly 100% traditionally Italian, at least in the way that pugliese, ciabatta, and focaccia are.  But there can hardly be a more Italian herb than rosemary, so who's to say this isn't an authentic bread?  No one, that's who.  Rosemary, with its seductive and potent flavors of pine and lemon, is native to and grows wild all around the Mediterranean, and is as usual a seasoning there as salt and pepper.  It's actually a member of the mint family, and is extraordinarily good when paired with peppermint or spearmint; but the flavor goes very well with any number of different spices, herbs, and flavors.  The name comes from the Latin "rosmarinus", meaning "dew of the sea", most likely for its supposed propensity to grow near the ocean.  If you happen to have a rosemary plant, rub your hands gently on the leaves, and the scent will linger on your skin for an energizing pick-me-up that will last for hours.
But enough with the plant trivia; what about the bread?  Ah, the bread.  Well, I have to say that this is probably one of the best straight-dough-method breads I've ever made.  What exactly does that mean?  The straight dough method is when you take all the ingredients, mix them up together at once, and proceed with the 12-step yeast bread process.  If you make a starter of any sort (be it a sponge, pre-ferment, biga, poolish, etc.), then you've crossed over into the sponge method, where some of the ingredients are combined well in advance of the addition of any other ingredients.  Typically, you get better taste and texture from using the sponge method, but the straight dough method has the advantage of being much faster.  
This bread somehow manages to be as flavorful as a bread that might have taken far longer to make, while at the same time being very easy and relatively quick.  The crust is not shatteringly crisp, but neither is it doughy and soft.  The crumb, though the air pockets are tiny and close, is tender and appropriately chewy.  As you raise a slice to your mouth, you are immediately struck with the sweet smell of rosemary.  One taste sends the singular and familiar flavor across your palate, and you wonder if it's the rosemary itself making the bread so good.  But then you take another bite, and realize that the soft texture is just as spot-on as you first thought.  This bread is awesomely good, in every possible aspect.  And if tasting that, fresh from your own oven, doesn't exemplify la dolce vita, then I just don't know what does. What could possibly be more Italian than that?
Rosemary Bread
From The Professional Pastry Chef by Bo Friberg
Makes 1 small loaf
1 generous teaspoon active dry yeast
3/4 cup warm water (105º to 115º F)
2 1/4 teaspoons granulated sugar
3 tablespoons olive oil
1 tablespoon fresh rosemary, finely chopped
1 1/2 teaspoons salt
10 ounces bread flour, approximately
1 egg, beaten for an egg wash
1.  Dissolve the yeast in the warm water.  Stir in the sugar, oil, rosemary, salt, and enough of the flour to make a smooth, nonsticky dough.
2.  Knead the dough on a lightly-floured surface until smooth and elastic, and to develop the gluten structure, about 6-10 minutes.
3.  Place the dough in an oiled bowl and turn to coat with oil.  Cover and let rise for 30 minutes.  Punch down the dough, then let it rise 30 minutes longer.
4.  Punch the dough down again.  Shape the dough into a tight oval loaf that springs back when lightly pressed, but not so taut that the skin on the dough breaks.  Place the loaf on a sheet pan lined with parchment paper.
5.  Brush egg wash over the loaf.  Let rise until slightly less than doubled in volume.
6.  Using a serrated knife and starting in the center, cut halfway into each loaf at a 45 degree angle.
7.  Bake at 400º F until the loaf sounds hollow when tapped on the bottom, about 35 minutes.  Place on a rack to cool.
Notes:
1.  I let my bread rise for about 30 minutes (step 5), then turned the oven on, and baked it when the oven had heated fully.
2.  You could use 1 1/2 teaspoons of dried rosemary instead of fresh; but the flavor of fresh rosemary is so complex and wonderful, that I would recommend using fresh if at all possible.
3.  You could of course substitute any other fresh herb, but probably in greater quantities.  Rosemary is very strong, and a little goes a long way.  I highly recommend trying it with rosemary, though – it's so good!