Week Nineteen: French Breads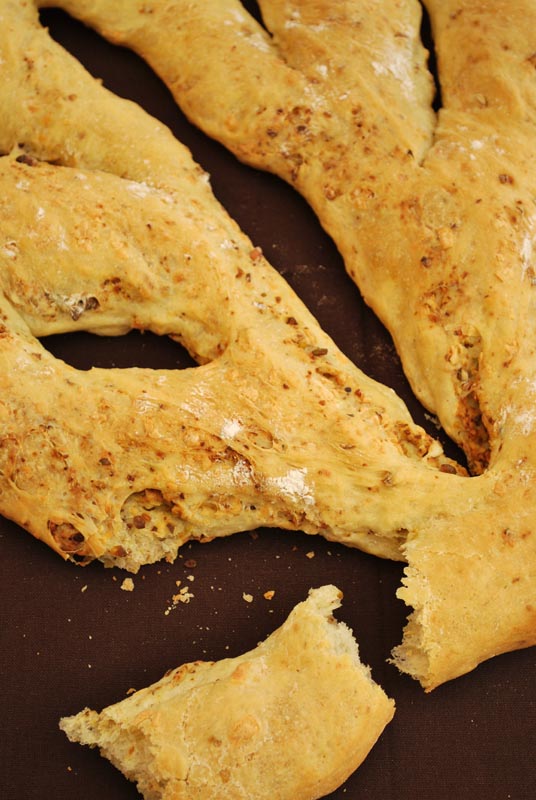 Fougasse, hailing from Provence in Southeastern France, is similar to the focaccia of nearby Italy.  But unlike the more familiar focaccia, with its short crumb due to the high percentage of olive oil in the dough, fougasse is more bready in texture.  Fougasse and focaccia actually share a common lineage, dating back to the Ancient Roman panis focacius, or "hearth bread".  Over time, different variations resulted, all the way from thin, almost cracker-like versions, to the fluffiest, thickest types.
But all these different styles are usually topped with things, or have flavoring ingredients kneaded into the dough.  Focaccia, for example, is often seen topped with herbs, garlic, tomatoes, cheese, or all of the above.  Fougasse, on the other hand, is most often seen with nuts, olives, cheese, or anchovies – decidedly Provençal ingredients.  You'll often see fougasse flavored with orange, as it is here, when it's served as part of a traditional Christmas dinner.
The most obvious difference between these two cousins is, of course, the shape.  Focaccia is nearly always round in shape, with a dimpled top perfect for holding pools of olive oil.  Fougasse, in constrast, has a unique, airy shape, like a ladder or leaf, depending on how it's cut.  This isn't just decorative; the shape means the bread will cook faster.  In fact, fougasse was often used to test the temperature of an oven, and make sure it was properly hot or cool enough for the pain quotidien.
For my fougasse, I've used pistachios, orange flower water, and a Spanish cheese called Zamorano, which is similar to Manchego, but a bit more full-bodied.  Feel free to switch up the flavorings as you like; a little olive tapenade kneaded in would not be out of place here, nor would a splash of white wine in place of the orange flower water.  Kneading the nuts and cheese in can be a little messy, but just keep kneading, and it'll sort itself out sooner or later.  Also, don't be afraid to really open those cuts up – they'll fill in a bit as the dough rises.  Enjoy!
Pistachio and Cheese Fougasse
Makes 1 large loaf
For starter:
4 1/2 ounces (1 cup) all-purpose flour
1/8 teaspoon instant yeast
3/4 cup water, room temperature
For dough:
1/3 cup water
1 tablespoon orange flour water
12 ounces (about 2 3/4 cups) all-purpose flour, divided
2 teaspoons instant yeast
1 teaspoon salt
3 tablespoons olive oil
4 ounces grated cheese
2 ounces (1/2 cup) pistachios, toasted and chopped
1.  To make the starter, whisk the flour and yeast together.  Add the water and stir until smooth.  Cover and let sit at room temperature for at least 5 hours, or until bubbly and risen, and up to 12 hours, or until fallen.
2.  To make the dough, combine the water, orange flour water, 8 ounces of the flour (a scant 2 cups), and all the starter in the bowl of a standing mixer.  Using the dough hook, mix at low speed until combined and all the flour is moistened.  Without removing the bowl from the mixer, cover and let rest for 20 minutes.
3.  Uncover the bowl, add the yeast, salt, and olive oil.  Knead at low speed until integrated (adding some of the extra flour will help the ingredients absorb into the dough).  Increase the speed to medium-low and knead until smooth and cohesive, about 5 to 6 minutes, adding the remaining flour only as necessary to achieve the proper consistency.  The dough should stick to the bowl a bit, but not be soupy.  Transfer the dough to a large, lightly-oiled bowl.  Cover with plastic wrap and let rest at room temperature for 45 minutes.
4.  Uncover the dough, and using a greased or nonstick spatula, fold the dough over itself in a trifold, like you might fold a business letter.  Cover and let rest for another 45 minutes.
5.  Turn the dough out onto a well-floured surface.  Flatten the dough gently with floured hands.  Top the dough with the chopped pistachios and grated cheese.  Fold the dough over the filling, and knead until the nuts and cheese are evenly integrated in the dough.  If they fall out, just keep kneading until they work themselves back into and throughout the dough.  Cover and let the dough rest for 5 minutes.
6.  Line a baking sheet with a piece of parchment paper, and flour it lightly.  Transfer the dough to the baking sheet, and stretch and press the dough into a large, flat oval, about 14 x 7 inches.  Using a knife or bench scraper, cut deep slits all the way through the dough, in whatever pattern you like.  Pull the dough apart until the slits are at least 1 1/2 or 2 inches wide.  Cover loosely with lightly-oiled plastic wrap, and let rise for 30 minutes.  Preheat the oven to 400º F.
7.  Bake at 400º F for 20 minutes, or until starting to brown.  Remove to a wire rack to cool.
Notes:
1.  You can certainly use whatever kind of cheese you like, but a robust flavor will be quite welcome here; something like a nutty, hard Manchego, or a softer smoked Gruyère would be most appropriate.
2.  If you don't have orange flower water, simply leave it out.  If you're using a particularly strong cheese, you may opt to leave it out anyway, as the delicate flavor can be easily overwhelmed.
3.  Fougasse is best eaten the same day it's baked; if not finishing the same day, wrap and freeze for later.