Week Nineteen: French Breads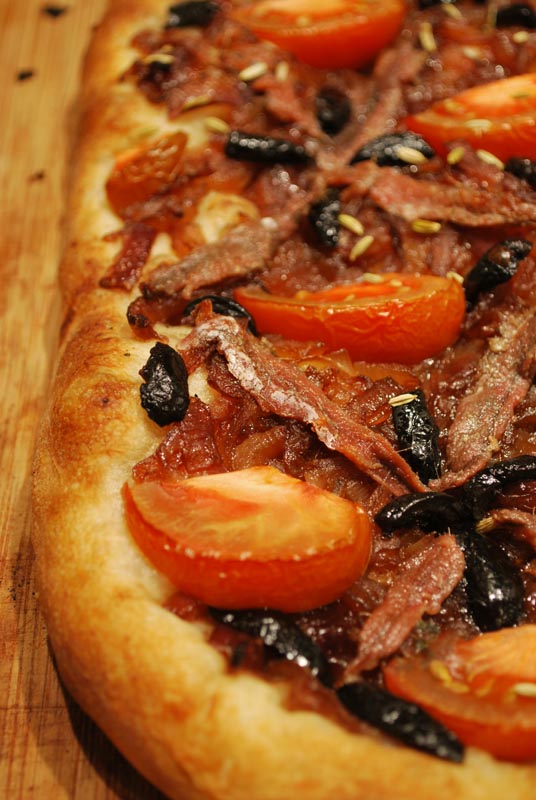 I know the name is unwieldy.  And yes, you could technically just call it a "French pizza".  But a pissaladière (pees-ah-lah-dee-AIR) is so much more than just a French pizza!  It's even almost a tart in many iterations, with a more crumbly crust; but this one just happens to have a chewy, airy crust (as you can see in the picture below).  And when was the last time you had a pizza without cheese or tomato sauce?
Don't think for a minute that I'm turning my back on pizza with cheese; it's incredibly delicious.  But there's something so seductive about a pissaladière, with its caramelized onions, thyme, anchovies, and olives.  To add cheese would overwhelm and weigh down such a soignée tart, and any tomato sauce would be too brassy and bold for such perfectly balanced flavors.
The pissaladière also hails from Provence, like yesterday's fougasse, a region known for its bounty of seafood and olives, due to its proximity to the sea and an otherwise rugged and rocky terrain.  By pairing the pungent saltiness of anchovies and olives with the subtlety and sweetness of caramelized onions, Provençal cooks not only made the most of the ingredients they had, they made them absolutely sing.  The name "pissaladière" in fact comes from a traditional condiment called "pissalat", a mixture of puréed anchovies, thyme, bay leaf, cloves, pepper, and olive oil.
I know what some of you are thinking; that you'd never touch an anchovy with a ten-foot pole.  Years ago, after seeing (and smelling) a friend of my sister's eating one on a saltine with mustard, I agreed for quite some time.  But, finally, I came across too many reputable sources that tried to convince me to use them, just one or two melted into a pasta sauce.  (And they rather do melt!)  When in balance, a good anchovy doesn't lend a fishy flavor; it adds a complex salty note, rather like a strong olive.  And if you're still not convinced, look at the source for this recipe.  I mean, if you can't trust the French when it comes to food, who can you trust?
Though it's not always included, I've added some tomato wedges to this pissaladière, as it's not un-traditional, and they had the prettiest little tomatoes at the store when I went shopping.  I couldn't resist!  But if you prefer, you won't get any snooty looks for leaving them off.  I've also used a mixture of yellow and red onions, as I adore red onions, but wanted to cut their pungency a bit (though once they're caramelized, you can't really tell the difference).  The sprinkling of fennel seeds is not very traditional, but I love the slight, sweet, licorice astringency they bring.  And if you're thinking it's all a bit much of an effort for something you could have on your doorstep in under 30 minutes (or it's free), you've obviously never had homemade pissaladière.
While the dough rises, you have ample time to caramelize onions, and drain anchovies.  One pissaladière bakes while you top the other.  In the end, you get to crunch into an airy crust, crisp on the bottom and chewy in the middle.  On top, the onions keep the dough perfectly moist, while the sporadic pops of flavor from the olives and anchovies play a salty counterpoint to the earthy sweetness of the onions.  Olive oil provides a bridge between all these flavors, and the floral note of thyme gives a welcome herbiness.  Trust me, if you aren't drooling now, you will be once you smell it.  Give this "French pizza" a try, and I assure you won't be missing the cheese one bit.  I know I didn't!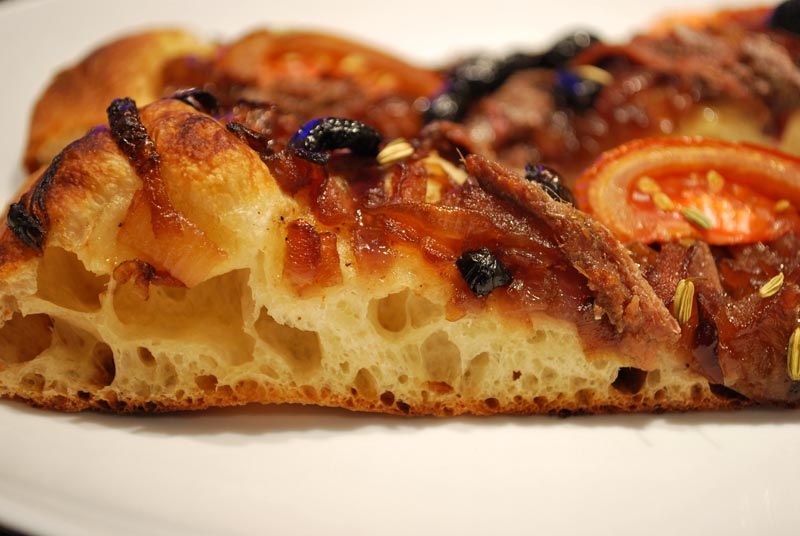 Pissaladière
Adapted from Cook's Illustrated Magazine
Makes 2
For the dough:
11 ounces (about 2 cups) unbleached bread flour
1 teaspoon instant yeast
1 cup hot water (120 to 130 degrees)
1 teaspoon table salt
1 tablespoon olive oil
For the toppings:
2 tablespoons olive oil
1 large yellow or white onion, halved and sliced 1/4 inch thick
1 large red onion, halved and sliced 1/4 inch thick
1/2 teaspoon salt
1 teaspoon sugar
2 sprigs thyme
1 bay leaf
1 tablespoon balsamic vinegar
1 tablespoon water
Freshly ground black pepper, to taste
1/2 cup niçoise olives, or other black cured olives, pitted and halved or quartered
16-20 whole anchovy fillets, rinsed, and patted dry for garnish
2 small tomatoes, cut into wedges
2 teaspoons minced fresh thyme leaves
1 teaspoon fennel seeds
1. To make the dough, combine the flour and yeast in the bowl of a stand mixer.  Add the water and mix with the dough hook at low speed until all flour is moistened, and a rough dough forms.  Without removing bowl from the mixer, cover and let rest for 15 minutes.
2.  Uncover bowl, add the salt and olive oil, and knead on low speed until incorporated.  Increase speed to medium-low, and knead until the dough forms a cohesive ball, about 4 to 5 minutes.  Turn out onto a lightly floured surface, and knead a few times until the dough forms a ball with a "skin" around the outside.  Transfer the dough to a lightly oiled bowl, cover with plastic wrap, and let sit in a warm place until doubled in size, about 1 to 1 1/2 hours.
3.  While the dough is rising, prepare the toppings.  Heat the 2 tablespoons olive oil in large nonstick skillet over moderately high heat until shimmering, but not smoking.  Stir in the onions, salt, brown sugar, bay leaf, and thyme, and cook, stirring frequently, until the onions are free from their liquid and just begin to brown, about 10 minutes.  Add the balsamic vinegar, and season with black pepper.  Reduce heat to medium-low and cook, stirring frequently, until onions are medium golden brown, about 20 minutes longer.  Remove from the heat, and take the thyme sticks and bay leaf out.  Stir in the water, and set aside.  Adjust an oven rack to the lowest position, set a baking stone (if using) on rack, and preheat the oven to 500 degrees F.
4.  When the dough has doubled, turn out onto a lightly-floured surface.  Divide into 2 equal pieces, and roll each into a round ball.  Place seam-side down, flatten gently, and cover loosely with plastic wrap.  Let rest 5 to 10 minutes.  Line a large, un-rimmed baking sheet with parchment paper.
5.  Transfer one piece of dough to the baking sheet.  Using oiled hands, press and stretch the dough, lifting with the backs of your hands, into an oblong shape 14 x 8 inches.  Brush the dough with olive oil and season with black pepper.  Leaving a half-inch border around the edge, spread half of onions evenly over the surface.  Arrange 8-10 whole anchovy fillets over the top, and dot decoratively with the olives and tomato wedges.  Sprinkle half of the fennel seeds and thyme over the top.
6.  If using a baking stone, slide the parchment with the tart onto the heated stone.  Otherwise, place the baking sheet directly on the oven rack.  Bake at 500 degrees F until the crust is a deep golden brown, 13 to 15 minutes.  Shape and top the second pissaladière while the first is baking, using a second sheet of parchment.
7.  Remove the first pissaladière from the oven by pulling the parchment back onto the baking sheet or peel.  Slide onto a cutting board, pulling the parchment out from underneath.  Let cool briefly before slicing and serving.  Bake the second in the same manner as the first.
Notes:
1.  If you don't have any thyme, but do have some Herbes de Provence, or simply prefer to, you can substitute that instead.
2.  The onions can be caramelized a day or two ahead and refrigerated.
3.  If it works out better for your schedule, you can reduce the amount of yeast in the dough to 1/2 teaspoon, mix as directed, then refrigerate the dough overnight (instead of the 1 1/2 hour rise).  Let come to room temperature 45 minutes before proceeding.
4.  Maybe it goes without saying, but don't cheap out on the anchovies.  Trust me, it's an extra dollar well-spent.