Week Forty-Three: Whatever I Feel Like Week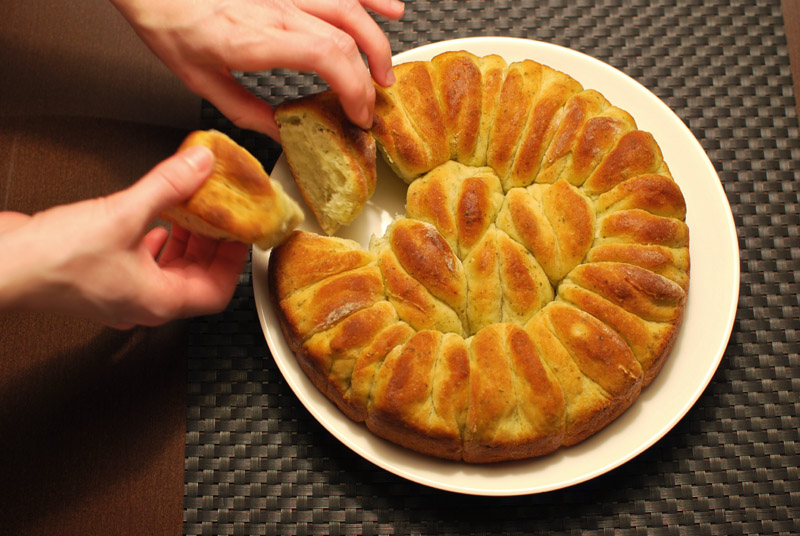 Most potato bread recipes call for the potatoes to be added in the form of leftover mashed potatoes, or in the form of dried flakes.  Today's recipe originally intrigued me because it uses neither of those.  Here, the potato is added by dicing it and boiling it very nearly to death (well, until it falls apart), smashing potato and water together, and using the resultant slurry to provide most of the liquid.  It's a method I personally haven't seen before, and it works beautifully.
You may notice that I said "most of the liquid".  The remaining liquid comes from a fairly scandalous amount of melted butter — an entire stick.  But as this recipe makes about 30 rolls (so it claims, but I actually got closer to 40 or 45), it works out to not much butter per roll.  What the butter does provide is a wonderfully tender crumb, and a rich taste worthy of a special occasion.
There's a relatively large amount of yeast in this dough, which means that it rises very quickly.  This is good if you need rolls fast, but it leaves things a little lacking in the dough-flavor-development department.  If you insist on a more complex flavor, feel free to reduce the amount of yeast (by up to half), and increase the rising times accordingly (half the yeast would equal twice the rising time, and so on).  But with the copious amount of pesto and butter in this bread, I wasn't troubled by any perceived blandness.
Speaking of the pesto, it is of course best to make your own; the ephemeral flavor of fresh basil is so fleeting that it can rarely be captured in a jar.  Besides being endlessly customizable, if you have a small food processor it is hardly any trouble at all.  But I understand if you just can't be bothered, as I'm rarely a fan of sub-recipes.  Just make sure to find a good one if you do purchase it pre-made; the flavor will really shine in these rolls.
I found the given method a little fiddly with this one.  The idea (as I understood it) is to make tiny Parker House rolls, and stand them on their folded edges in a cake pan so that they touch each other as they rise and bake.  The slippery little things didn't want to stay closed shut, nor did they want to stand up on their own.  Once all in the pan, it was fine, but it was a little tricky getting them to cooperate at first.
Additionally, I had some leftover scraps and a few cut-out rolls that didn't fit into the pans as the recipe dictates.  These, I cut into evenly-sized pieces, rolled them into balls, brushed them with the butter, and made a monkey bread in a tiny loaf pan.  It worked perfectly, and might be a preferred way to bake the entire batch of dough.
Other than that, these rolls ended up flavorful and incredibly soft, full of bright pesto flavor.  I can just see these as part of an Autumn feast (have you started thinking about Thanksgiving menus? and can you tell I have?), celebrating the last of the summer basil, encouraging the literal breaking of bread together as you pull each roll from its snuggled-in place.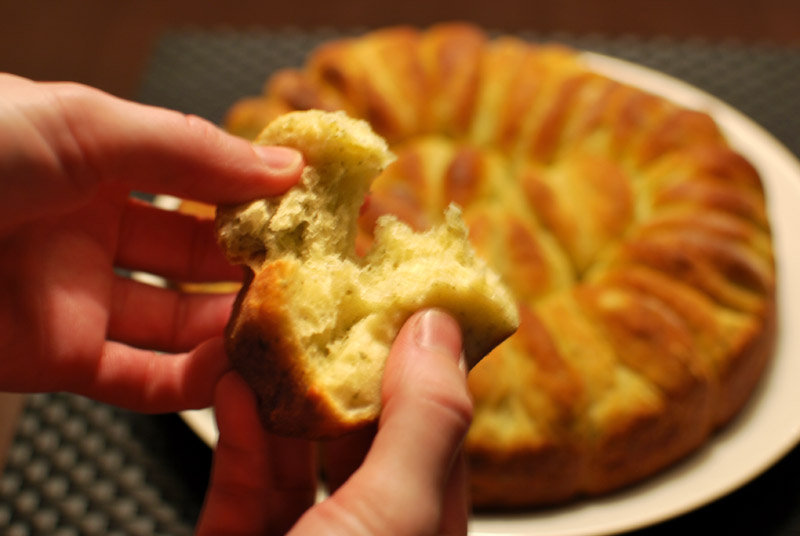 Pesto Potato Rolls
Adapted from Bon Appétit Magazine
Makes about 28 rolls
3 1/2 cups water
1 (11 to 12 ounce) russet potato, peeled, cut into 1/2 inch pieces
2 teaspoons salt, divided
1/2 cup plus 4 tablespoons unsalted butter, melted and cooled slightly, divided
2 large eggs
6 tablespoons purchased pesto
1 tablespoon sugar
1 three-fingered pinch of ground black pepper
1 tablespoon instant yeast (see note 1 below)
23 ounces (about 4 3/4 cups) unbleached bread flour, plus extra as needed
1.  In a saucepan, bring 3½ cups water to a boil.  Add the potato and 1 teaspoon salt.  Cover and boil until the potato is very tender and falling apart, 20 to 25 minutes.  Mash the potato with the cooking water until smooth; alternatively, you can carefully puree this mixture in a blender or food processor (taking due precautions with the hot liquid, which will expand rapidly when blended).  Transfer 2 cups of the potato-water slurry to the bowl of a stand mixer; discard any remaining mixture.  If there isn't quite enough, add water as needed to measure 2 cups.  Let cool to 105º F to 115º F.
2.  Whisk 1/2 cup melted butter into the potato slurry, then add the eggs.  Whisk until smooth.  Add the pesto, sugar, pepper, and remaining 1 teaspoon salt, and whisk to combine.  Add about half the flour to the mixture, and sprinkle the yeast over.  Using the dough hook, mix at low speed until combined.  Add enough of the remaining flour, about 1/2 cup at a time, to form a sticky dough.  Increase the speed to medium-low, and knead for 4 to 5 minutes, or until smooth.
3.  Transfer the dough to a large lightly-oiled bowl.  Cover with plastic wrap, and let stand at room temperature until doubled in size, about 45 minutes.  Alternatively, the dough may be refrigerated overnight at this point, tightly wrapped.  If refrigerated, allow dough to come to room temperature for 30 minutes before proceeding.
4.  Butter two 9 inch round cake pans.  Turn the dough out onto a lightly-floured surface, and press gently to deflate.  Roll out the dough to a round about 1/3 inch thick, using only enough flour to prevent sticking.
5.  Using a floured 2½ inch round cutter, cut out as many pieces of dough as possible.  Gather dough scraps, dusting off as much flour as possible, and knead together.  Cover with plastic wrap, and let rest while shaping the pre-cut rolls.
6.  Using the remaining 4 tablespoons of melted butter, brush the top of each round lightly with butter.  Fold each piece into a half-circle, pressing the buttered surface together.  Arrange the folded dough rounds side by side in the prepared pans, each resting on the folded edge, and the rolls touching each other.  Do not pack them in tightly; they need a little room to rise.  Repeat rolling and folding procedure for the remaining dough.  (If there is too much dough to fit in the cake pans, you can roll the remaining dough into small rounds, brush them with butter, and toss them haphazardly into another suitably-sized baking tin to make a small monkey bread as a special "cook's reward".)
7.  Cover the pans loosely with plastic wrap, and let sit at room temperature until almost doubled in volume, about 20 to 30 minutes.  Meanwhile, position a rack in the center of oven, and preheat to 400º F.
8.  Bake at 400º F until golden brown, about 25 minutes.  Cool rolls in the pans at least 20 minutes before turning out.  Serve warm or at room temperature.
Notes:
1.  If you're making the overnight refrigeration version, you should decrease the amount of yeast to about 2 teaspoons (or even 1 foil packet, about 2¼ teaspoons).