Week Forty-Three: Whatever I Feel Like Week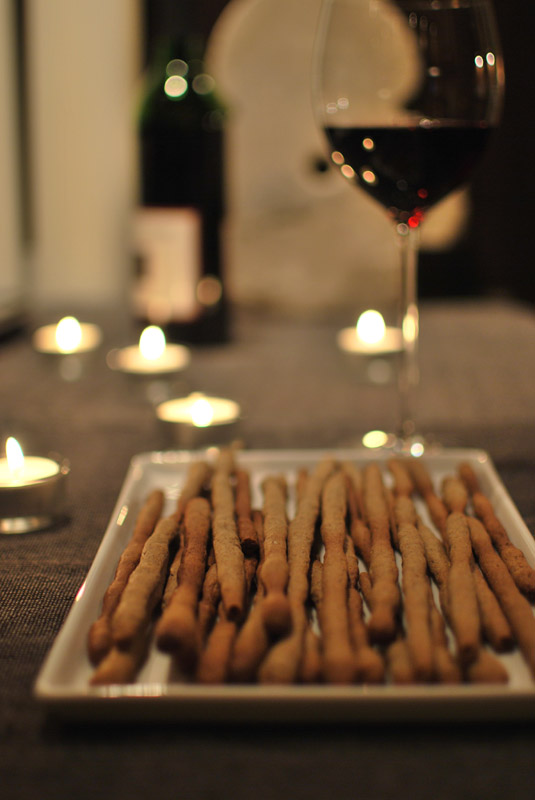 This week, the theme is a little different: there isn't one.  See, I've picked out themes for the rest of the year (mostly), and there have been a few recipes that don't fit neatly into any of them, but still sound interesting enough to make.  So this week, I'm featuring these rogue stragglers in what I call "Whatever I Feel Like Week".
First up is an idea that came to me after seeing these buckwheat-cheddar straws on 101 Cookbooks.  I loved the idea of using buckwheat flour (and using up the bag of it in my pantry), but wanted something a little more adventurous than simply cheese.  I was reminded of the black olive grissini I made, and thought a similarly strong, pungent flavor was just the thing to match up to the singular and robust taste of buckwheat.
Hidden in the back of my fridge is a little yellow tube that I try to keep out of sight, lest guests think I'm some sort of crazy person.  It's a tube of anchovy paste, and it's saved my life on more than one occasion.  It's the fastest, easiest way I know to add that incredible umami flavor of anchovies to anything that needs it.  You certainly don't have to fool with a shallow can full of oil, or worse, figure out how to store the remainder when you only needed one or two of the little guys.  I can just squeeze out the amount I need, cap it, and stick it back in the fridge to wait for the next time.  And this is from someone who used to gag slightly at even the mention of the word "anchovy".  (My problem was I had never tried them.  Turns out they're actually quite delicious when cooked into something.)
Knowing that seafood and buckwheat are best friends (think buckwheat blini and smoked salmon), I decided this secret weapon was the exact ingredient I needed.  And, well, I was mostly right.  Perhaps I didn't use enough, but the anchovy flavor was fairly muted.  This may be a selling point for you.  Me, I was expecting a more punchy flavor.  Otherwise, the sticks turned out pretty well; hearty and grainy, but thin and charmingly crisp, with a bit of airiness from the use of chemical leaveners.
Immediately after baking, they were good.  But a day later, they were even better.  Buckwheat flour has that amazing characteristic of mellowing slowly in a baked good, letting its flavor mature and ripen in its own time.  Such is the case here, which makes these ideal treats if you're hosting a cocktail party, when do-ahead snacks are like manna from heaven.  These are starchy, mildly salty, and uniquely flavored straws, and are just the thing I want to nibble on with one hand while holding a neat Bourbon or glass of wine with the other.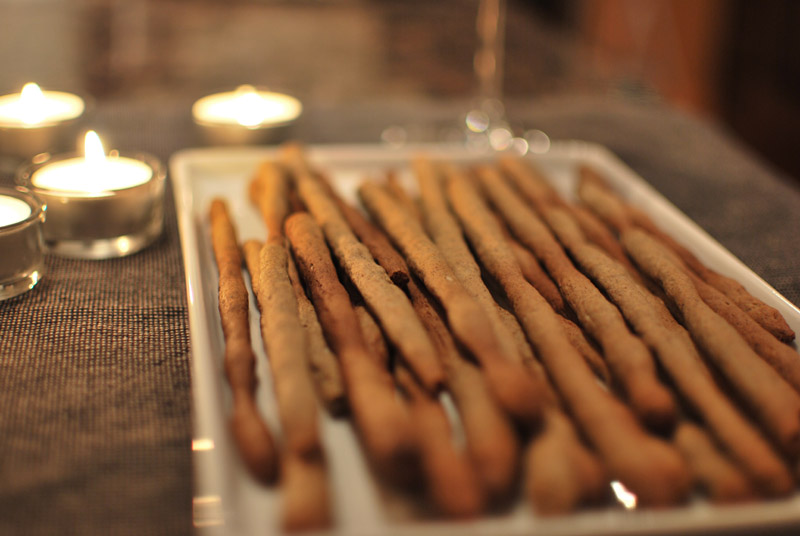 Buckwheat Anchovy Straws
Adapted from Gourmet Magazine
Makes 32
1/4 cup whole wheat flour
1/2 cup buckwheat flour
2/3 cup unbleached all-purpose flour
1 teaspoon baking powder
1/2 teaspoon baking soda
1 teaspoon sugar
1/4 teaspoon salt
1/4 teaspoon black pepper
1 heavy pinch cayenne pepper
2 tablespoons olive oil
1 to 2 tablespoons anchovy paste, to taste
1/2 cup well-shaken buttermilk
1 large egg beaten with 1 tablespoon water to make egg wash
1.  Put oven racks in upper and lower thirds of oven and preheat oven to 350°F. Line 2 large baking sheets with parchment.
2.  Whisk together flours, baking powder, baking soda, sugar, salt, and peppers in a large bowl.  In a second bowl, whisk together the anchovy paste and the olive oil, until smooth.  Add to the dry ingredients, along with the buttermilk, and stir just until a rough dough forms. Turn out onto a lightly floured surface and knead 5 or 6 times.
3.  Halve dough and form each half into a 12-inch log. Cut each log into 16 pieces. Roll each piece into a 10-inch-long rope and arrange 1/2 inch apart on lined baking sheets.
4.  Brush breadsticks lightly with some of egg wash.  Bake, switching position of sheets halfway through baking, until golden and crisp, 20 to 30 minutes total. Cool on sheets on a rack 30 minutes.
Notes:
1.  As these are quite thin, they will burn quickly, so keep an eye on them while baking.
2.  If you prefer, you can use real anchovies (from a tin) instead of the paste, which might produce a better result.  I suggest either smashing them in a mortar and pestle with the olive oil until they form a paste, or cooking them with the olive oil until they just melt into a paste (cool before adding to the dough).