Week Twenty-Three: Breads With Fruit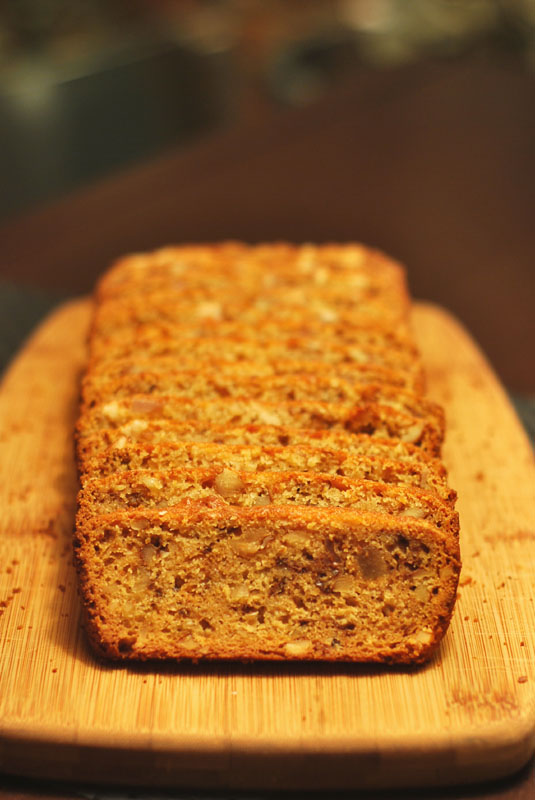 Quick, name a flavor that goes perfectly with a pear!  If you said "ginger", you get a gold star.  Pear and ginger are best friends, you guys.  It's true!  If you've never tried the combination before, I highly recommend you try it in this incarnation.  This bread is wonderfully soft, full of ginger and pear in subtle yet flavorful balance.  The crunch from toasted walnuts adds a welcome texture, and I challenge you to find a moister quick bread.
The ginger flavor gets an added boost from two directions: both ground and crystallized ginger is used here.  The ground ginger adds a more subtle spice to the bread itself, while the crystallized ginger takes a no-holds-barred approach, throwing sweet and spicy punches of flavor throughout each slice.
The pear flavor is more subtle; but as the major source of liquid in the batter, it is by no means relegated to the background.  Much like the eponymous banana of any given Banana Bread recipe, the pear here provides a structure more than a bold taste, a backbone for other flavors to build off of.  Build the ginger does, and how!
You could make this bread into muffins instead of one loaf, but sometimes muffins have a tendency to dry out the batter a bit.  I think this might be the case here, since there isn't as much fat or extra liquid in this bread as you can find in many quick breads. This bread cut into slices so easily that I think it is perhaps best baked in one whole loaf; as many other extremely (or overly) moist breads will more often crumble than allow a perfect slice.  Breads like those make good muffins; breads like this pear ginger bread make excellent loaves.  I found slicing this loaf very easy, but the bread still remained quite moist and tender.  Make of that what you will.
(All right, I know I said I was going to try to make yeast breads this week.  But this one just caught my eye, and I couldn't resist!  Besides, what's a week of fruit-based breads without at least one tea bread, am I right?)
Pear Ginger Bread
Adapted from King Arthur Flour
Makes 1 loaf
4 tablespoons unsalted butter, softened (see note 1 below)
3/4 cup sugar
2 tablespoons maple syrup
1 egg
1 teaspoon vanilla extract
2 Bosc pears, cored, puréed in a blender or food processor to make 1 heaping cup (see note 2 below)
4 1/2 ounces (about 1 cup) unbleached all-purpose flour
1 teaspoon ground ginger
1 teaspoon baking powder
1/2 teaspoon baking soda
1/4 teaspoon salt
3 ounces (1/4 cup) crystallized ginger, cut into 1/4 inch pieces
4 ounces (1 cup) walnuts, toasted and chopped coarsely
1.  Preheat oven to 350º F.  Lightly oil a 9 x 5 loaf pan.  In a large mixing bowl, with a spatula, stir the softened butter together with the sugar and maple syrup until combined.  Add the egg and vanilla, and stir until incorporated.  Add the pear purée, and mix until combined.
2.  In a medium bowl, combine the flour, ginger, baking powder, baking soda, and salt.  Whisk together.  Add this dry mixture to the wet mixture in the large bowl.  Stir together until mostly combined, add the crystallized ginger and walnuts, and fold together until evenly incorporated.  Be careful not to overmix; some streaks of flour are okay.
3.  Transfer batter to the prepared loaf pan.  Bake at 350º F for 50 to 60 minutes, or until feeling firm when pressed lightly in the middle.  Cool the bread in the pan for 5 to 10 minutes, then remove from pan, and transfer to a wire rack to cool completely.
Notes:
1.  If you don't have time to let your butter come to room temperature (i.e., let it sit out for about 1 hour), you can cut it into bits and microwave it at 1/3 power for about 30 seconds.  At that point, it should be soft enough to stir into submission.  If it is a little melty, that isn't a problem.  You mainly want to avoid dissolving the sugar, so just make sure the butter doesn't get hot.
2.  Two Bosc pears should provide more than enough purée.  If you don't have enough, though, you can make up the difference with milk or water.  If you end up with too much, I highly recommend trying the remainder thusly: 1 tablespoon pear purée + 1 ounce gin + 1/2 ounce simple syrup + 3 ounces white wine + 2 drops bitters.  Place all in a cocktail shaker with ice, shake, strain with a fine sieve into a wine glass, and enjoy.  It's like a pear-flavored, non-sparkling French 75!  It's lovely; take it from one who knows.
3.  Crystallized ginger, also called candied ginger, can be found in the bulk bins of many natural food stores (cough, cough, Whole Foods, cough).  Or, if you can't be bothered to leave the house, you can make your own.  I chopped mine into 1/4 inch pieces, for a fairly even dispersal while retaining the occasional punch of flavor; but you can leave them bigger if you like, or make them smaller.  It's up to you.