Week Twenty-Three: Breads With Fruit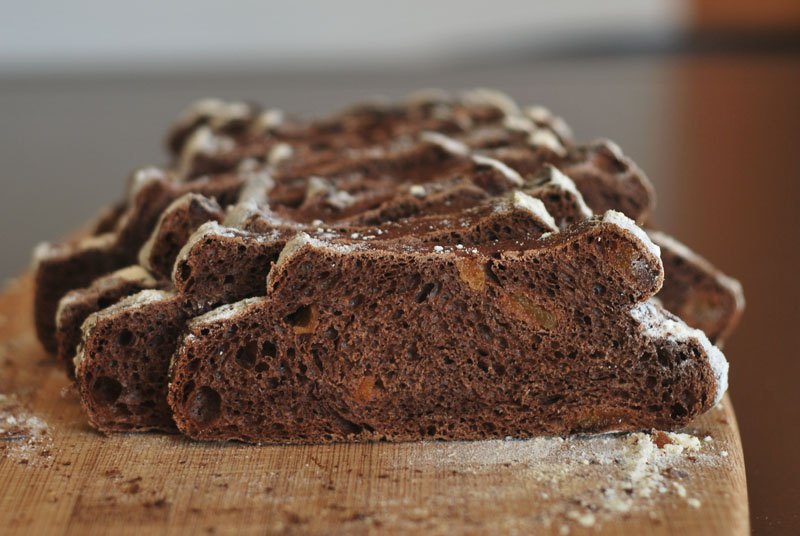 The bread for today is an unusual chocolate bread.  Most chocolate breads that I've made get their flavor from either cocoa powder sifted into the flour, from bits of chocolate mixed into the dough, or both.   This bread, however, gets its deep color and flavor from melted chocolate mixed into the dough.  Call me a novice, but I've not seen that in a yeast bread before.
(The first thought that pops into my mind is, could you do a variation of this technique?  Could you manipulate the dough and addition of chocolate, and end up with stracciatella bread?  Interesting.)
Despite the decadence this technique suggests, this bread ends up less than rich.  There is no milk, butter, oil, or egg here; just a pure chocolate depth, enhanced with notes of honey and apricot.  Though there is a fair amount of brandy in the recipe, it serves mainly to enhance and plump the apricots, and is mixed with enough water that only the most lingering hint of its essence remains in the background, just enough to bring complexity rather than booziness.
This bread might taste dry to you; but I posit that it's just a Pavlovian-style reaction to the ingredients.  The knowledge that there is chocolate in the bread might incline you to expect more moisture, a more dessert-like sweetness.  But this bread does what it says on the tin: it's a standard yeast bread, simply flavored with chocolate and apricots.  In fact, I'd wager it would make this fabulous dessert (or brunch) Monte Cristo sandwich just a tiny bit better!
You can use this bread as the obvious base for French toast or bread pudding; but I think using it as a sandwich bread is far more intriguing.  Before you dismiss me completely, think of certain mole sauces.  Based on unsweet chocolate, these sauces can go with any meat from chicken, to pork, to beef.  Take the apricots dotting each slice of bread into account, and I can very easily see a pulled pork sandwich here, with some deeply caramelized onions.  Or why not just a grilled goat cheese sandwich?  The bread slices easily into clean slices, and the crust (though decidedly not soft) is not too hard to be eaten as such.
But you don't even have to get elaborate with this bread; you can just dip a piece into a good quality olive oil for a special snack.  (Chocolate and olive oil are so good together!  You have to try it before you disagree with me.)  Need an unusual and soigné hors d'oeuvre, and quickly?  Toast little squares of this bread, brushed with olive oil or butter, and top with a quality ricotta or mascarpone, and sprinkle with mint or basil.  Instantly impressive!
Whatever you might do with this bread, you're only limited by your imagination.  The attractive shape would make it a lovely centerpiece for a special brunch, but don't be hindered by that suggestion.  Try it with something savory at dinner, try it a little sweeter for dessert.  Feel free to switch the apricots for another dried fruit, or use a lighter chocolate instead of the bittersweet called for.  Serve it with a cheese plate and fresh fruit.  Or, like me, you can simply enjoy a toasted slice with a strong cup of coffee.  Enjoy!
Chocolate Apricot Yeast Bread
Adapted from Bo Friberg
Makes 2 loaves
1 cup boiling water
1/4 cup brandy
4 ounces dried apricots (about 3/4 cup)
2 ounces (2 scant tablespoons) honey
1 tablespoon instant yeast
12 ounces (about 2 3/4 cups) unbleached bread flour, divided, plus extra for dusting
1 1/2 teaspoons salt
4 ounces good quality dark (bittersweet) chocolate, chopped into pieces, and melted
1.  Pour the boiling water over the apricots in a heatsafe bowl.  Add the brandy, and let stand for 30 minutes to soften.
2.  In the bowl of a stand mixer, whisk the yeast into half of the flour.  Using a strainer set over the mixer bowl, strain the apricot soaking liquid into the flour.  Set the apricots aside.  Add the honey to flour mixture, and whisk together until smooth.  Cover with plastic wrap, and let rest in a warm spot until more than doubled in size, about 1 to 2 hours.
3.  While the sponge rises, chop the apricots into small quarter-inch pieces.  Set aside.
4.  When the sponge is ready, add the salt, melted chocolate, and all but a handful of the bread flour to the mixture.  Mix using the dough hook at low speed until a rough dough forms.  Scraping the bowl as needed, knead for 8 to 10 minutes at medium-low speed, or until the dough is soft and cohesive.  Add the reserved bread flour as needed to achieve the proper consistency.  Add the apricots to the mixture, and knead only long enough to incorporate them.
5.  Turn the dough out onto a lightly floured surface.  Knead a few times, or until the dough forms a ball with a skin stretched around the outside.  Transfer the dough to a lightly-oiled bowl, cover with plastic wrap, and let stand in a warm place until doubled in size, about 1 hour.
6.  Line a large baking sheet with a piece of parchment paper, or otherwise grease the pan.  Turn the dough out onto a lightly floured surface. Divide the dough into two equal pieces, and shape into oblong loaves.  Carefully transfer the loaves to the prepared baking sheet, spray or brush with water, then dust fairly heavily with additional bread flour.  Cover loosely with plastic wrap, and let rise until more than doubled in size, about 1 to 1 1/2 hours.  30 minutes before baking, preheat the oven to 375º F.
7.  Using a sharp serrated knife, make 3 long, parallel slashes lengthwise down each loaf.  Transfer immediately to the oven, and bake at 375º F for 35 to 40 minutes, or until baked through.  An instant-read thermometer should register 180º to 200º F when done.)
Notes:
1.  For the apricot soaking liquid, if you prefer, you can exchange the brandy for additional water, or even for fruit juice.  On the other hand, you can exchange some water for more brandy, if you're into that!  I like the ratio given above, as the apricots gain a little flavor from the brandy, without being boozy.