Week Forty-Nine: Breads With Cheese
I know this week is about cheese, not spices anymore, but these mustard-heavy crackers are so good that I just couldn't resist including them.  Of course, I have been known to eat mustard straight from the jar, so take that with a grain of salt.
Though the flavor of these crackers is unabashedly bold with mustard spice, the tangy Swiss cheese used here is no shy violet, either.  Indeed, the cheese not only deepens and grounds the exuberant taste of mustard, but it provides an excellent chewy texture as well, bringing a needed substance to what would otherwise be a crumbling structure.  Here, the cheese is not so much flavoring as it is backbone.
I've also used a healthy amount of whole wheat flour in this recipe, to provide a little nuttiness to complement the flavor of Swiss.  All together, the zip of mustard, the robust whole wheat, and the richness of the cheese make a harmonious group.  Easy enough to throw together, these crackers would be a special little snack, or better, a flavorful match to any warming soup you might be planning for these ever-colder nights.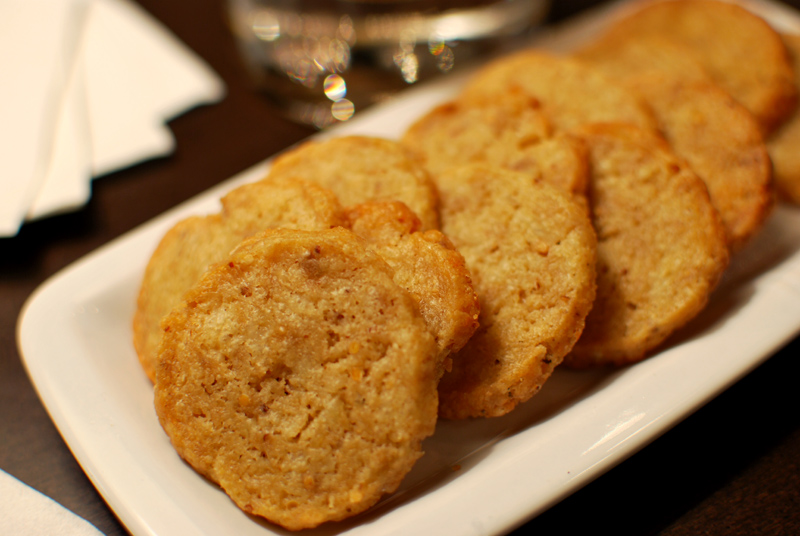 Mustard Swiss Crackers
Adapted from Gourmet Magazine
Makes about 60 crackers
1/2 cup (1 stick) cold unsalted butter, cut into small pieces
8 ounces Swiss cheese, coarsely grated
2 1/2 ounces (about 1/2 cup) unbleached all-purpose flour
2 ounces (about 1/2 cup) whole wheat flour
3 tablespoons Dijon mustard
2 teaspoons dry mustard
1 1/2 teaspoons whole mustard seeds
1 teaspoon kosher salt
1.  Blend together the butter and cheese in a food processor until almost smooth.  Add remaining ingredients and pulse until just combined.  Divide the dough in half, and shape each half into a log about 8 inches long.  Wrap each log in parchment or wax paper, and freeze until firm, 1 1/2 to 2 hours.
2.  Preheat the oven to 350° F, placing a rack in the middle position.  Let 1 log of dough come to room temperature for 10 minutes before slicing.  Lightly butter a large baking sheet, or line with parchment paper.
3.  Cut 1 log crossways into 1/4 inch thick slices.  Arrange slices 1 inch apart on the prepared baking sheet.  Bake at 350º F until edges are just golden brown, about 15 minutes.  Rotate pan halfway through baking if necessary to ensure even browning.  Transfer crackers to a rack to cool.  Repeat with remaining dough.