Week Forty-Nine: Breads With Cheese
Today's bread is styled somewhat like a focaccia; that is, it's as fluffy and light as a good focaccia, but it lacks the heavy drenching of oil so common to the breed.  In its place is a flavorful cap of diced red onion, held on by a generous grating of fontina cheese.
The same cheese and onion are mixed into the dough, where they not only flavor every crumb, but also provide moisture, ensuring that the bread will stay tender and palatable for days.  The addition of sake to the dough brings a complex flavor, reminiscent of a long and slow rise, but without the investment of time usually necessary to achieve it.
If you're hesitant to add sake, having tried and disliked the taste, let me reassure you that here, it provides much the same role that adding vinegar to a dough would.  It makes for a more elegant depth of flavor, rather than making the bread taste of anything in particular.  You personally might not drink a glass of sake, but neither would you drink a glass of vinegar.  And if you have leftover sake to deal with, don't dare pour it out, as it makes a perfect cooking wine.  Or, you can send it to me.
On top of this loaf of bread, the topping of red onion caramelizes with the heat of the oven, its pungency transformed into a tart sweetness.  Paired with the nuttiness of fontina, which melts and cools into a crisp texture, and a hint of thyme, the loaf is deeply aromatic.  The softness of the interior gives way underneath the toothsome crunch of the crust, especially when a slice is toasted until just golden.
Though this bread is too soft for sandwiches, as focaccia is often used, you certainly won't complain about having it with soups or stews.  If you happen to let any go stale, just cut it into cubes, toss with a little olive oil, and toast in a low oven until slightly dried for some of the best croutons you'll ever see.  It would also be an excellent addition, cubed and dried, to any favorite stuffing recipe.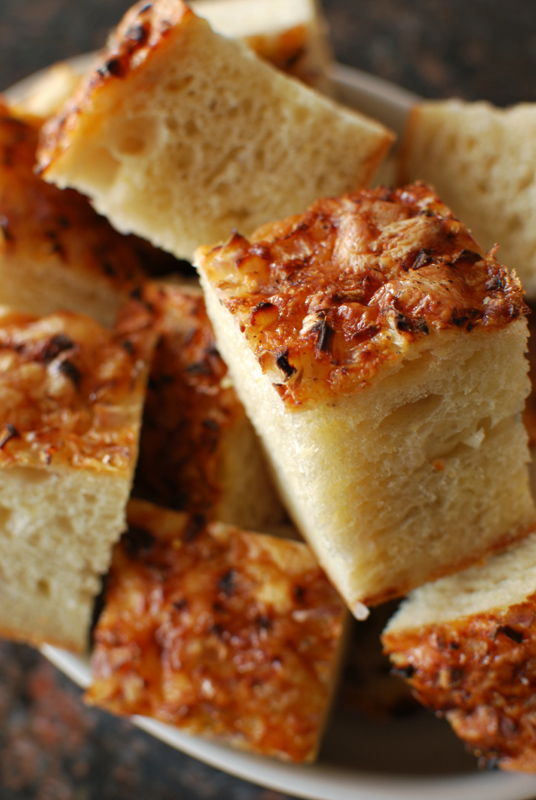 Fontina Onion Sake Bread
Adapted from Cooking Light
Makes one 9 inch round loaf
11 ounces (about 2 1/3 cups) unbleached bread flour, plus extra as needed for dusting
1 ounce (about 1/4 cup) whole wheat flour
1 tablespoon cornmeal
2 teaspoons instant yeast
1 teaspoon salt
3/4 cup water, at room temperature
1/2 cup sake, at room temperature
5 ounces diced red onion (about 1 cup), divided
4 ounces coarsely grated fontina cheese (about 1 cup), divided
1/2 teaspoon sake
1 teaspoon chopped fresh thyme
1 teaspoon kosher salt
1/4 teaspoon freshly ground black pepper
1 large egg lightly beaten with 1 tablespoon water to make an egg wash
1.  In the bowl of a stand mixer, whisk together the flours, cornmeal, yeast, and salt.  Add the water and sake.  Using the dough hook, mix at low speed until a rough dough forms.  Increase the speed to medium-low, and knead until supple and elastic, about 6 minutes.
2.  Turn the speed to low.  Add half of the diced onion and half of the grated cheese, reserving the remainder, and mix until evenly incorporated in the dough.  Turn the dough out onto a lightly floured work surface.  Pulling the outside edges into the center, shape it into a round ball.
3.  Transfer the dough to a large lightly oiled bowl, turning to coat all sides with the oil.  Place smooth side up, and cover tightly with plastic wrap.  Let stand at room temperature until doubled in size, about 1 hour.
4.  Lightly grease a 9 inch round cake pan.  Turn the dough out onto a lightly floured work surface, and press gently to deflate.  Pulling the outside edges into the center, shape the dough into a flat round shape.  Transfer smooth side up to the prepared pan, and gently press as flat as possible.  Cover with lightly greased plastic wrap, and let rise at room temperature until doubled in size, or 30 to 45 minutes.  Preheat the oven to 400° F.
5.  Combine the remaining red onion, cheese, 1/2 teaspoon sake, thyme, salt, and black pepper.  Gently brush the dough with the egg wash, being careful not to deflate.  Sprinkle the onion and cheese mixture evenly over the top of the dough.
6.  Bake at 400° F for 35 minutes, or until a deep golden brown.  An instant-read thermometer should register around 200º F when fully baked.  Let cool briefly in the pan for 5 to 10 minutes before transferring to a wire rack to cool thoroughly before slicing.
Notes:
1.  You can certainly bake this loaf free-form instead of in a pan, if you prefer.  The bread will be a bit flatter in this case, but will have a higher proportion of crust to soft interior.