Week Fifty-Two: Christmas Breads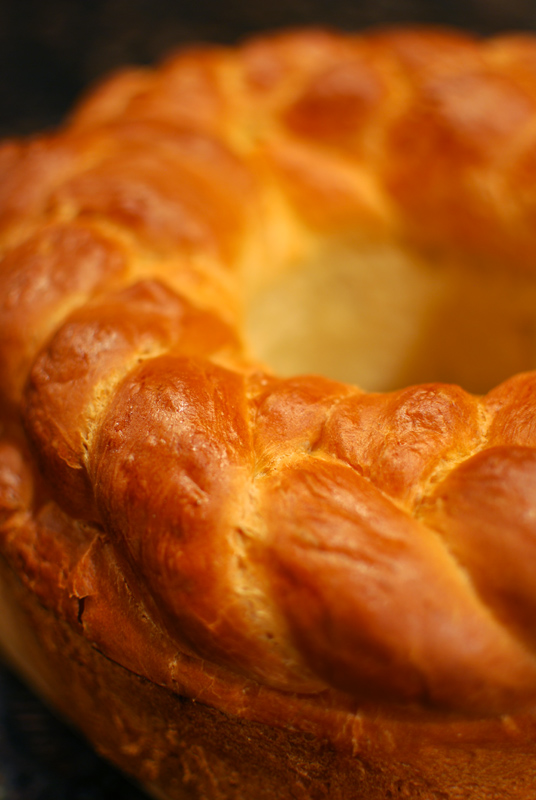 In the Ukraine, bread is such a significant part of everyday life that there is an old and, now, formal way of greeting that involves an elaborate presentation of bread and salt, two main dietary staples.  Small wonder, then, that this nation produces some of the more elaborate celebration breads out there.
Today's bread, kolach, is the traditional centerpiece of the Ukrainian Christmas table.  Named for its shape ("kolo" means ring or circle), kolach is a wreath-shaped or round bread, formed with elaborate braids and twists of dough.  They can range from the merely decorative to the baroque in complexity; here, I've used a relatively basic shaping method (with copious photos to help).
The dough is a moderately rich one, with most of the liquid coming from milk, eggs, and butter.  The effect of all this enrichment isn't heavy, but rather quite light and fluffy.  A short autolyse (or, cat nap after mixing) gives a fantastic and slight pull to the airy crumb, and the result may remind you of a lean brioche.  It was a big hit with my family, and despite the moderate sweetness, it went well with everything from butter and jelly to ham and cheese.
Traditionally, this bread is stacked three rings high, with a candle burning in the middle, but I only went as high as two rings.  I'm unclear if this triple-stacking is meant to happen before or after the bread is baked, so you'll have to pardon any lack of authenticity here.  But as delicious as this bread is, I doubt I'll have too many complaints.
Kolach (Ukranian Christmas Bread)
Adapted from King Arthur Flour
Makes 1 round loaf
For the starter:
1/2 cup milk, at room temperature
5 1/2 ounces (about 1 1/4 cups) unbleached all-purpose flour
2 teaspoons instant yeast
For the dough:
9 ounces (2 cups) unbleached all-purpose flour
1/4 cup water, at room temperature
4 tablespoons (1/2 stick) unsalted butter, softened
2 tablespoons honey
1 1/2 teaspoons salt
2 large eggs, lightly beaten
1 teaspoon vanilla
1 tablespoon rum
1 teaspoon lemon extract
1 large egg beaten with 1 tablespoon water to make an egg wash
1.  In a medium bowl, combine the milk, flour, and yeast.  Stir until a sticky dough forms.  Cover loosely and let rest in a warm place until risen and puffy, about 1 hour.
2.  In the bowl of a stand mixer, combine all the remaining ingredients (except egg wash).  Add the starter and mix at low speed, using the dough hook attachment, until just mixed.  Turn the mixer off, and without removing the bowl or dough hook, cover loosely with plastic wrap.  Let stand in place for 15 minutes.
3.  Remove the plastic wrap.  Increase the speed to medium-low, and continue kneading until the dough is soft and smooth, about 6 minutes.  Transfer the dough to a large, lightly oiled bowl.  Cover tightly with plastic wrap and let the dough rise until doubled in size, about 1 1/2 hours.
4.  Thoroughly butter or grease a 9 inch round pan with tall sides, such as a cake or springform pan.  Turn the dough out onto a lightly floured work surface.  Divide the dough into two pieces, one slightly larger than the other.
Divide the larger piece into equal halves, and divide the smaller piece into equal thirds.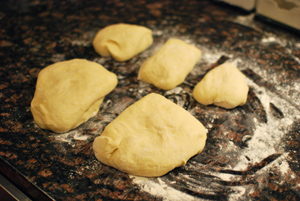 5.  Shape each piece into a rope about 25 to 30 inches long.  If the dough resists, shape the rope as long as the dough will allow; cover and let rest 5 to 10 minutes before proceeding.
6.  Using the two thicker ropes, cross them on your work surface in an "X" shape.
Starting in the middle, twist the ropes together.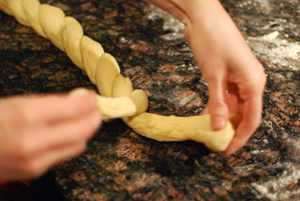 Pinch the ends firmly to seal.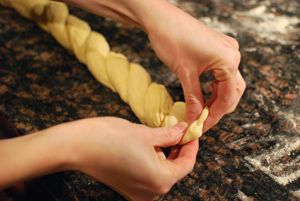 Set the rope aside, and cover loosely.
7.  Using the three smaller ropes, lay them parallel to each other on your work surface.  Starting in the middle, braid them together as shown.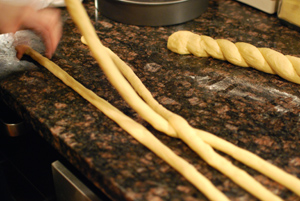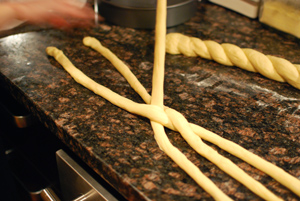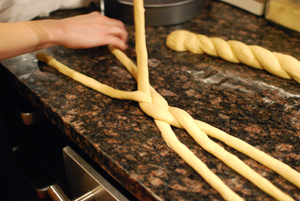 Repeat the braiding on the other half of the ropes.  Pinch the ends firmly to seal.  Set aside and cover loosely.
8.  Arrange the first twisted rope in a circle around the inside bottom edge of the prepared pan.  Pinch the ends together firmly to seal.  The circle of dough may or may not be quite as big as your pan.
Arrange the braided rope in a ring on top of the circle of twisted dough, matching the seams up, and pinching the ends to seal.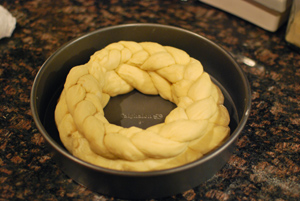 This can either be left as is, or you can place a heavily-buttered metal ring 3 inches tall (such as a tall cookie cutter, or a tall tin can opened at both ends) in the center of the ring to help hold its shape.  This will also help the braided dough stay on top of the twisted dough, as it can have a tendency to fall to the inside as the loaf rises.
9.  Cover the dough loosely with lightly greased plastic wrap, and let rise at room temperature until nearly doubled in size, about 1 hour.  Thirty minutes before baking, preheat the oven to 350º F.
10.  Gently brush the dough with the egg wash, taking care not to deflate it.  Bake at 350º F for 15 minutes, then lower the temperature to 325º F and continue baking for 30 minutes more, or until golden brown.  An instant-read thermometer should register 195º to 200º F when inserted into the center.  Remove the bread from the pan, and transfer to a wire rack to cool thoroughly before slicing.
Notes:
1.  To shape the kolach, you may either use a round pan, or you may shape it freeform on a greased or parchment-lined baking sheet.  This recipe gives directions for using a round pan, but may be easily adapted to a flat baking sheet.  If you bake the kolach in a round pan, as I have done, you will end up with a taller bread.  If you bake it freeform on a baking sheet, you will end up with a flatter, but prettier, loaf, as the braiding and twisting will be wholly visible.