Week Fifty-Two: Christmas Breads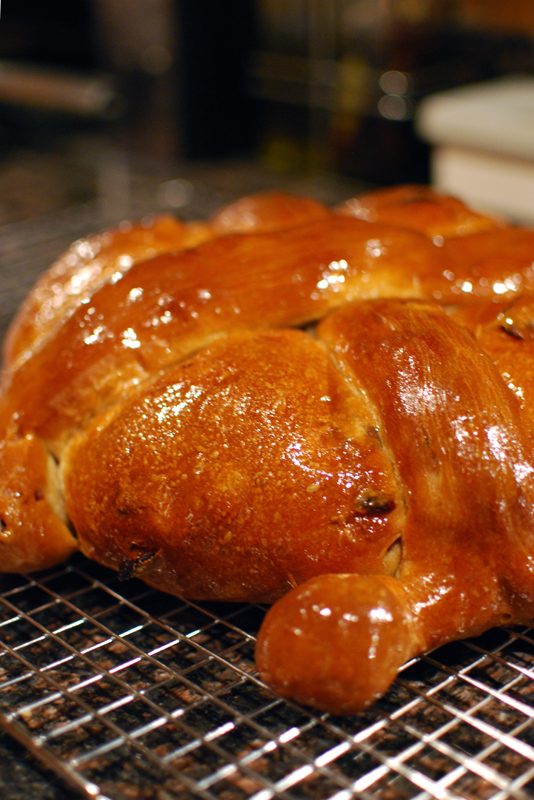 Hailing from Greece, today's bread draws similarity to Christmas breads from nearby Italy and Germany, with their panettone and stollen.  This is not to say that these breads are copycats of one another, far from it.  It might be said that they are as alike as a baguette is to a dinner roll; they may be made from substantially alike doughs, but through subtle variation and wildly different shaping, they produce obviously different results.
More dense than panettone, but not quite as heavy as stollen, christopsomos uses a spiced dough that recalls the latter German bread.  It can be as fully studded with dried fruit as you like; here, I've used a relatively light hand, rendering it somewhat like the less-fruited panettone.
The finished loaf, topped with its scrolling decorative Greek cross, is finished with a luxurious and sticky glaze made of honey, which gives each slice an enticingly complex sweetness, though some might find it a bit on the cloying side.  You could certainly leave the glaze off if you prefer; either way, this is one show-stopping centerpiece of a bread, and one that's as delicious as it is pretty.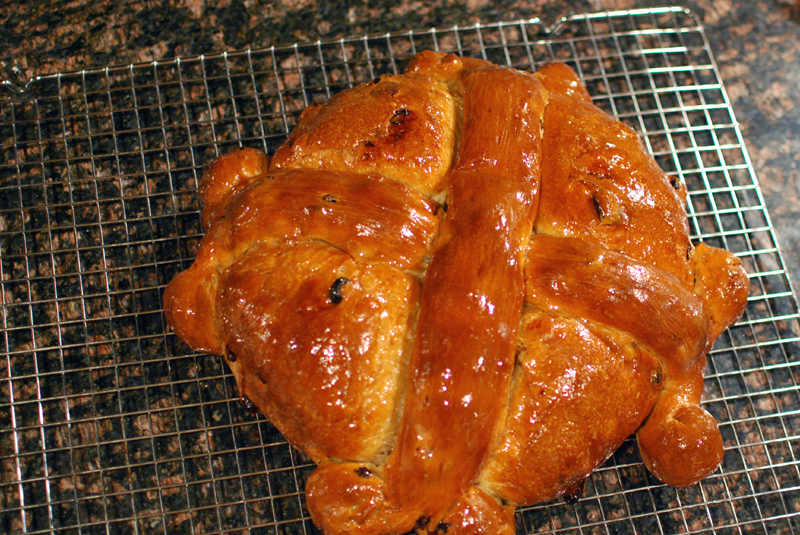 Christopsomos (Greek Christmas Bread)
Adapted from The Bread Baker's Apprentice, by Peter Reinhart
Makes 1 large loaf
For the starter:
3 3/4 ounces (about 3/4 cup) unbleached bread flour
1/2 cup water, at warm room temperature
A scant 1/8 teaspoon instant yeast
For the dough:
1/2 cup raisins
1/2 cup dried cranberries
4 to 6 tablespoons (depending on moisture level of dried fruit) spiced rum, or brandy
16 ounces (about 3 1/2 cups) unbleached bread flour
1 teaspoon salt
1 1/2 teaspoons instant yeast
1 teaspoon ground cinnamon
1/4 teaspoon ground nutmeg
1/4 teaspoon ground ginger
1/4 teaspoon ground allspice
1/4 teaspoon ground cloves
1 teaspoon lemon extract
1 teaspoon almond extract
2 large eggs, lightly beaten
1/4 cup (2 2/3 ounces) honey
1/4 cup (2 ounces) olive oil
3/4 cup milk, lukewarm
1/2 cup chopped candied orange
1/4 cup chopped candied ginger
For the optional glaze:
2 tablespoons water
2 tablespoons sugar
2 tablespoons honey
1.  To make the starter, whisk together the flour, water, and yeast in a bowl until all of the flour is moistened.  The dough should look like very thick pancake batter.  Cover with plastic wrap, and let sit at room temperature for 3 to 4 hours, or until bubbly and risen.  Immediately transfer it to the refrigerator, and chill at least 8 hours and up to 3 days.  Let sit at room temperature for 1 hour before proceeding.
2.  Place the raisins and cranberries in a plastic zip top bag.  Add the rum or brandy, and squeeze as much air as possible out of the bag before closing.  (This maximizes the surface area contact between the fruit and the liquor, and makes sure no fruit is left dry.)  Soak at room temperature for at least 8 hours, and up to several days.
3.  In the bowl of a stand mixer, whisk together the flour, salt, yeast, cinnamon, nutmeg, allspice, and cloves. Add the starter, the extracts, eggs, honey, olive oil, and milk.  Using the dough hook attachment, mix at low speed until a rough dough forms.
4.  Increase the speed to medium.  Continue kneading for about 8 minutes, or until the dough forms a soft and supple ball.  It should be tacky but not sticky; add additional milk or flour as needed to achieve the proper consistency.
5.  Add the raisins, cranberries, candied orange, and candied ginger, and knead at medium speed for an additional 2 minutes, or until evenly incorporated.
6.  Transfer the dough to a large, lightly oiled bowl, rolling it around to coat it with oil.  Cover tightly with plastic wrap, and let sit at room temperature until doubled in size, about 90 minutes.
7.  Lightly grease a baking sheet, or line with parchment paper.  Turn the dough out onto a lightly floured work surface.  Divide the dough into two pieces, one twice as big as the other.  Wrap the smaller piece thoroughly with plastic wrap, and refrigerate.  Shape the larger piece into a round ball, by pulling the outer edges into the center and pressing to seal.  Transfer, seam side down, to the prepared baking sheet.  Cover loosely with lightly oiled plastic wrap, and let rise at room temperature until the dough is nearly doubled in size, 60 to 90 minutes.  Thirty minutes before baking, preheat the oven to 350º F, placing a rack in the middle position.
8.  When the larger piece is ready to bake, remove the smaller piece from the refrigerator.  Divide the smaller piece in half, and roll each half into a 10 to 12 inch long rope.  If the dough resists, cover loosely and let rest for 5 to 10 minutes.  Gently lay each rope over the top of the risen larger piece of dough, in the shape of a cross.  Using clean kitchen shears, or a bench scraper, split the ends of each strand.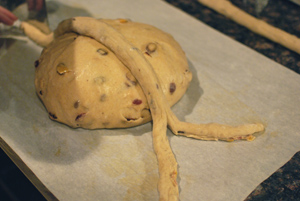 Coil the ends to form a decorative cross.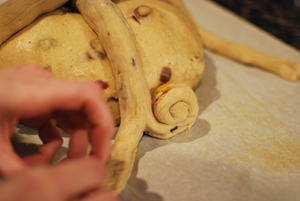 The dough should be sticky enough to hold itself in place.
9.  Bake at 350º F for 40 minutes, rotating the pan halfway through to ensure even browning.  The loaf should be golden brown when fully baked, and an instant-read thermometer should register 190° F when inserted into the center.
10.  While the bread is baking, make the glaze by bringing the water and sugar to a boil in a small saucepan.  Add the honey, and remove from the heat.  If necessary, rewarm the glaze before applying it to the bread.
11.  Transfer the bread to a wire rack and immediately brush the glaze (if using) liberally over the loaf.  Let cool for at least 1 hour before slicing.  Christopsomos should keep for about 2 weeks at room temperature, wrapped tightly.
Notes:
1.  If you prefer, you may omit the rum or brandy used to soak the dried fruits.  Alternatively, you may use fruit juice of any sort, or simply cut the liquor with water.  The moisture of the fruit is in large part what helps the bread keep for so long; if you omit soaking the fruit at all, the bread will not last quite as long.