Week Forty-Seven: Miscellaneous International Breads
Over the year, I've featured breads from various nations or regions throughout the world.  This assortment of recipes is of course by no means complete, or even attempting to be.  The recipes I chose were for breads that I'd heard of but never seen, breads that intrigued me, or breads that are just favorites of mine.
But along the way, I turned up breads here and there that I wanted to make, but couldn't fit into any planned theme, or couldn't find enough similar recipes to turn into a decent theme.  And so, this week is devoted to those miscellaneous breads from around the world that I had to try, but never had a reason to.
The first bread from this mixed bag brings us to Bulgaria, a country with a rich panary tradition, like many nations in that area of the world.  The name of this bread translates to "bird of paradise" bread, and is as extravagant as its namesake.  The topping of this bread gives it its name, as the carefully patterned meat, cheese, olives, and bell pepper create a vibrant mosaic that is as much a treat for the eyes as the bread itself is for the tongue.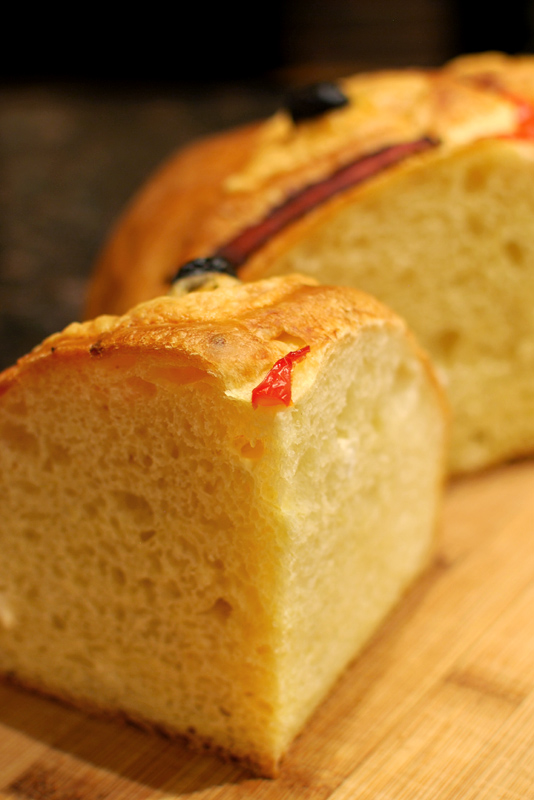 Most of the liquid here is from eggs and plain yogurt, so the crumb is very soft and is a fabulous yellow hue.  It's open and airy, with an almost brioche quality to it.  Scattered throughout are little melty pockets of feta, which lend a salty tang to each bite, a welcome respite from the relative richness of the loaf.
So, is it authentic?  Never having been to Bulgaria, I can't personally say for sure; but I do happen to know a Bulgarian gentleman, who called this bread a "masterpiece".  I reckon that's assurance enough.
Bird of Paradise Bread (Khliab Raiska Ptitsa)
Adapted from The Balkan Cookbook, by Catherine Atkinson and Trish Davies
Makes 1 large loaf
For the dough:
14½ ounces (about 3¼ cups) unbleached all-purpose flour, plus extra for dusting
1 tablespoon instant yeast
1½ teaspoons salt
6 tablespoons plain yogurt
1/4 cup water, at room temperature
4 large eggs, beaten lightly
2 to 3 ounces (1/2 cup) feta cheese, finely crumbled
1 egg beaten with 1 tablespoon milk to make an egg wash
For the topping:
2 square slices kashkaval or Cheddar cheese (see note 1 below)
4 slices of ham
4 pitted oil-cured black olives (see note 2 below)
1 star-shaped piece of red bell pepper (star shape optional, but fun)
1.  In the bowl of a stand mixer, whisk together all but a handful of the flour, all the yeast, and the salt.  Add the yogurt, water, and eggs.  Using the dough hook, mix at low speed until a rough dough forms.  Increase the speed to medium-low and continue mixing until the dough is smooth and elastic, adding the reserved flour as necessary, about 7 minutes.
2.  Decrease the speed to low.  Add the crumbled feta, and mix until fully incorporated.  Turn the dough out onto a lightly-floured surface.  Using floured hands, shape the dough into a round by pulling the outer edges into the middle, and pressing to seal.
3.  Transfer dough to a large, lightly oiled bowl, smooth side up.  Cover with lightly oiled plastic wrap, and let rise at room temperature until doubled in size, about 1 hour.
4.  While the dough rises, prepare the toppings.  Cut each square of cheese in half diagonally, so that you have a total of 4 identical triangles.  Cut the slice of ham into 4 long rectangles (about ½ inch by 2 inches).  Pit the olives, if necessary.  Cut a star shape from a bell pepper, or cut into 4 thin strips (about ½ inch long).
5.  Lightly oil an 8 or 9 inch round cake pan or springform pan.  Line the bottom with a round of parchment paper, and oil the paper.  Turn the dough out onto a lightly floured work surface, and press gently to deflate.  Shape again into a round by pulling the outer edges into the middle, and pressing to seal.
6.  Transfer the dough to the prepared pan, smooth side up.  Brush liberally with the egg wash.  To decorate (also refer to above pictures), arrange the kashkaval or Cheddar cheese triangles on top of the dough to form a square.  Place ham rectangles in between cheese, to form a cross.  Place one olive on each piece of cheese.  Place the bell pepper star in the center.  Cover loosely with lightly-oiled plastic wrap, and let rise another 45 to 60 minutes.  Thirty minutes before baking, preheat the oven to 400° F, and position a rack in the center, or just below the center.
7.  Bake at 400° F for 15 minutes.  Reduce the temperature to 350° F and continue baking for an additional 25 to 35 minutes, or until golden brown and an instant-read thermometer registers 190° F when inserted into the center. Cool a few minutes in the pan, then turn out of pan (running a thin knife around the edge to loosen if needed), and remove parchment.  Cool thoroughly on a wire rack before cutting.
Notes:
1.  Kashkaval cheese, a specific type of Bulgarian yellow sheep milk cheese, may be found in specialty markets; but a good cheddar is an acceptible substitute.
2.  Oil-cured black olives can be found jarred in the International aisle of some grocery stores, but are more often seen in the bulk olive section of specialty stores, such as Whole Foods.