Week Fifty-One: Gift Breads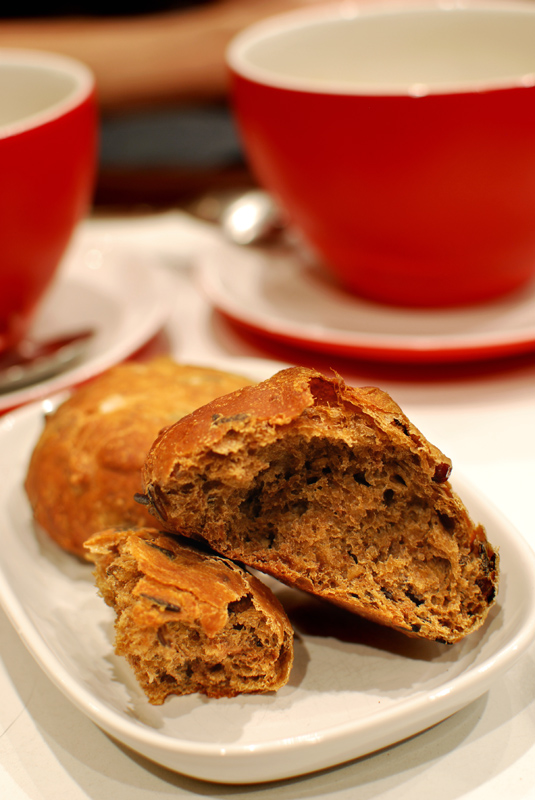 This last gift bread is a very versatile one; originally titled "morning rolls", they would make a fine alternative to the typically saccharine "special houseguest" breakfast  of pancakes, sticky buns, French toast, or waffles.  The dough is very lean, with a texture similar to a dinner roll, sweetened with dried cranberries, and made moist and hearty with cooked wild rice.
You could just as easily serve these rolls for dinner; the jammy cranberries almost beg to be served with fruit-loving pork, or simply roasted chicken.  They also paired delightfully with a giant bowl of crisp and fresh salad.  And yet they were just at home next to a fried egg, spread with a pat of butter or even dunked into a cup of coffee.
The chewy bite and slightly grassy notes of wild rice blends gorgeously with the rustic texture of whole wheat flour and the buttery crunch of toasted walnuts, while the cranberries bring a pleasantly tart counterpoint to the otherwise nutty flavors.
Though this recipe calls for wild rice, it can be difficult to find, or prohibitively expensive.  More commonly available is a blend of wild rice and white or brown rice, which is perfectly fine to use instead, though the flavor will be slightly different.
Whether served at night or in the morning, these soft rolls are an excellent trick to have up your sleeve, to serve to guests or to bring to a dinner party as a hostess gift; and if that isn't a gift during the holiday season, I don't know what is.
Wild Rice and Cranberry Rolls
Adapted from Emma Christensen, via the Milwaukee Journal Sentinel
Makes 12 rolls
2 ounces (1/2 cup) walnuts
12 ounces (about 2 1/2 cups) unbleached bread flour
2 1/2 ounces (about 1/2 cup) whole wheat flour
2 1/4 teaspoon instant yeast
2 teaspoons salt
1 1/4 cups water, at room temperature
2 tablespoons molasses
1 tablespoon olive oil
3 ounces (3/4 cup) cooked wild rice (see note 1 below)
2 ounces (1/2 cup) dried cranberries
2 tablespoons unsalted butter, melted and cooled slightly, for finishing
1.  Preheat the oven to 350º F.  Spread the walnuts in a single layer on a baking sheet and roast for 10 to 12 minutes or until fragrant, tossing halfway through.  Chop while still warm, and set aside.
2.  In the bowl of a stand mixer, whisk together the flours, yeast, and salt.  Add the water, molasses, and olive oil.  Using the dough hook, mix at low speed until a rough dough forms.
3.  Increase the speed to medium-low and continue kneading until the dough is smooth and elastic, about 7 minutes.  The dough will be slack, but should clear the sides of the bowl.  Add additional flour or water as needed to correct the consistency.
4.  Decrease the speed to low, and add the walnuts, wild rice, and cranberries in that order, turning the speed up to medium and allowing each addition to incorporate in turn.  Mix at medium until all are evenly distributed.
5.  Transfer the dough to a large, lightly-oiled bowl, turning to coat all sides of the dough with oil.  Cover tightly with plastic wrap and let stand at room temperature until nearly doubled in size, 60 to 75 minutes.
6.  Lightly oil a large baking sheet, or line with parchment paper.  Turn the dough out onto a lightly floured work surface, pressing gently to deflate.  Divide the dough into 12 equal pieces, and shape each into a round ball.  Transfer each piece to the prepared baking sheet, smooth side up, and flatten slightly by pressing gently but firmly.  Cover loosely with lightly-oiled plastic wrap, and let stand at room temperature until nearly doubled in size, 50 to 60 minutes.  Thirty minutes before baking, turn the oven to 400º F.
7.  Gently brush the tops of the rolls with the melted butter, taking care not to deflate.  Bake at 400º F for about 20 minutes, or until golden brown and baked through.  Transfer to a wire rack to cool thoroughly.
Note:
1.  To cook wild rice, boil 3 to 4 quarts water.  Add 1 tablespoon salt and 1 cup wild rice.  Return to a boil, then reduce to a simmer.  Simmer uncovered for 45 to 60 minutes, stirring occasionally.  Add additional hot water as needed if the rice becomes exposed.  The rice is done when the grains have split open and are no longer crunchy, though they should be a bit chewy.  Drain rice through a strainer.