Week Six: Italian Breads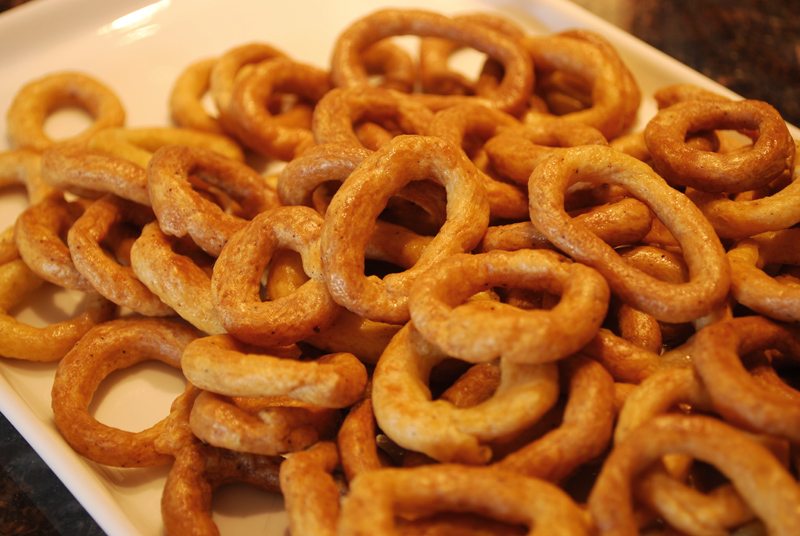 I can picture it: you're navigating the intimate aisles of that little Italian market, browsing around the fifty different brands of olive oil, the mysterious tins of sardines that you're sure must be delicious (if only you knew what in the world to do with them), the thickly seductive smells of prosciutto and Parmigiano permanently infused in the store fixtures.  Then, perhaps among the grissini or the amaretti, you notice a bag of ring-shaped things, looking a bit like dried tortellini.  Interesting, but since the text on the package is all Italian, there's no way to know exactly what they are.  Are they sweet or savory?  Are you supposed to use them to make something else, like you use savoiardi to make tiramisú?  Are they cookies or crackers?  Do you just set them out?  Frustrated, you put them back, and maybe make a mental note to try them later, but you probably never will.
Well, wonder about them no longer!  Those little rings are called Taralli, and they are absolutely fabulous.  Most common in Southern Italy, they are a favorite street-food-snack.  They can be sweet or savory, but it's generally easy to tell which is which.  Sweet taralli are often glazed with sugar, while the ones that look plain are typically savory.  They can be flavored with any number of things, but fennel seed (taralli ai finocchio), red pepper (taralli al peperoncino), and rosemary (taralli al rosmarino) are the most common.  Whether sweet or savory, they are often served with and dunked into wine.  In the USA, they can be found at the occasional Italian bakery, or otherwise made by your local Nonna in her kitchen.
They can be as big as a bracelet, or small enough to fit only on your fingertip (then sometimes called tarallini), but they always have the same unique, glorious texture: not quite crunchy, not quite soft, maybe a little crumbly, but not crumb-y.  They are boiled, like bagels or pretzels, and I have seen recipes that call them Italian Pretzels.  The dough is made with semolina (pasta flour) and that answer to all your Italian baking problems, 00 flour (a soft wheat flour that is very finely milled), enriched with olive oil, and flavored with white wine.  
Okay.  In all honesty, I've never had store-bought, pre-packaged taralli.  And in fact, until I made them, I'd only had them one other time in my life that I can remember, from a bakery, and very long ago.  So I can't really tell you how homemade taralli stack up against mass-produced ones; but based on my experience with other homemade-vs.-storebought breads, I feel fairly confident in saying that it's probably worth the effort to make them.  And yes, it is an effort.  These taralli are small, which is wonderful for little bites to go with antipasti or wine, but which also means you have to work a little more to make them.  But once you get into the groove of it, it's a rather calming, zen sort of activity.  Just let your mind wander, and settle in for a little while.  Or get a friend to help – it's a perfect activity for chatting over!
One slightly disconcerting thing about this recipe is the propensity for the olive oil to leach out of the dough.  So I recommend rolling the ropes of dough out on a cutting board, or another wooden surface that will absorb it.  Anyway, I'm sure your cutting board is getting a little dry, right?  I know mine was!  If you try it on your counter, though, just be prepared to wipe it off every so often with a paper towel – it gets too slick to roll anything on it after a while.  Or, I suppose you could reduce the amount of olive oil in the recipe.
You can also make these any size you want, but the directions here make a shockingly large number of very small tarallini – one hundred!  But when they're baked, they don't seem like that many.  And they're absolutely addictive, so don't be surprised if your hard work disappears in less time than it took you to make them.  Don't let it get you down, though – I bet you'll find them just as irresistible as anyone else!  Dig in and enjoy!
Tarallini al Peperoncino
Makes 100 small biscuits
3/4 cups all-purpose flour
1/2 cup cake flour
1/3 cup semolina
1 teaspoon sugar
3/4 teaspoon freshly ground black pepper
1/4 teaspoon crushed red pepper flakes
1 pinch cayenne pepper
2 1/2 teaspoons kosher salt, divided
1/3 cup dry white wine
1/3 cup extra-virgin olive oil
1.  Whisk together the flours, semolina, sugar, peppers, and 1 1/2 heaped teaspoons salt, then stir in wine and oil. Turn out onto a lightly floured surface and knead with lightly floured hands until smooth and elastic, about 2 minutes.
2.  Put dough in a bowl and cover with plastic wrap. Let stand at room temperature 1 hour.
3.  Halve dough, then cut each half into 10 pieces. Keeping remaining dough covered, roll 1 piece of dough into a 20-inch-long rope on an unfloured surface. Cut rope into 5 pieces, then roll each piece into a 4-inch-long rope, connecting ends of each to form a ring. Repeat with remaining dough, keeping all other dough covered.
4.  Bring 5 cups (more or less) water to a boil with remaining teaspoon salt in a medium pot.  Meanwhile, preheat oven to 350°F with racks in upper and lower thirds. Oil or line with parchment paper 2 large baking sheets.
5.  Boil rings in 4 batches just until they float, about 2 minutes per batch. Transfer with a slotted spoon to prepared baking sheets, arranging rings 1/2 inch apart.
6.  Bake, switching position of sheets halfway through baking, until golden, 30 to 40 minutes (depending on size). Transfer to racks to cool completely.
Notes:
1.  Tarallini will keep in an airtight container for about 2 weeks – but they certainly won't last that long!
2.  The original recipe called for type "00" flour, a finely-milled Italian flour.  It can be hard to come across, so I substituted the cake and all-purpose flour mixture.  If you have it, though, by all means use it instead.
3.  If you're not a fan of pepper, you can certainly leave it out.  For another flavor variation, try crushed toasted fennel seeds (maybe 2-3 teaspoons), or some rosemary.  Other less traditional flavorings could include poppy seeds, any finely-chopped nuts or ground nut meal (almond, walnut, pistachio, etc.), thyme, oregano, cumin, mint, etc. etc. etc.  Add a little more sugar to the dough (maybe 1-2 tablespoons), and coat them after they've cooled in a milk/powdered sugar/lemon zest glaze.  Serve with coffee or tea, and call it a day!