Week Forty-Five: Potent or Unusual Flavors
I have not always had the best luck with peanuts in bread, though there have been exceptions.  When I saw this recipe, I knew I wanted to try it, but I had no idea what sort of creature would result.  I found this one on Heidi Swanson's wonderful 101 Cookbooks, where it was described as "unique".
Hmmm.
Thinking logically, I knew the dough was mostly composed of coconut milk (which would surely tenderize with its relatively high fat percentage) and home-toasted and -ground peanuts (which would certainly shorten any forming strands of gluten, making for a dense bread).  But how much these two things would affect the otherwise-standard dough, I wasn't sure.
Beneath the uncertainty and misgivings, however, lay the intrigue of heady Indian curries, full of coconut milk, peanut, and spice.  Still as enamoured with those sultry dishes as I ever was, I didn't care what the result might be; I wanted to taste this bread.
To encourage gluten development and make a fluffier bread — a just concern with all the whole-wheat flour and those nubbly bits of ground peanut —  I decided to add some vital wheat gluten.  Not actually gluten itself, which is only formed after mixing certain flours with water, vital wheat gluten is the protein-rich part of wheat flour that remains after rinsing most of the starch away.  Adding a spoonful or two to whole-grain dough is an excellent way to avoid the dense and flat fate that plagues many of that sort of bread.
Additionally, to help form a harder crust, I replaced some of the coconut milk with water.  The fat content of coconut milk (generally around 10%) would contribute to a softer crust, but cutting it with water, or even using light coconut milk (around 5% fat) creates a more crisp exterior.  Decreasing the fat percentage also helps strengthen the structure of the dough, as fat literally shortens the gluten strands (hence the word "shortening").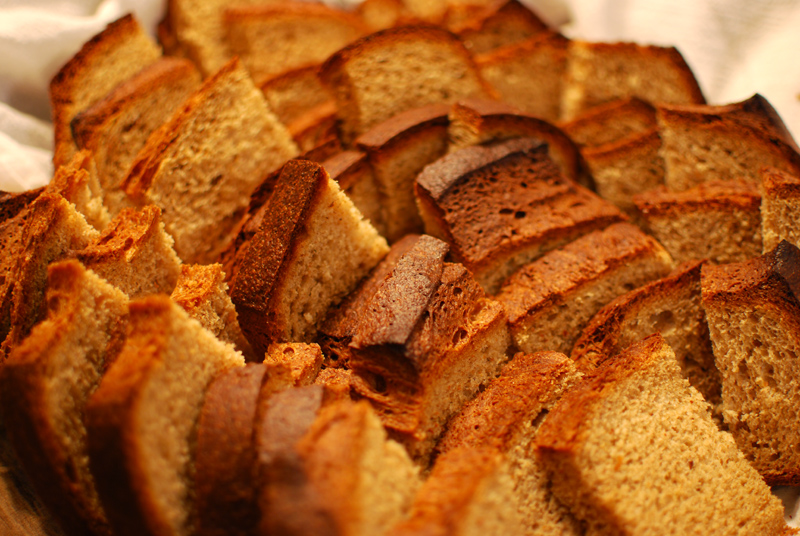 The dough rose very well, and was very supple and easy to work with, despite being a little on the stiff side.  And the oven spring was just amazing!  This wound up being a truly huge loaf of bread.  Ms. Swanson claims you can bake this in a 9 x 5 inch loaf pan, but I'd be shocked if you could fit all that bread in one pan.  Me, I chose to bake it freeform, as the dough was sturdy enough that it didn't need a pan, and I love the sight of a rustic boule emerging from my oven.
Noticed at once was how incredibly easy this behemoth was to cut through.  Such giant breads are usually tricky to slice, as the hard crust and typically soft and open crumb make for a difficult cutting scenario.  But here, the semi-hard crust was supported by a dense structure of incredibly tender bread, and was quite easy to slide a knife through.
And when I say the interior was incredibly tender, I mean it.  It was nearly as soft as many quick breads I've made, and had a similarly close structure.  The overall flavor was of course full of peanut, but the coconut milk gave it a tropical note; it was far more pad thai than pb&j.  But surrounding that was the sweetness of paprika and the smokiness of cumin, set off by just enough warming cayenne to let you know it was there.
All in all, it was a very good bread; perhaps not the ideal example of a crisp-crusted, airy artisinal loaf, but the excellent flavor goes a long way towards making up for a slightly unexpected texture.  This recipe was a great experiment, one that resulted in the knowledge that peanuts can, like many other foods, make great bread as often as not.  Unusual, delicious, and fragrant, sure.  But unique?  Overwhelmingly so, and in the best possible way.
Spicy Peanut Bread
Adapted from 101 Cookbooks
Makes 1 loaf
1½ cup raw peanuts (see note 1 below)
1 teaspoon paprika
1/4 teaspoon cayenne pepper
1/4 teaspoon dried oregano
1 teaspoon whole cumin (or 1/2 teaspoon pre-ground)
1 cup coconut milk
3/4 cup water, at room temperature
4 tablespoons unsalted butter, melted and cooled slightly
3 tablespoons honey
11½ ounces (about 2½ cups) unbleached all-purpose flour
11 ounces (about 2½ cups) whole-wheat flour
2 tablespoons vital wheat gluten
2 teaspoons instant yeast
1 teaspoon salt
1.  In a large sauté pan over medium heat, toast the peanuts for 2 to 3 minutes, or until they turn golden and fragrant.  Add the paprika, cayenne, and oregano (and pre-ground cumin, if using), and toast for 20 to 30 seconds.  Remove from pan to a large bowl or flat plate to cool slightly.  If using whole cumin, toast in pan over medium heat until fragrant, about 1 minute.  Grind in mortar and pestle, or in a spice grinder.  Add to peanuts.
2.  Transfer peanuts to a blender or small food processor, and purée until a smooth paste forms, scraping down the sides as needed. 
3.  When smooth, scrape peanut butter into the bowl of a stand mixer.  Gradually whisk in the coconut milk and water until blended.  Add the butter and honey, and whisk to combine.  Add the flours, wheat gluten, yeast, and salt.  Using the dough hook attachment, mix at low speed until a rough dough forms.
4.  Increase the speed to medium-low and continue kneading, scraping the bowl as necessary, until the dough becomes smooth and supple, about 5 minutes.  Turn out onto a lightly-floured work surface, and shape into a ball by pulling and tucking the sides into the center.  Place seam-side down in a large, lightly-oiled bowl.  Cover tightly with plastic wrap, and let sit at room temperature until nearly doubled in size, about 60 to 90 minutes.
5.  Lightly grease a large baking sheet, or line with parchment paper.  Turn the dough out onto a work surface, using flour if needed to prevent sticking.  Deflate the dough by pressing gently, and shape again into a round ball by pressing the sides into the center.  Transfer to the prepared baking sheet, seam-side down, cover loosely with plastic wrap, and let sit at room temperature for 45 to 60 minutes, or until doubled in size.  Preheat the oven to 450º F.
6.  When the bread is fully risen, using a sharp serrated knife, quickly and decisively slash the top decoratively, letting only the weight of the knife press into the dough.  Spray or sprinkle the dough with water, and place in the oven.
7.  Bake at 450º F for 10 minutes, spraying with water every 30 seconds for the first 2 minutes.  After 10 minutes, lower the temperature to 400º F and bake for an additional 30 to 45 minutes, or until very well browned and baked through.  An instant-read thermometer should register about 200º F when inserted into the center of the loaf.  Remove the bread to a wire rack to cool thoroughly before slicing.
Notes:
1.  If you can't find raw peanuts, roasted are okay; just be sure to adjust the pan-toasting time.  However, try to find un-salted nuts if at all possible, as the added salt will greatly affect the rising of the dough, and the flavor will be far too salty.