Week Forty-Two: Muffin Week
Today's muffin recipe comes to us from one of the more respected voices on the New Orleans food scene, Tom Fitzmorris.  It's a decidedly savory muffin, made with soft goat cheese and one very special ingredient: tasso.  If you've ever lived and cooked in New Orleans (the two are nearly synonymous), you know the grand possibilities encapsulated in that one small word.
But if the term is new to you, allow me to introduce a new culinary secret weapon.  Tasso is a cured and smoked bit of pork shoulder, firm and thoroughly encrusted with pure deliciousity in the form of a cayenne- and paprika-based spice blend.  The particular blend depends, of course, on the whim of the creator.  Unlike most other cured pork items out there, such as pancetta, prosciutto, bacon, or speck, tasso is rarely eaten on its own; rather, it is a meat to be used for seasoning, and with a fairly restrained hand.
To the chagrin of thousands of cooks, tasso is rarely seen in stores outside of South Louisiana, but luckily, it's not at all difficult to make.  Sadly, as much as I love tasso, and would love having a stash of it right now, I simply didn't have the time or foresight to cure my own.
Enter ersatz tasso, made by tossing cubes of smoked deli ham with a sneeze-inducing amount of pepper and spices.  I'm giving the blend that I used in the recipe below, but feel free to vary it according to your personal tastes.  There's really no wrong answer here; just don't be shy with the spices, that's what tasso is all about.  (Obviously, if you have access to real tasso, by all means use it.)
So, tasso explained, I direct attention back to the muffins.  The end result is definitely tasso-centric, spicy and meaty, but the goat cheese is no slouch here either.  It's flavor is in the background, no doubt (read: don't use the finest cheese money can buy), but it brings an almost sourdough tang to the finish.  Without it, the muffins would certainly be lesser.
Almost biscuit-like in texture, I would most likely serve these at brunch for a slightly unusual and savory bread option, or perhaps with a steamy bowl of tomato soup for a light dinner.  Either way, you do run the risk of having these brazen little guys stealing the spotlight; but when muffins are this good, I don't think you'll much mind.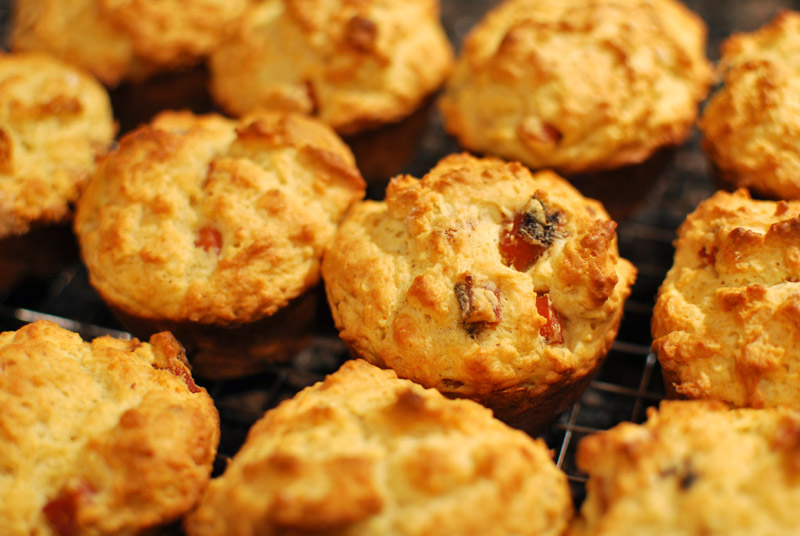 Spicy Ham and Goat Cheese Muffins
Adapted from Tom Fitzmorris' "Pain au Jambon et Chevre"
Makes about 16 muffins
1 teaspoon paprika
1/2 to 3/4 teaspoon cayenne pepper, or to taste
1/4 teaspoon ground black pepper
1/8 teaspoon ground coriander
1/8 teaspoon ground cumin
1/8 teaspoon garlic powder
1/8 teaspoon ground allspice
1/2 pound smoked ham, cut into small cubes (see note 1 below)
4 ounces cream cheese, at room temperature
8 ounces goat cheese, at room temperature (see note 2 below)
3 large eggs
1¼ cup buttermilk, well-shaken
1 teaspoon Creole mustard (or any other grainy, spicy mustard)
13½ ounces (3 cups) unbleached all-purpose flour
4½ teaspoons baking powder
1/2 teaspoon salt
1.  Preheat the oven to 400º F.  Grease 16 standard muffin cups.
2.  In a medium bowl, blend all spices (from paprika through allspice) together.  Add cubed ham, and toss well.  Set aside.
3.  In the bowl of a stand mixer, beat the cream cheese until smooth, 1 to 2 minutes.  Crumble in the goat cheese, and beat until fluffy.  Add the eggs, one at a time, blending well after each addition, and stopping the mixer to scrape the bowl after adding each egg.
4.  Gradually add the buttermilk and mustard, and mix until completely blended.  Remove the bowl from the mixer, and stir in the ham with a spatula.
5.  Whisk together the flour, baking powder, and salt, and add to the wet ingredients.  Fold it in gently, just until all the dry ingredients are moistened.
6.  Divide the dough evenly between the muffin cups.  Bake at 400º F for about 30 minutes, or until golden brown and cooked through.  Remove the muffins from the pan, and transfer to a wire rack to cool slightly before serving.
Notes:
1.  If you have access to 1/2 pound of tasso, you should absolutely use it in place of the spice blend and the ham, as directed here.  If you don't, feel free to adjust the spice mixture to suit your taste and your pantry's contents.
2.  Any tangy, full-flavored goat cheese will work well here, but don't use feta, which is far too salty for this application.