Week Twenty-Four: Breads With Vegetables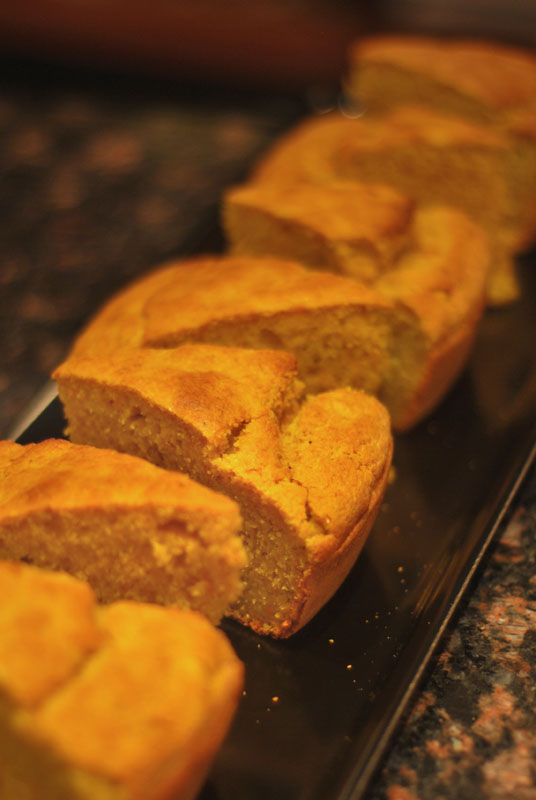 Originally, I was going to make a pumpkin bread today.  But I didn't for two reasons: 1) there remains a gentle controversy in my household as to whether or not a pumpkin is a vegetable or fruit (I argue that despite the presence of interior seeds, it is culinarily regarded as a vegetable, a term that actually has no specific botanical meaning; but there are those whose opinions differ), and 2) they don't sell pumpkin, either fresh or canned (it's just as good!) at my corner store.
Mostly, it was  reason number two.  But they do sell sweet potatoes at the corner store; and recalling that the best "pumpkin" pie I ever made used sweet potatoes instead, I figured I could just swap it out.  Then, thinking about sweet potatoes (which I dearly love), I remembered their great affinity for spices, and decided to take a different route than the yeast bread I had originally planned.
There are plenty of ways out there to make your cornbread more interesting, from adding jalapenos, to cheese, and everything in between; but I think my favorite addition is to throw in a mashed sweet potato.  The sweetness of the potato and the cornmeal are delightful complements, and the potato adds moisture and a pretty blush of color.  Also, both corn and sweet potato take very well to similar flavorings: butter, fresh herbs, sour cream, spice, etc.
Now, I don't know about you, but I've never been a fan of those sickly-sweet, marshmallow-topped, brown sugar and sweet potato confections that masquerade as a side dish at holiday dinners.  No, give me a plain baked sweet potato, with salt and a little butter, and I'm happy as a clam.  Sweet potatoes are sweet enough (hence the name) that to add any sugar is saccharine overkill, in my book.  I love to play up the more savory side of these vegetables, and my favorite way to do so is with Indian-inspired spice.
Yes, I'm still on that Indian cuisine kick.  No, I will not stop adding turmeric and Garam Masala to everything.  It's delicious, and especially so with sweet potatoes.  It brings out the complex spice of the sweet potato, and really enhances its savory nature.  Here, it gives the standard mild flavor of cornbread an unusual twist.  I've also thrown in a bit of cayenne pepper here, for a little extra punch.
What you end up with is a yellow-orange, moist, and rather surprisingly subtly-flavored bread, one that adds a welcome variation to the standard cornbread.  The spice hits you as a finishing note, rather than ambushing your palate up front.  It builds, and warms you the more you eat it.  I think the combination of flavors is really fabulous; and even if you're not such a fan of curry powder, I suggest you try it before you knock it.  The flavor is more about the sweet potato and corn, rather than the spice.  You could certainly make this bread as muffins; but I'm partial to cooking it all in one loaf, as I think it makes for a more tender end product.  But however you choose to make it, I bet you'll be happy you did!
Spiced Sweet Potato Cornbread
Makes 1 round
1 medium sweet potato, cooked and peeled (about 7 ounces, see note 1 below)
3/4 cups buttermilk (approximately)
1/2 cup milk
2 teaspoons honey
2 large eggs, lightly beaten
1 cup yellow cornmeal, preferably stone-ground
1 cup (4.5 ounces) unbleached all-purpose flour
3/4 teaspoon salt
2 teaspoons baking powder
1/2 teaspoon baking soda
1/2 to 1 teaspoon ground Garam Masala or curry powder (see note 2 below)
1/8 teaspoon cayenne pepper
3 tablespoons unsalted butter, melted and cooled slightly
1.  Place a 9 to 10 inch cast iron skillet or metal cake pan (square or round) on an oven rack positioned in the middle of the oven.  Preheat the pan and oven to 425º F.
2.  In a 2-cup liquid measure, mash the sweet potato.  You should end up with about 3/4 cup.  Add enough buttermilk to measure 1 1/2 cups.  Add the milk and honey, and stir carefully to combine.  Add the eggs.
3.  In a large bowl, whisk together the cornmeal, flour, salt, baking powder, baking soda, Garam Masala or curry, and cayenne pepper.  Add the liquid mixture to the dry ingredients, and mix quickly with a spatula or wooden spoon until mostly combined, using as few strokes as possible.  Add the melted butter and stir until just incorporated.
4.  Carefully remove the heated pan from the oven, and pour the batter into it.  Bake at 425º F for 30 to 40 minutes, or until golden brown and baked through.  If the bread starts to over-brown, tent loosely with aluminum foil and continue baking.
Notes:
1.  I prefer the flavor (and ease) of a baked sweet potato, but however you like to cook it is fine.  To bake, clean and poke several times with a fork or sharp knife to release steam.  Bake on a sheet pan at 400º F for 1 hour, or until a knife easily pierces the side.  Let cool, then slide the skin off, and mash.  You can alternatively peel and cut the sweet potato into chunks, and toss with oil before baking at 400º F, to shorten the cooking time to about 25 minutes.  The same peeled chunks can be boiled until soft, for about 15 to 20 minutes.  Or, for the least flavor, you can microwave the cleaned and fork-poked potato until soft (but I don't recommend it).
2.  You can use any spice mixture you like, including but not limited to the ones stated (I particularly like those in this recipe).  If you don't have either on hand, you can grind your own by using: 1/2 teaspoon coriander seeds, 1/2 teaspoon cumin seed, 1/4 teaspoon red pepper flakes, 3 or 4 cardamom pods, 1/2 teaspoon mustard seeds, and 3 or 4 cloves.  In a small pan over medium heat, toast the above ingredients for about 3 minutes, or until fragrant, shaking the pan often.  Do not let get over-brown.  Cool slightly, and grind with a coffee grinder, or in a mortar and pestle.  In the same pan over medium heat, toast 2 teaspoons ground turmeric and 1/4 teaspoon paprika for about 2 minutes or until a bit darker in color and very fragrant, shaking the pan often.  Combine with the other ground spices, and use as directed.  You can use all pre-ground spices, but the flavors are far better if you grind them yourself.