Week Thirty-Two: Sandwich Breads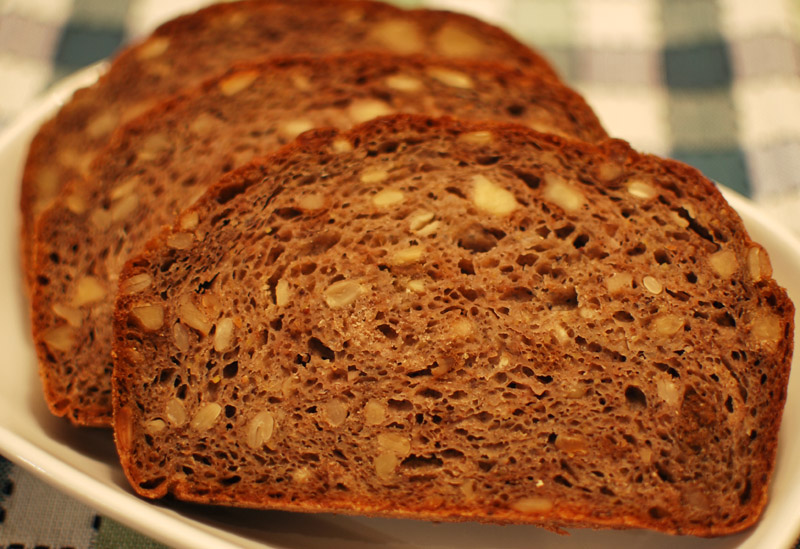 To this day, one of the best breads I've made this year was one from way back in the beginning of April, Swedish Peasant Bread.  If you haven't seen that recipe, and you only want to bake one bread, I strongly suggest trying that one.  It was so, so, so good!  It remains a sweet and cherished thought in the memories of many.  I'm actually kind of excited for this year to end so I can make it again!
But enough reminiscing; the reason I bring it up now is because I've borrowed the method for today's bread.  I thought for sure that using that incredibly successful scalding method for the non-wheat flours, and a long autolyse for the wheat flour, would produce a bread nothing short of amazing.
And I wasn't half wrong, but I wasn't exactly half right, either.  Apparently, the scalding method, so incredibly good when used with rye flour, doesn't contain the same magic for other grains – or at least, not the way I did it here.  This bread was very good, don't get me wrong, but it wasn't nearly as transcendant as I was hoping.
This bread is fairly dense, and doesn't have much oven spring, so be sure to let it fully rise before baking (I'm sure I baked mine off a little too soon).  Additionally, it may take your bread longer than the full length of time given to bake; I think it took mine about 55 minutes to fully cook through.
Otherwise, this bread ended up with a moderately soft crust after standing – a bit surprising, given the extremely long baking time – and a richly complex flavor.  It's absolutely filled with walnuts and sunflower seeds, which make for delightful little crunchy bits when sliced and toasted.  You can certainly leave those out if you like, or switch them for another type of nut or seed that you prefer.  Additionally, you can switch any or all of the various grains for any others you like or have on hand.  You can even use all one kind, if you want; just make sure the total weight equals the total weight of the all-purpose flour.  Overall, this bread is a winner.  It's a reasonably healthy, cleanly-slicing bread, with a lovely grainy flavor that would go well with any number of sandwich fillings.
Six Grain Bread
Adapted from Apple Pie, Patis, & Pâté
Makes two 9 x 5 inch loaves
For the scalding mixture:
4 ounces (1 cup) buckwheat flour
4 ounces (1 cup) rye flour
4 ounces (1 cup minus 2 tablespoons) whole wheat flour
2 ounces (1/3 cup) cornmeal
2 ounces (1/2 cup minus 2 tablespoons) chickpea (a.k.a. gram) flour
2 tablespoons ground flaxseed
2 1/2 cups boiling water
For the dough:
16 ounces (about 3 1/2 cups) unbleached all-purpose flour, plus extra for dusting
1 1/4 cups room temperature water
1 tablespoon kosher salt
1 scant tablespoon instant yeast
4 ounces (1 cup) walnuts, toasted, cooled, and chopped (see note 1 below)
4 ounces (1 cup) sunflower seeds, toasted and cooled (see note 1 below)
1 tablespoon poppy seeds, plus extra for topping (optional)
1.  To make the scalding mixture, whisk together all the flours in a medium to large heat-safe bowl.  Pour the boiling water over and mix until all flour is moistened.  The mixture will be stiff.  Cover and let stand for 1 to 1 1/2 hours.
2.  Meanwhile, start the dough.  In the bowl of a stand mixer, combine the all-purpose flour and water.  Mix with the dough hook on low speed until all the flour is moistened.  Stop the mixer, cover the bowl with plastic wrap, and let sit until the scalding mixture is ready.
3.  When ready, add the scalding mixture to the flour mixture in the mixer bowl.  Add the salt and yeast, and mix with the dough hook at low speed until fully combined, scraping the bowl as needed.  You may find this step easier to do by hand, since there is a large amount of dough, and the two are rather dissimilar in texture.
4.  Increase the speed to medium, and knead until smooth and elastic, about 8 to 10 minutes.  The dough will be quite slack; you can add additional all-purpose flour by spoonfuls to stiffen the dough a bit, but use a restrained hand.  Add the walnuts, sunflower seeds, and poppy seeds.  Mix on low speed until incorporated; it's okay if they're not perfectly distributed throughout the dough.
5.  Scrape the dough into a large bowl.  Cover tightly with plastic wrap, and let sit at room temperature for 30 minutes.
6.  Uncover the dough and, using a nonstick spatula, fold the dough over itself in a tri-fold, as though you were folding a letter.  Cover again, and let rise an additional 45 to 60 minutes, or until doubled in size.
7.  Butter two 9 x 5 inch loaf pans, and set aside.  Turn the dough out onto a floured surface.  Divide the dough in half.  Gently deflate and form each half into a loaf shape 9 inches long.  Transfer each piece to a loaf pan, seam side down.  Cover loosely with plastic wrap, and let rise at room temperature for about 1 hour, or until doubled in size.  The dough is ready when an indentation remains after pressing gently with a fingertip.  Preheat the oven thirty minutes before baking to 400º F, and position a rack in the lower third of the oven.
8.  Bake at 400º F for 20 minutes, then rotate the pans and switch positions in the oven.  Bake an additional 30 to 40 minutes, or until golden brown and fully baked.  An instant-read thermometer will register 205º F when done.  Let cool slightly in pans before removing to a rack to fully cool before slicing.
Notes:
1.  To toast nuts, spread evenly in a sheet pan and bake at 325ºF until just golden brown and fragrant, about 10 minutes for walnuts and 5 minutes for sunflower seeds, stirring occasionally.  Cool to room temperature before using.