Week Forty-Eight: Breads With Spices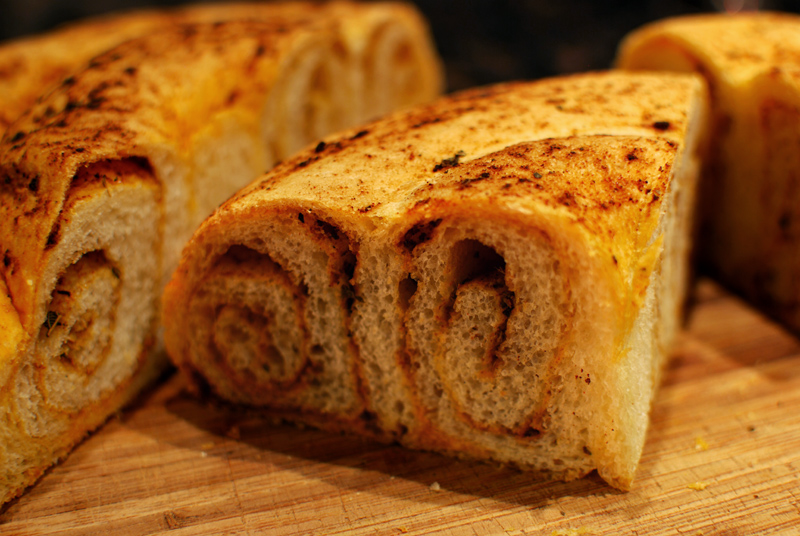 I never wanted it to be like this.
You're sitting there, life ticking along just like it ever had, and the next thing you know, things have gone all pear-shaped, and you're more than a week behind on your blog that you've been quite diligent about all year.  No, I never wanted it to be like this, but here I am.
And so, Gentle Readers, I know I must make amends.  I must write faster, work harder, and generally put my nose back to the grindstone.  At present, I owe eight (!) posts, and I aim to provide them.  For your patience, and in humble apology, here is a picture of a kitty with a heart-shaped patch of fur: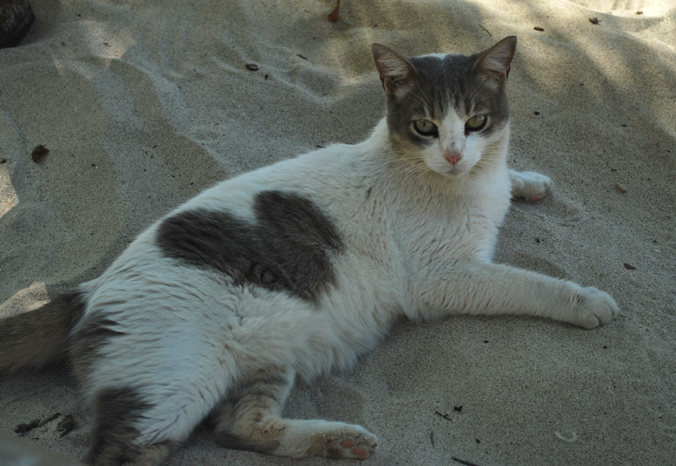 And now, on to the bread.
Today's bread is Italian in origin, but aside from that broad bit of information, it's difficult to ascertain exactly what a sfogliata [sfoh-lee-AH-tah] is.  Some versions are sweet, some versions are savory, some are rolled up, some are flat like a pizza.  The word apparently means "a brief glance or look", though that's not really a descriptor.
This version, however authentic or inauthentic it might be, involves a bold mixture of paprika, anchovies, and olive oil, which is brushed liberally over the flattened dough.  The dough is then rolled up and baked into a large round.  Is this real sfogliata?  I have no idea; but I can tell you that it is extremely good.
Overall, the bread is soft and vibrantly flavorful, with a pretty red-orange spiral throughout each slice from the paprika.  If you don't think you're a fan of anchovies, never fear; you won't get any fishy flavor here, not even a hint, just a gorgeous depth of flavor.
The dough has a long rise, which makes for a more complex flavor, and a wonderfully open crumb.  The bit of semolina flour in the dough lends a sweetness and lightly rustic texture that stands up beautifully to the robust flavor of the seasoned oil.  A bit of oregano furthers the Italian air, and provides a green freshness.
A bit too brash to match most entrées well, this bread would be an excellent appetizer, or late night snack.  The flavor of sweet paprika really shines here, in the best possible way.  If you have it, use the smoked sort, as it would lend a sultry richness to the bread that's making my mouth water just to think of.  Just avoid using hot paprika; there's enough paprika here that the hot kind would set your mouth on fire just by looking at it.
Sfogliata (Italian Paprika and Anchovy Bread)
Adapted from Evan Kleiman, via Epicurious.com
Makes one 9 inch round loaf
For the dough:
6 ounces (about 1 1/2 cups) unbleached all-purpose flour
3 ounces (about 3/4 cup) semolina flour
1 1/2 teaspoons instant yeast
1 teaspoon salt
3/4 cup warm water, at room temperature
2 tablespoons extra-virgin olive oil
For the seasoned oil:
1/3 cup extra-virgin olive oil
1 tablespoon sweet paprika
1 teaspoon dried oregano (or 2 teaspoons fresh)
4 anchovy fillets from a can, drained, patted dry, and minced
1/2 teaspoon salt
1.  In the bowl of a stand mixer, whisk together the flour, semolina, yeast, and salt.  Add the water and oil.  Using the dough hook, combine at low speed until all dry ingredients are moistened.  If dry pockets of flour remain, drizzle in additional water until they no longer remain.  Turn the mixer off, and without removing the bowl or the hook, cover loosely with plastic wrap and let stand for 15 to 20 minutes.
2.  After resting, remove the plastic wrap.  Increase the speed to medium-low, and knead until dough clears the sides of the bowl, and is smooth and supple, 6 to 7 minutes.
3.  Transfer dough to a large, lightly oiled bowl, turning to coat all sides of the dough with oil.  Cover tightly with plastic wrap, and let stand at room temperature until doubled in bulk, 1 to 1 1/2 hours.
4.  While dough rises, make the seasoned oil by whisking together all ingredients in a small, non-staining bowl (such as glass or stainless steel) until combined.  Cover and let infuse while the dough rises.
5.  Brush a 9 inch round cake pan with some of the seasoned oil.  Turn the dough out onto a lightly floured surface, and press gently to deflate.  Sprinkling with just enough flour to prevent sticking, roll the dough out to a roughly 18 inch round, about 1/8 inch thick.  If the dough resists, cover and let rest for about 15 minutes before trying again.
6.  Brush the surface of the dough liberally with the remaining oil, leaving a 1/4-inch border around edge, and reserving about 1 tablespoon of the oil.  Roll up the dough, jelly roll style, as tightly as possible, and pinch the seam to seal.  Some of the oil will seep out as you roll.
7.  Position the roll seam side down, and form into a loose coil in the prepared pan.  Gently press on the coil to flatten slightly, and brush with the remaining seasoned oil.  Cover loosely with plastic wrap, and let stand at room temperature until doubled in size, about 1 hour.  Preheat the oven to 375º F, and place a rack in the middle position.
8.  Bake at 375º F until golden brown and baked through, 35 to 40 minutes.  Let cool in the pan briefly.  When able to handle, transfer the bread to a wire rack to cool completely before slicing, at least 1 hour.
Notes:
1.  Bread keeps, wrapped well in plastic wrap, for 2 days at room temperature.  Alternatively, it may be wrapped and frozen for up to 1 month, to be reheated in a 350º F oven for 10 to 15 minutes, or until heated through.
2.  If you don't have a round cake pan, you may use a square metal pan, about 8 inches on each side.  The loaf may also be baked freeform, preferably on a sheet of parchment paper, though it will result in a flatter loaf.