Week Forty-Five: Potent or Unusual Flavors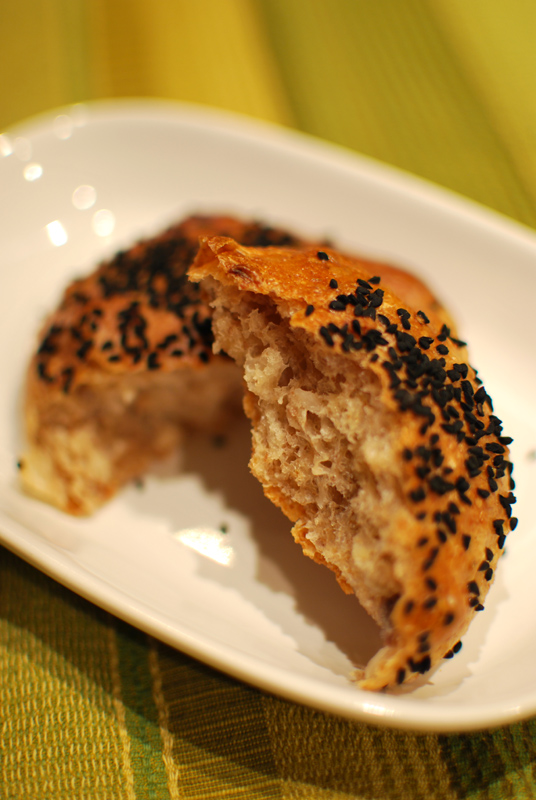 "November's cold chain, made of wet boots and rain."
(Tom Waits, "November")
These days are dreary, tinged by the withdrawal and contracting of everything around.  Days shrink, plants and trees and animals curl into themselves, people huddle into coats and warm houses.  But appetites, alone amongst all these, expand and swell.  Spurred on by the vestigal lizard-brain, humans are not exempt from the animal instinct to feed, to pad ourselves with a most natural protection from the cold: our own bodies, made fat.
Gone are the young and tender salads of Spring, light broths now supplanted by robust stews, and the idea that one could sustain on dinners solely of crudités and bread laughable.  These are days of robust flavors, of tastes strong and pungent and novel enough to shock warmth down into the bones, where blankets never could remove a chill.
So are the breads for this week brought, full of unusual and brash flavors, with hopes that it is not the heat of the oven alone that will warm you.  The first is full of such warming foods, made with generous amounts of walnut, onion, and nigella seed.
Walnuts might not come to mind as a particularly heat-giving food, but they have long been regarded as such in Traditional Chinese Medicine.  They are said to nourish the blood, and strengthen muscles.  Onions have similar warming capabilities; their pungency is used to disperse chills and clear congestion.  And in addition to the spicy, mustard-hot flavor of  nigella seeds, it's been said that they will "cure anything but death".  What better to chase away the gloom of a November night than a tender roll filled with all these things?
Lest you think that these rolls are purely new-age health food, let me assure you that they taste nothing like the stereotype of "hippie food", or any kind of mish-mash of things that happen to all be good for you (but taste dreadful together).  The crunch of a buttery walnut, with the distinctive flavor of rye flour and the softness of olive-oil-sautéed onion, is nothing short of a rich and luxurious pairing.  Adding the seductive flavor and pop of nigella seeds is the proverbial icing on the cake, as it rounds out each bite with a dusky heat.
These days are dreary outside; but inside your home, the fragrance of these rolls, freshly-baked, hanging in the air, speaks only of heat, and comfort, and curling into the joy of a small, warm bread on your plate.
Rye Walnut Nigella Rolls
Adapted from Gourmet Magazine
Makes 24 rolls
1 medium onion, chopped (about 1 cup)
1 tablespoon salt, divided
1/2 cup olive oil
1½ cups milk, at warm room temperature (100º to 105º F)
3/4 cup water, at warm room temperature (100º to 105º F)
1 tablespoon honey
24 ounces (about 5½ cups) unbleached all-purpose flour, plus extra for dusting
4½ ounces (1 cup) rye flour
1½ teaspoons instant yeast
1/2 teaspoon ground black pepper
3 ounces (3/4 cup) walnuts, toasted, cooled, and chopped
1 large egg beaten with 1 tablespoon water to make an egg wash
1/4 cup nigella seeds (see note 1 below)
1.  In a 10 inch skillet over medium heat, cook the onion with 1/4 teaspoon salt in the olive oil, stirring occasionally, until softened, 4 to 5 minutes.  Drain the onions in a sieve set over the bowl of a stand mixer.  Set onions aside, and stir the milk, water, and honey into the oil.
2.  In a medium bowl, whisk together the flours, yeast, pepper, and remaining salt (2 3/4 teaspoons).  Add to the wet ingredients in the mixer bowl.  Using the dough hook, mix at low speed until a rough dough forms, scraping the bowl as needed.
3.  Increase the speed to medium-low, and continue kneading until smooth and elastic, 5 to 6 minutes.  Adjust the consistency as needed with additional flour or water if it looks very wet or very dry.  Decrease the speed back to low, add the onions and walnuts, and mix until incorporated.  You may need to add a small handful or two of flour to help incorporate.
4.  Turn the dough out onto a floured work surface and shape into a round ball by tucking the edges into the center, dusting with just enough flour to prevent sticking.  Transfer to a lightly-oiled large bowl, and turn to coat the dough with the oil.  Place seam-side down, cover with plastic wrap, and let sit at room temperature until doubled in size, 1 to 2 hours.
5.  Lightly grease two large baking sheets, or line with parchment paper.  Turn the dough out onto a lightly-floured surface, pressing gently to deflate (do not knead).  Divide into 4 equal pieces, then divide each piece into 6 pieces (for a total of 24).
6.  Keeping unused pieces covered, roll each piece of dough into a ball by cupping your hand and pushing dough against work surface as you roll in a circular motion.  Arrange rolls 2 inches apart on a baking sheet.  Cover loosely with a kitchen towel (not terry cloth), or lightly-oiled plastic wrap.  Repeat shaping with remaining pieces of dough.  Let sit at room temperature until doubled in size, 1 to 1½ hours.  Thirty minutes before baking, preheat the oven to 400º F, and position racks in upper and lower thirds.
7.  When fully risen, gently brush rolls with egg wash and sprinkle with nigella seeds.  Bake at 400º F for 10 minutes, then rotate and switch positions of sheets.  Continue baking until golden brown, 10 to 15 minutes longer.  Transfer rolls to a wire rack to cool at least 20 minutes before serving.
Notes:
1.  Nigella seeds may be found in Indian or Middle Eastern groceries, and might be called Black Cumin or Onion Seed.  If you cannot find them, poppy seeds make a reasonable substitute.
2.  These rolls are best the day they're made, but can be frozen (cool completely, then wrap well) for up to 1 month.  Reheat in a 350º F oven until warmed through, about 10 minutes.