Week Forty-Four: Multi-Grain Breads
This month, they're doing some housecleaning over at the Kitchn.  It's smack in the middle of their four-week Kitchen Cure, which I signed up for, but have sadly been far too busy to participate in (could you tell, what with the lack of posting and all?).  It seems appropriate to give the home a little freshening before settling in for the cold of the fast-approaching Winter.
So in the spirit of cleaning house, this week I'll be featuring multi-grain breads; that is, breads that help me use up all those random bags of uncommon flours that have accumulated over the year.  I'm not just talking about throwing a handful of whole-wheat flour into your dough, I'm referring to truly multi-grain breads that use at least two different grains, and hopefully more.  If you've got a sack of spelt flour languishing in your cupboard, and you just don't know what to do with the poor thing, this is the week for you.
The first recipe this week is one for rye and millet dinner rolls.  Normally, I shy away from recipes for so-called "dinner rolls", as they generally produce over-soft, over-sweet, aenemic, and doughy things.  But the moment I saw these darlings in our Dearly Departed Gourmet Magazine, I knew I had to make them.  I mean, look at their little hats!  *squeal!*
Lucky for me, they turned out gorgeously.  Not only were they pretty as a picture, but they had a pleasantly chewy crust.  The crackery hats on top also brought a delightful crunch, especially in conjunction with the pop of the millet in the rolls themselves.  Grainy and rustic, they're exactly what I want to see on my table these chilly Autumn nights.
And don't worry about shaping the "hats", like I did.  No matter how thinly you roll them, they firm up enough to hold their shape when you place them on top of the rolls.  Easy and cute?  It doesn't get any better.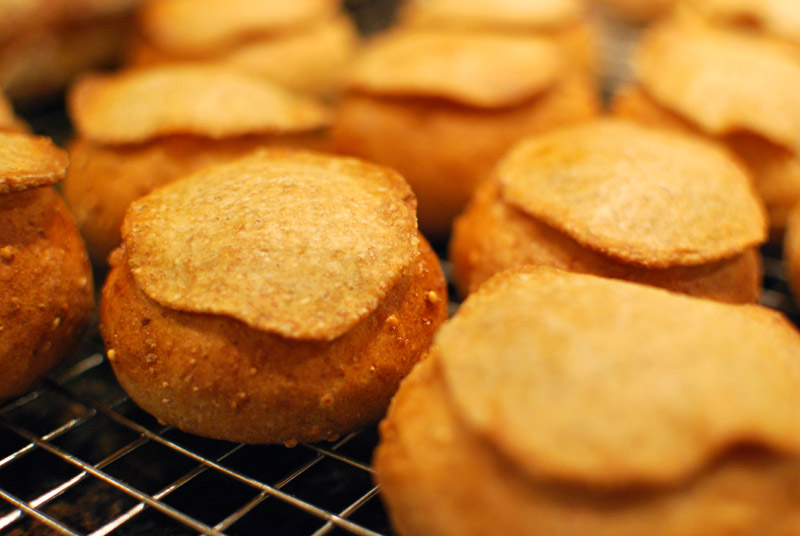 Rye and Millet Dinner Rolls
Adapted from Gourmet Magazine
Makes 16 rolls
For rolls:
10 ounces (about 2¼ cups) unbleached all-purpose flour, plus extra for dusting as needed
1/3 cup rye flour (light or dark)
1¼ teaspoons salt
1 teaspoon instant yeast
1 cup minus 2 tablespoons water, at room temperature
1 teaspoon honey
2 tablespoons millet (optional, but delightful)
For tops:
1 ounce (1/4 cup) unbleached all-purpose flour
2 tablespoons rye flour (light or dark)
1/8 teaspoon salt
1 tablespoon olive oil
1 large egg white
1.  In the bowl of a stand mixer, whisk together the flours, salt, and yeast.  Add the water and honey.  Using the dough hook, mix at low speed until a rough dough forms.  Increase the speed to medium-low, and knead for 5 minutes, or until smooth and elastic.
2.  Transfer the dough to a large, lightly-oiled bowl and turn to coat.  Cover with plastic wrap, and let sit at room temperature until doubled in size, 1 to 1½ hours.
3.  Lightly grease a large baking sheet, or line with parchment paper.  Using a nonstick spatula, fold the dough over itself in thirds, like a letter, deflating it gently.  Turn the dough out onto a lightly-floured surface.  Divide into 16 even pieces, and roll each piece into a round ball.  Transfer each to the prepared baking sheet and cover loosely with lightly-oiled plastic wrap.  Let rise in a warm place until doubled, about 1 hour.
4.  While rolls rise, make the tops.  Stir together the flours and salt, then stir in water and oil until a dough forms.  Turn out dough onto a lightly floured surface and knead a few times, until smooth.  Divide into 16 even and very small pieces.  Roll out each piece on a lightly floured surface to a thin round (about 2 inches; shape need not be perfectly round), and arrange in 1 layer on a sheet of parchment.
5.  Beat the egg white with a pinch of salt to make an egg wash.  Lightly brush egg wash onto rounds.  Refrigerate any remaining egg wash.  Let stand, uncovered, to dry slightly while rolls rise.  Preheat oven to 425º F, and position a rack in the middle.
6.  When fully risen, lightly brush each roll with egg wash, being careful not to deflate.  Gently lay one of the tops, egg-wash-side up, atop each roll.
7.  Bake rolls at 425º F until golden-brown, about 20 to 25 minutes.  Transfer to a wire rack to cool slightly before serving.
Notes:
1.  Rolls may be frozen, tightly wrapped, and reheated in a 350º F oven for 5 to 10 minutes, or until heated through.