Week Thirty-One: Breads With… Foods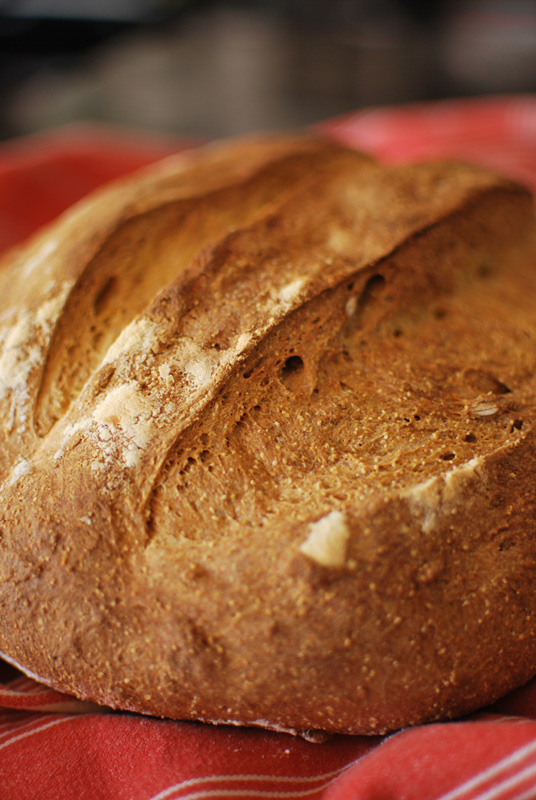 When you see the words "pumpkin bread", about 90% of the time they're referring to a soft quick bread.  Chocolate may or may not be included.  And with good reason, too: vegetable or fruit purées are an excellent addition to quick breads, bringing loads of moisture and flavor to the finished loaf.  Cooked pumpkin, with its complex sweetness and pretty orange color to boot, is a natural for this role.
But because I'm a contrarian (what fun is it if everyone else is doing it?), I threw that idea right out the window.  Pumpkin muffins are all well and good, but I wanted to explore its more savory side.  I wanted a rustic and hearty bread with a crisp crust, something to acknowledge the humble gourd's depth of flavor, rather than simply cover it up with sugar and butter, delicious as that may be.
For a slightly coarse, grainy texture, I added a bit of cornmeal and whole wheat flour, but didn't quite add as much as I would have for a plain bread.  I thought the inclusion of the fibrous pumpkin would weigh the bread down a little, and didn't want to end up with a brick.  To add softness and a little tang, I used a little plain yogurt, simply because I had no buttermilk (or milk, for that matter) at the time.  I did, however, have a bit of cream hanging around, so that went in in lieu of adding butter or olive oil.
As a nod to all edible parts of the pumpkin, I added some toasted pumpkin seeds, also known as pepitas.  I just love the way those pancake-flat pumpkin seeds puff up when toasted, and take on such a delightful crunch and robust flavor.  In the finished loaf, they can be cut through cleanly, leaving pretty ovals of color in each close-crumbed slice.  The overall texture is soft, but with a little crunch from the cornmeal and the pepitas.
All in all, this bread was just what I was looking for.  It's not a very full-flavored bread; in fact, it's probably best if eaten with other foods, or as the bookends of a sandwich.  I can definitely see this bread turning into one heck of a stuffing, or a savory bread pudding.  It won't knock your socks off with pumpkin flavor, but there's just enough to let you know it's there.  It's subtle, but somehow honest.  It's simple and straightforward, an overall apt nod to the bucolic pumpkin.
Pumpkin Yeast Bread
Makes 1 loaf
12 ounces (about 2 1/2 cups) unbleached bread flour
5 ounces (about 1 1/4 cups) whole wheat flour
3 ounces (about 3/4 cup) yellow cornmeal
1 teaspoon instant yeast
1 cup water, room temperature
2 tablespoons heavy cream
2 tablespoons plain yogurt
1 tablespoon light honey
1 1/2 teaspoons kosher salt
1/2 cup cooked pumpkin purée, approximately
1/4 cup pumpkin seeds, toasted (see note 1 below)
1.  In the bowl of a stand mixer, whisk together the flours, cornmeal, and yeast.  In a liquid measuring cup, combine the water, cream, yogurt, honey, and pumpkin until thoroughly blended.
2.  Add the liquid mixture to the dry mixture in the bowl.  Using the dough hook, mix at low speed until a rough dough forms, 1 to 2 minutes.  Turn the mixer off, and without removing the bowl or the dough hook, cover loosely with plastic wrap.  Let stand at room temperature for 15 to 30 minutes.  While the dough rests, prepare the pumpkin seeds as directed (see note 1 below).  Set aside.
3.  After the resting period, add the salt to the dough.  Continue to mix at low speed until incorporated, about 1 to 2 minutes.  Increase the speed to medium-low, and continue kneading until the dough clears the sides and bottom of the bowl, about 5 to 6 minutes.  The dough should form a cohesive ball that clears the sides of the bowl, but should not be stiff; add additional flour or water if necessary to achieve the proper consistency.
4.  Turn the dough out onto a lightly floured surface.  Knead a few times, until a skin forms around the outside of the dough.   Pull the skin taught around the dough, forming a round ball.  Transfer the dough to a lightly oiled bowl, turning to coat all sides with the oil.  Cover with plastic wrap and let sit at room temperature until doubled in size, about 1 hour.
5.  Uncover the dough and, using a nonstick spatula, fold the dough over itself in a tri-fold, as though you were folding a letter.  Cover again, and let rise an additional 45 to 60 minutes.
6. Turn the dough out onto a lightly floured surface.  Gently deflate, and flatten the dough into a round.  Scatter the toasted pumpkin seeds on the surface of the dough, and fold the dough over the top of the seeds.  Knead until the seeds are evenly dispersed, 2 to 3 minutes.  Cover with plastic wrap and let rest 10 to 15 minutes.  Lightly grease a baking sheet, or line with parchment paper; set aside.
7.  Uncover the dough, and shape into an oblong loaf shape.  Transfer to the prepared baking sheet, cover loosely with plastic wrap, and let rise until doubled in size, about 45 to 60 minutes.  Thirty minutes before baking, preheat the oven to 425º F, along with a baking stone (if using).
8.  Using a sharp serrated knife, make three decisive slashes quickly lengthwise down the bread.  Bake the loaves (on the baking sheet, or on a baking stone if using) at 425º F for 35 to 40 minutes, or until cooked through and golden brown on top.  An instant read thermometer should register about 200º F when inserted into the center.  Remove to a wire rack, and allow the bread to cool thoroughly before slicing.
Notes:
1.  To toast pumpkin seeds, spread seeds on a baking sheet in an even layer.  Bake at 350º F for 5 to 7 minutes, or until fragrant and browned.  Cool before using in recipe.