Week Twenty-Eight: Breads With Nuts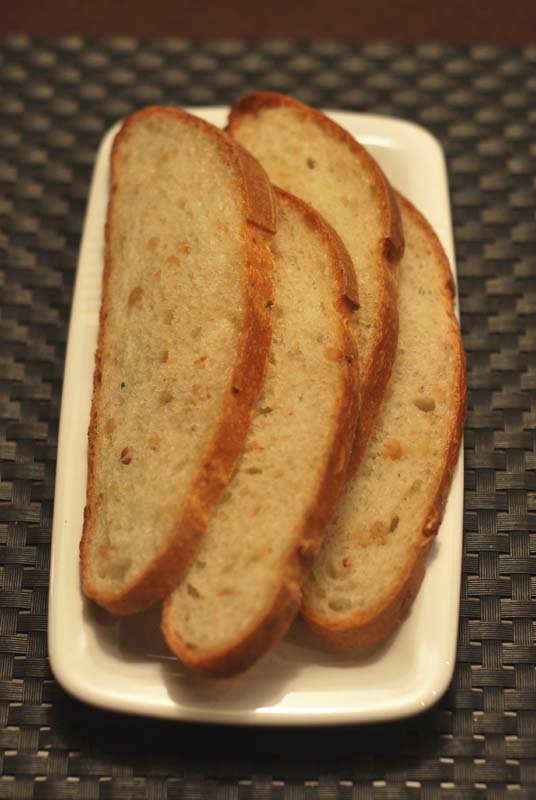 If you like cardamom – which I absolutely do – you should try this bread.  Pine nut and cardamom are one of those unusual and delightful pairings often seen in Middle Eastern and Southeastern European (i.e, Turkish) cooking.  The fragrant, unique flavor of cardamom, when combined with the buttery, nutty flavor of toasted pine nuts, takes on a spicy and vibrant tone that can become either savory or sweet, depending on any accompaniments.
Here, I've taken a trick from a gorgeous cake recipe that uses whole (shelled) cardamom seeds in the batter, creating bursts of cardamom flavor throughout the cake.  The seeds may seem like they would be hard if bitten into, but I figured if it's okay in a cake, then it's okay in a bread.  I did, however, crush them lightly to avoid any massive bits, and to spread the few seeds more evenly throughout the loaf.
In another nod to Middle Eastern cooking, I've also added a splash of orange flower water to add a little floral character and a citrus-y lightness to the mix.  If you don't have any on hand, it's fine to omit; but I just love the pairing of all three flavors.  On the technique side of things, I've used an autolyse period to get the maximum flavor out of the bread itself, to create the best possible backdrop for these unassuming yet gently insistant flavors.
The end result was a chewy, open-crumbed bread, with a cheerfully golden color, dotted through with toothsome bits of pine nut and tiny, dark specks of cardamom seeds that burst into little fireworks on your tongue.  The crust softened a bit after standing, due to the olive oil in the dough, but was still firm enough to provide substance.
This is a slightly exotic bread, a fusion of European-style bread with Middle Eastern flavor, ideal for pairing with whatever Persian dish you may choose to whip up.  Think savory rice with cinnamon and currants, lamb with yogurt sauce, charred kebabs of any kind of meat, the flavors of rose and pomegranate laced with saffron.  Whether simple or elaborate, you're sure to please with this winner!
Pine Nut Cardamom Bread
Makes 1 loaf
14 ounces (about 3 cups) unbleached bread flour, divided
1 cup water, at room temperature
1 teaspoon kosher salt
1 teaspoon instant yeast
2 tablespoons olive oil
2 teaspoons orange flower water (optional)
1/4 cup pine nuts, toasted and chopped (see note 1 below)
6 whole cardamom pods
1.  In the bowl of a stand mixer, combine 12 ounces (about 2 1/2 cups) of the flour and all of the water.  Mix until all the flour is moistened.  Cover, and let stand at room temperature for 15 to 30 minutes.  While the dough rests, prepare pine nuts as directed (see note 1 below).  Set aside.  To prepare cardamom, gently crush the pods with the flat side of a chef's knife, or with a mortar and pestle, only until they crack open.  Remove and separate the seeds, discarding the hulls.  You can crush the seeds lightly if you like.  Set aside.
2.  After the dough has rested, add the salt, yeast, oil, and orange flower water to the flour mixture in the bowl.  Using the dough hook, mix at low speed until all the ingredients are fully integrated, about 2 minutes.  You may need to add a handful of flour to help the ingredients incorporate.
3.  Increase the speed to medium-low, and continue kneading until the dough clears the sides and bottom of the bowl, about 8 to 10 minutes.  Add the remaining flour by spoonfuls as needed to achieve the proper consistency; the dough should be a bit slack, but should form a cohesive ball that clears the sides of the bowl.  Reduce the speed to low, and add the chopped pine nuts and cardamom seeds.  Continue mixing until evenly incorporated, about 2 to 3 minutes.
4.  Turn the dough out onto a lightly floured surface.  Knead a few times, until a skin forms around the outside of the dough.   Pull the skin taught around the dough, forming a round ball.  Transfer the dough to a lightly oiled bowl, turning to coat all sides with the oil.  Cover with plastic wrap and let sit at room temperature until doubled in size, about 1 hour.
5.  Lightly grease a baking sheet, or line with parchment paper.  Turn the dough out onto a lightly floured surface.  Gently deflate, and form the dough into a long loaf shape, tapering the ends.  Transfer to the prepared baking sheet, cover loosely with plastic wrap, and let rise until doubled in size, about 1 hour.  Thirty minutes before baking, preheat the oven to 400º F, along with a baking stone (if using).
6.  Uncover the bread, and using a sharp serrated knife, make one decisive slash quickly down the center of the bread, lengthwise.  Bake the loaves (on the baking sheet, or on a baking stone if using) at 400º F for 10 minutes, using your favorite steam technique (see note 2 below).  Continue baking for an additional 20 to 25 minutes, or until cooked through and browned.  An instant read thermometer should register about 200º F when inserted into the center.  Remove to a wire rack, and allow the bread to cool thoroughly before slicing.
Notes:
1.  To toast pine nuts, spread evenly in a sheet pan and bake at 325ºF until just golden brown and fragrant, about 5 to 10 minutes, stirring occasionally.  Cool to room temperature before using.
2.  Unless you have a steam-injecting oven (and I'm coming over immediately), you might want to try one of these methods for getting steam onto your bread, and have the crispiest crust imaginable.  I prefer simply spraying the loaf itself with a fine mist of water from a squirt bottle before baking, and every 2 minutes thereafter, until the recipe says to stop.  You can also place a rimmed baking dish or other oven-safe pan on the floor of the oven to preheat along with it, and toss ice cubes into the hot pan when you place the dough in the oven, and replenish as they melt away.  Remove the pan when the recipe indicates to stop the steam.  There are other methods, but I find these to be the most effective.
3.  You can use 1 teaspoon ground cardamom instead of the cardamom seeds if you like, but I highly recommend trying the seeds.