Week Twenty-Seven: Try It Again; This Time With Feeling.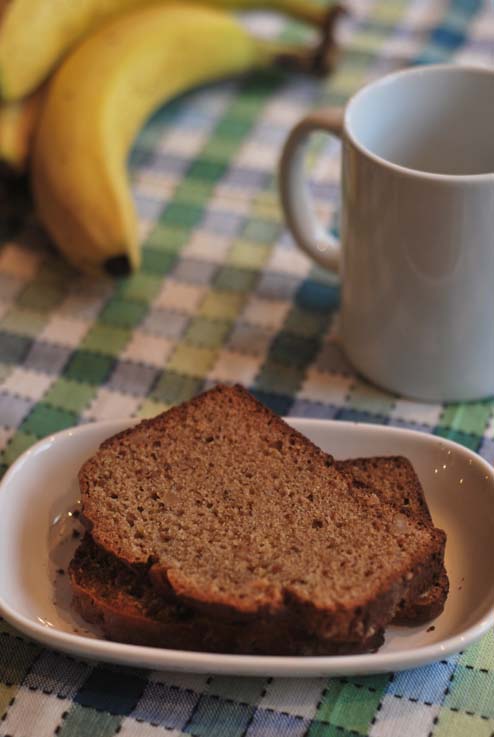 When I first made peanut butter bread, lo these many weeks ago, I was more disappointed in the result than I have been by many other of my kitchen failures.  I mean, that recipe was based on a Paula Deen recipe.  Paula Deen!  That doyenne of Southern cooking, that mistress of all things buttery, Paula friggin' Deen.  And it was kind of gross!    She must've handed that one off to an intern, or something.  Dry and rather tasteless, I didn't even ponder hanging on to that recipe for a minute.
So for a re-do, I had to start at the drawing (cutting?) board.  The ingredients are basically the same, but I increased the moisture as much as possible, by using honey instead of brown sugar, two eggs instead of one, increasing the amount of peanut butter, and adding a touch of oil for good measure.  And, mainly because I felt like it, I opted to make it a wee bit healthier, using some whole wheat flour and adding in some flax seed and wheat germ.
The extra moisture did help quite a bit, and the flavor was very nice, but the texture was still grainier and drier than I'd prefer.  Now, I'm a big fan of whole grains; I love biting into a well-made 100% whole wheat loaf, I love brown rice, I love wheatberries, I love grainy.  I am Grain Fan #1.  But this was more sawdust than grain, and was therefore mildly unpleasant.  I think if the bread were moister still (!), it would have turned out better.
But see, the batter was already so liquid, I'm a bit stumped as to how to further increase the moisture.  More sugar?  Add applesauce, or a mashed banana?  More oil?  Those things surely would make for a moister end product; but eventually one crosses over into cake territory, and this sure isn't A Cake A Day.  Besides, the nature of bread (even quick breads, in my book) is that it is a daily food.  Carb-cutting is anathema to me; it's not unusual for me to eat bread at every meal.  I simply cannot fathom including a cake-like "bread" in my everyday diet.  Hence, I am loath to make a more moist quickbread by adding a stick of butter to a lackluster batter.  Not to mention, I think that's taking the easy way out.
So, in the end, I think I might have to put this back on the shelf for a while.  I don't intend to experiment with it any more for the present time, but I'm still intrigued enough by the idea of peanut butter bread (and it's lack of appearance in cookbooks!) that I'm not done with it quite yet.  This particular recipe isn't the answer, but as soon as I've got it, I'll be sure to let you know!
Peanut Butter Bread
Makes one 9 x 5 inch loaf
1 1/2 cups unbleached all-purpose flour
1 cup whole wheat flour
2 tablespoons ground flaxseed
2 tablespoons toasted wheat germ
1/2 teaspoon kosher salt
1 teaspoon baking powder
1 teaspoon baking soda
1 teaspoon cinnamon
2 large eggs
1/4 cup honey
3/4 cup peanut butter
1 cup buttermilk
2 tablespoons vegetable oil
2 teaspoons vanilla extract
1.  Preheat oven to 375° F.  Grease one 9 x 5 inch loaf pan.  In a bowl, whisk or sift dry ingredients (flour through cinnamon) together.  Set aside.
2.  In another large bowl, whisk the eggs until blended.  Add honey and peanut butter, and whisk until smooth.  Slowly add buttermilk, whisking to incorporate before adding more.  Add the oil and vanilla.  Add the dry ingredients and gently combine until just moistened (some lumps and flour streaks are okay).
3.  Pour the mixture into the prepared pan.  Smooth the top, and bake at 375° F for about 40 minutes, or until browned and fully baked.  When done, the top will feel firm when pressed lightly.  Let cool briefly in pans before turning out onto a wire rack to cool fully.  Serve warm.
Notes:
1.  Be sure to use regular store-bought peanut butter, not organic, natural, or freshly-ground.  Skippy is a preferred brand for baking.
2.  By the way, I used crunchy peanut butter, because that's what we buy and have around.  Normally, I love the little bits of peanut, but maybe that had some effect on the texture of the bread?  I can't really imagine that it did, but who knows?