Week Forty-Nine: Breads With Cheese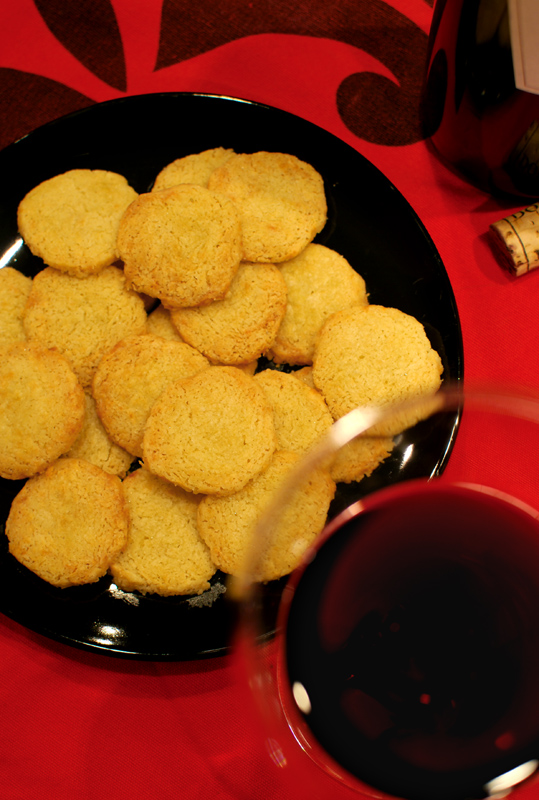 Parmesan, that buttery, nutty, and hard grating cheese, has a unique melting characteristic among cheeses.  When heated and cooled, a pile of plain parmesan slumps into a crisp, almost crackerly thing.  Called a "frico" when prepared thusly, it's something like what I was expecting from this recipe.
Originally, the recipe was titled "Biscotti alla Parmigiana", implying a fairly specific item, crunchy and heavily parmesan-forward.  But after a cursory glance, it became apparent that the title was far from apt; in fact, it's almost a lie.  (Yes, I just called Giada DeLaurentiis a liar.  It hurts me.  In my heart.  But from her, I expect more precision!)
The word "biscotti" literally means "twice-cooked", which these are certainly not.  You might call them "unscotti" (once-cooked) if anything, except that anything similarly named invariably refers to a sweet cookie, cut from a long loaf of baked dough (unscotti are then served as is, biscotti are cooked a second time until hard and crunchy).
These crackers, on the other hand, are made from a reasonably even mixture of flour, butter, and parmesan cheese.  No sugar is used, just a bit of rosemary and pepper for some interest.  The dough is shaped into a log, chilled, then sliced and baked.  How they're meant to be similar to a biscotti is beyond me.
Having gotten that semantic chip off my shoulder, I will say that Ms. DeLaurentiis has provided a delightful recipe for delicate, softly crumbling crackers that are indeed replete with parmesan flavor.  They aren't at all crisp, as I might've expected, but the texture is really exquisite.
A bit too soft to serve with any sort of dip or spread, these crackers make a nice wine or cocktail hour pairing, and are a delightful garnish for soups, especially your favorite tomato soup.  And though the parmesan is really the star of this show, the dough provides a great blank canvas to experiment with different herb flavorings.  I used the originally suggested rosemary, as I adore rosemary and parmesan together; but parsley, basil, mint, oregano, or marjoram would also be natural pairs.  Fresh or dried would work equally well, and any herb mixture would also work beautifully.
Parmesan Crackers
Adapted from Giada De Laurentiis, via Food Network
Makes about 30 crackers
3 1/2 ounces (about 3/4 cup) unbleached all-purpose flour
1/4 teaspoon ground dried rosemary leaves
1/4 teaspoon white pepper
1 three-fingered pinch kosher salt
1/2 cup (1 stick) unsalted butter, softened
1 ounce (about 1/2 cup) freshly grated Parmesan
1.  In a medium bowl, whisk together the flour, rosemary, pepper, and salt.  Add the butter and Parmesan, and combine with a spatula or hands until crumbly, but sticks together when pressed with fingers. If dry spots remain, drizzle in a little milk or water until all flour is moistened.
2.  Turn dough out onto a sheet of parchment or wax paper, and form into a log about 1 inch in diameter, using the paper to help shape the dough.  Wrap the log with the paper, twisting the ends to seal.  Place dough in the freezer to chill for 1 hour.
3. Preheat the oven to 350º F, using convection heat if available.  Remove the dough from the freezer and allow it to sit at room temperature until the oven is hot.  Line a large baking sheet with parchment paper.
4. Cut the log of dough crossways into rounds 1/2 inch thick.  Transfer the rounds to the prepared baking sheet, about 1/2 to 1 inch apart.  Transfer to the oven, and bake for 10 to 15 minutes, or until just beginning to color around the edges.  Let cool on the baking sheet before serving.
Notes:
1.  The volume measurement of the Parmesan will vary wildly, depending on how finely you grate the cheese.  A coarse grater will give you less than 1/2 cup, while a fine Microplane-style grater will produce almost 1 cup.  The more cheese you use, the crisper the crackers will be.
2.  If you have fresh rosemary, chop it finely and increase the amount to 1/2 teaspoon.