Week Nine: Flatbreads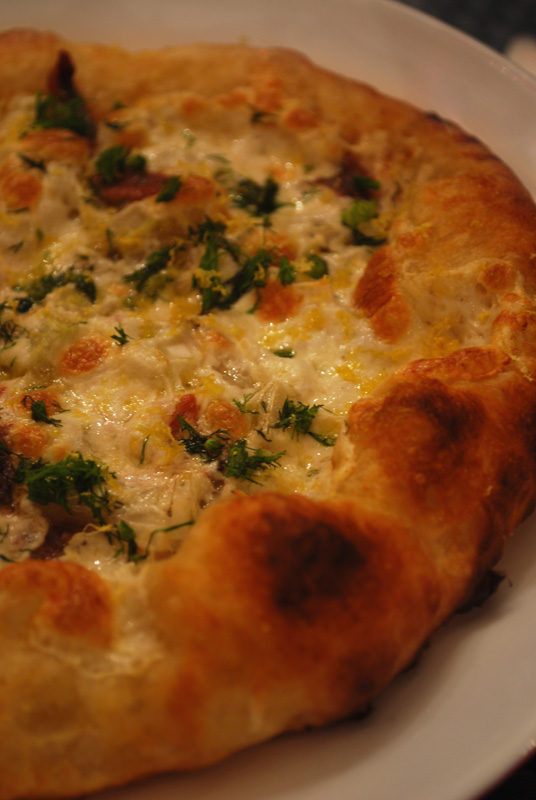 Yes, pizza crust is a flatbread!  What did you think it was?  Technically, a pizza is just a big open-faced sandwich.  So there.
My inspiration for this pizza was stolen, pure and simple, from a post on Apartment Therapy's culinary sister, The Kitchn.  I just saw that gooey mozzarella melting all over that fennel, and imagined the flavor of that with some flavor-packed anchovies, and I just couldn't resist making it for some dear friends.  You can, obviously, use whatever toppings you like; but me, I'm a sucker for a pizza that requires no sauce.  
I didn't even cook the fennel, I just sliced it thinly and threw it on the raw dough with chunks of anchovy and torn mozzarella.  After baking, I drizzled on some olive oil and chopped fennel tops, and finished with a grating of lemon zest.  It was so good!  I never thought I would like anchovies, until I tried them.  They aren't really fishy; they're just full-flavored, like cured olives.  So don't be afraid!  Be sure to get some good-quality anchovies, though – they're certainly inexpensive enough, and a little goes a long way.  They almost melt in high heat, so you shouldn't taste any texture, just a punch of briny flavor.  Delicious!
No-Knead Pizza
Makes 4 individual pizzas
3 cups all-purpose or bread flour, more for dusting
¼ teaspoon instant yeast (such as SAF brand)
1½ teaspoons salt
1½ cups water
1. In a large bowl, mix the flour with the yeast and salt. Add the water and stir until blended (the dough will be very sticky). Cover the bowl with plastic wrap and let rest for 12 to 24 hours in a warm spot, about 70 degrees Fahrenheit.
2. Place the dough on a lightly floured work surface and lightly sprinkle the top with flour. Fold the dough over on itself once or twice, cover loosely with plastic wrap and let rest for 15 minutes.
3. Divide the dough into 4 pieces and shape each piece into a ball. Generously sprinkle a clean cotton towel with flour and cover the dough balls with it. Let the dough rise for 2 hours.
4. Stretch or toss the dough into the desired shape, cover with toppings and bake on top of a very hot pizza stone.
Notes:
1.  This dough apparently will freeze very well (after step 3), so you can make it up for a rainy day.  Forget ordering in, this is worlds better! 
2.  I used the active-dry yeast I had on hand, let it rise a full 24 hours, and it worked just beautifully.  If you're in a warmer climate, or are using instant yeast, you may want to aim for around 12 hours; but I don't think you have to be a stickler for that.  Keep in mind, though, that I am only speaking in hypothetical terms; I have not tried it any other way.  I'm not sure this is a dough you can really mess up, though.