Week Thirty-Two: Sandwich Breads
I do apologize again for the interruption this weekend, but sometimes there are more important things than bread.  Honest!  And after spending so much (dare I say) quality time with my family this weekend, I needed something homey to bake.  Nothing too outrageous, nothing nouveau cuisine, something simple and straightforward that spoke of hearth and home and comfort.
Sandwiches came immediately to mind.  I'm not sure if that's strange to anyone, but I find sandwiches a prime "comfort food", as opposed to macaroni and cheese, mashed potatoes, or any other of the typical choices.  One of my all-time favorite foods is a peanut butter sandwich, though it has changed its clothes quite a bit throughout my life.  I have distinct memories of being very young, swinging my feet underneath the kitchen table, my white bread peanut butter sandwich in hand, made with my grandmother's beloved and much-prized grape jelly.  On the side was the requisite pile of Fritos and a cold glass of milk.
In later years, I discovered the joy of wheat bread with peanut butter and orange marmalade, followed by a brief and torrid affair with whole grain bread, crunchy peanut butter, honey, and bananas; at this point, the Fritos had tapered off.  These days, you'll find me packing a lunch at least once a week of multi-grain bread, crunchy organic peanut butter, honey, and more cinnamon than anyone should probably ever consume at one time, with a Fuji or Gala apple chaser.
The fact that I recall so vividly each of my peanut butter sandwich preferences is a little surprising, considering that I'm not what I would exactly call a peanut butter "lover".  It's good, but I didn't inherit a certain familial trait of eating it surreptitiously from the jar.  The reason behind such memory, then, must lie outside of the filling, not in the bread itself, but in the combination.  It must lie in the merging of the two: the sandwich.
Sandwiches are by nature quick to create, for the most part, which holds an appeal outside of the very obvious, and which lends to their homey nature.  Yes, cooking with family and friends is fun; but more often than not, I find myself chasing them out of my kitchen.  With a fast and delicious sandwich, however, you're afforded more time to spend with them, lingering over crumbs.  And what could be more welcoming than the ability to customize a sandwich for each and every guest, tailored just to their particular specifications?
So this week, in honor of family near and far, I'm bringing you breads for all your friendly sandwiches, starting with today's quite American marble rye.  A standard on deli menus from coast to coast, this bread can be tricky to make, as two different doughs – rye and pumpernickel – are spiraled or swirled together, doughs that may not rise or bake at the same rate.
The key is to use two nearly-identical doughs, rather than risk a half-baked or half-poorly-risen loaf.  Here, the only major difference is that a coloring agent (cocoa) is used in the "pumpernickel" dough.  Each of these doughs may not be the ideal example of its type, but the overall flavor is really quite good, and the spiral design is just lovely.  I've included caraway seeds in both doughs, as I love the complex flavor they lend; feel free to leave them out if you choose.
Inside, the bread is soft and relatively close-crumbed.  Outside, the crust is on par with most sandwich breads, not too soft and not too hard.  The flavor of rye is definitely there, but doesn't smack you in the face, due to the relatively low percentage of rye flour.  Nor is the flavor very sour either, as there is no pre-ferment used here.  The two doughs come together very quickly, especially if you measure out the ingredients for both doughs at the same time.
Oh, and after you've made the dough into loaves, no matter how pretty that striped seam-side looks, and no matter how hard you seal it, put that side down on the baking sheet!  No, it won't affect the taste, and the spiral will still look pretty, but it will unravel during baking, and your slices won't be as structurally sound for sandwiches.   See?
 The end result is a beautifully-patterned bread, ideal for slicing, toasting, and using in nearly any type of sandwich, though pastrami or corned beef is the obvious and most traditional choice.  Fair warning, though: I make no guarantees for peanut butter.
Marble Rye
Adapted from The Bread Baker's Apprentice, by Peter Reinhart
Makes 2 loaves
For light rye:
6 ounces (1 1/2 cups) white rye flour
13 1/2 (3 cups) unbleached bread flour
1 1/2 teaspoons salt
1 3/4 teaspoons instant yeast
1 1/2 teaspoons caraway seeds
1 1/4 cups plus 2 tablespoons water, room temperature
1 tablespoon molasses
2 tablespoons olive oil
For dark rye:
6 ounces (1 1/2 cups) white rye flour
13 1/2 (3 cups) unbleached bread flour
1 1/2 teaspoons salt
1 3/4 teaspoons instant yeast
1 1/2 teaspoons caraway seeds
1 1/4 cups plus 2 tablespoons water, room temperature
1 tablespoon molasses
2 tablespoons olive oil
2 tablespoons unsweetened cocoa powder, dissolved in 2 tablespoons water
1.  To make the light rye, in the bowl of a stand mixer, whisk together the flours, salt, yeast, and caraway seeds.  Add the water, molasses, and olive oil.  Using the dough hook, mix at low speed until a rough dough forms.  Scrape the bowl, turning the dough in the bowl if needed to help the dry ingredients incorporate.  When fully incorporated, increase the speed to medium-low and knead for 6 to 8 minutes, or until the dough forms a cohesive ball that clears the sides of the bowl and becomes elastic.
2.  Turn the dough out onto a work surface and knead a few times, forming the dough into a round ball with a skin stretching over the outside.  Transfer to a lightly oiled bowl, smooth side up.  Cover tightly with plastic wrap.
3.  Repeat the mixing and rounding procedure with the dark rye, adding the dissolved cocoa powder with the other wet ingredients.  Transfer to a second lightly oiled bowl, smooth side up, and cover tightly with plastic wrap.  Let both doughs rise at room temperature until doubled in size, about 90 minutes.
4.  Line a large baking sheet with parchment paper.  Turn out each of the doughs out onto a lightly floured surface, and deflate gently.  Divide each dough into four equal pieces.
Lightly shape each piece into a round ball, and flatten slightly.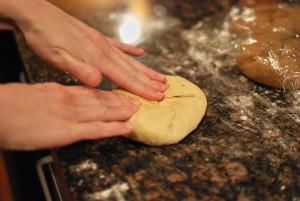 Cover loosely with plastic wrap, and let rest for 15 to 20 minutes.
5.  Working with one piece at a time, keeping the others covered, roll each out with a rolling pin into a flat oval about 5 by 8 inches.  Alternating colors (i.e., first the light dough, then the dark), stack the ovals of dough on top of one another, in two stacks of four pieces each.
6.  Roll each stack up, jelly-roll fashion, into a cylinder, pressing the dough together to seal as you roll it up.
Make sure to seal the final seam well.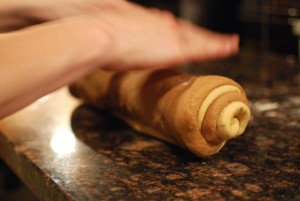 7.  Transfer the dough to the prepared baking sheet, seam side down, and cover loosely with lightly oiled plastic wrap.  Let rise until nearly doubled in size, about 60 to 90 minutes.  Preheat the oven to 350º F, and place a rack in the middle of the oven.
8.  Bake at 350º F for 40 to 45 minutes, or until golden brown and baked through.  An instant-read thermometer should register 190º F when fully cooked.  Remove the bread to a wire rack to cool thoroughly before slicing, at least 1 to 2 hours.
Notes:
1. Feel free to bake this bread in loaf pans; I chose to make mine a little more rustic, and shape them freehand.
2.  If you can't find white rye flour, sift regular (not dark rye!) rye flour twice to get a similar flour.  The results are not guaranteed, but it's the best course of action if you simply cannot find white rye.
3.  Feel free to cut this recipe in half, as it produces two very large loaves.  Alternatively, you could split the dough into more pieces before combining and marbling, making 4 small loaves, or even marble rye rolls.