Week Eight: Crackers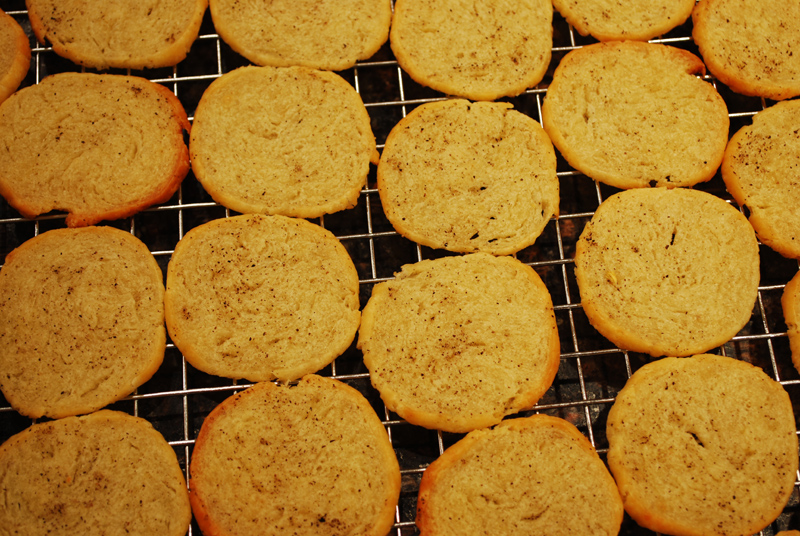 This is another pie-crust-method cracker, like the salt and pepper crackers yesterday.  These, however, are made with butter, so they don't have the help of shortening, that engineering marvel.  But they are filled with all the wonderful flavor of butter; plus, you do have a little help with the texture, in that there's a significant amount of cheese in the dough.
In crackers like this, cheese plays a few roles: it adds flavor, texture, and structure.  The first part of that is obvious; the crackers will taste like whatever cheese you put in them.  Additionally, it helps the texture by shortening the strands of gluten that form when you mix and roll out the dough, reducing any toughness that would result.
And as for structure, the type of cheese you use is important.  Your average block of grocery-store mozzarella would just turn them into globs of grease on your baking sheet.  But if you use parmesan, a wonderful thing happens.  See, when you melt a proper Parmigiano by itself, it turns crisp and crunchy.  This is because of the relatively low fat content of such hard cheeses.  There isn't much fat to melt away and turn into grease, so the milk proteins coagulate (aka "cook"), and basically fry in the remaining fat, turning the cheese light and crispy.  So when you add enough of that sort of cheese into a dough, it just adds a little crispness to the cracker, not to mention the fabulous flavor!
 This is a make-ahead cracker, as it has to chill for some time before you can bake it.  This is not a bad thing, since you can just freeze the dough for as long as you like.  Just thaw a little, slice, and bake – what could be easier?  In my ideal dream freezer, I've got a few different flavor variations at the ready, just in case I need to impress someone in a hurry!  This recipe uses the classic lemon and black pepper for flavoring, but why not try lime and paprika?  Orange and rosemary (ground or freshly chopped) would also be spectacular!  Just be sure to use a good quality cheese, since the flavor is very apparent.
Oh, and don't worry about making them into perfect squares; they'll taste just the same!  But if you really want to, let the dough firm up in the fridge a bit before shaping the log; it'll be much easier that way.
Lemon Pepper Crackers
From The Joy of Cooking
Makes about 44 crackers
1 1/2 cups finely grated Parmesan cheese
3/4 cup all-purpose flour
1 teaspoon finely grated lemon zest
3/4 teaspoon coarsely ground black pepper
4 tablespoons cold butter, cut into small pieces
1 1/2 tablespoons water
1 teaspoon fresh lemon juice
1.  In a bowl, whisk together the cheese, flour, lemon zest, and pepper.
2.  Add the cold butter and cut in with a pastry blender, a food processor, or with quick pinches of your fingertips, until the mixture resembles coarse crumbs.
3.  Make a well in the center and add the cold water and lemon juice.  Stir with a fork just until the mixture forms a dough.  Briefly knead the dough just until combined.
4.  Transfer to a sheet of wax paper or parchment paper and, using the paper as an aid, shape it into a squared-off log, about 11 inches long.  Wrap in the paper and refrigerate until firm, about 1 hour.  (The dough can be prepared up to this point 2 days in advance.)
5.  Preheat the oven to 375º F.
6.  Cut the dough into 1/4 inch thick slices and arrange 1 inch apart on baking sheets.  Bake one sheet at a time until the crackers are golden around the edges, about 10 minutes.  Transfer carefully with a spatula to a rack and let cool completely.   Sprinkle with additional ground black pepper, if desired.
Notes:
1.   I used my wonderful Microplane to grate the cheese and lemon zest.  Since a Microplane will grate cheese ultra-finely, it results in a big, fluffy mound of cheese.  I decided therefore to measure on weight, not volume.  As it turns out, I think I measured too much.  I estimate it would take maybe 4 or 5 ounces of cheese to measure 1 1/2 cups; I used 6 ounces.  My dough was very dry and didn't hold together at all.  I had to add additional water and lemon juice, but the crackers themselves turned out very well.  I'm not convinced, though, that what I produced was what the authors of the recipe intended.  I ended up with a very cheese-y result; not so much a cracker as a pastry.  But it was still very delicious!