Week Forty-One: German Breads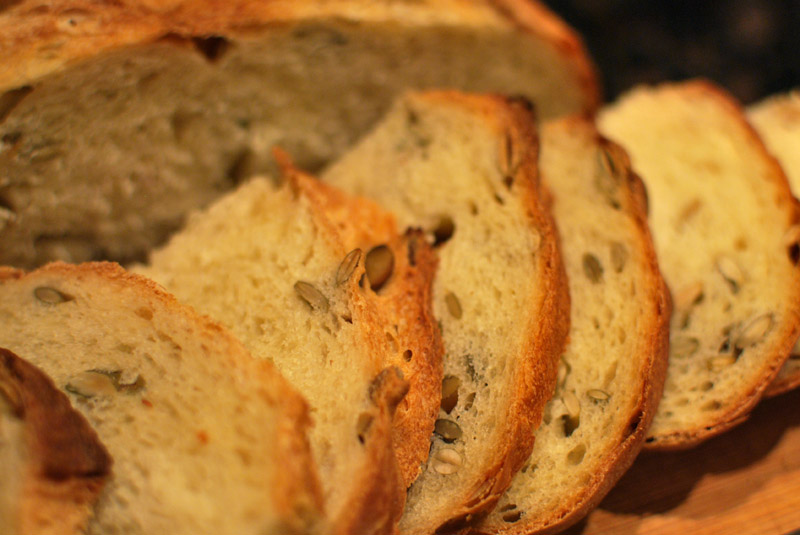 Here we have kürbiskernbrot, or pumpkin seed bread.  When used in bread, pumpkin seeds lend a singular texture.  Raw, they are earthy and more like a nut than a seed; but when toasted, as they are here, they puff up into a multi-layered crispness, airy and extremely satisfying between the teeth.  The flavor becomes somehow more green, with a roasty richness.
I make no claims as to this recipe's authenticity, but I do know that a so-called bread is relatively common in Germany, and the source recipe comes from Jeffrey Hammelman, who spent a significant amount of time baking in Germany.  All the papers seem to be in order; but wholly authentic or not, this bread is a real treasure.
The crust is a little thick, but not unpleasantly so; it provides a good complement to the crunch of the pumpkin seeds that liberally fleck every slice.  The crumb is a little tight, but there are some decently-open holes.  But the real glory of this loaf is the fantastic flavor.  It's not quite like any other sort of bread, mainly because of the pumpkin seeds, but the 12 hour starter also brings a fabulous complexity to the party.  There is the faintest tang of a sourdough flavor, though it is decidedly in the background, and a slight sweetness dissipates as soon as you taste it.  It's extremely good, if I do say so.
This recipe makes enough dough for a smallish loaf, which was actually just at the lower limit of what my stand mixer could manage.  You may prefer to hand-knead, or alternatively, to double the recipe.  Either way, you'll end up with a cheerful little bread, hearty enough to warm you in these newly-cool fall days.  I can't wait to enjoy a fat wedge of it with a bowl of squash soup!
Kürbiskernbrot (Pumpkin Seed Bread)
Adapted from Apple Pie, Patis, & Pâté
Makes 1 small loaf
For starter:
2 1/2 ounces (about 1/2 cup) unbleached bread flour
1 three-fingered pinch instant yeast
1/4 cup water
For dough:
9 ounces (2 scant cups) unbleached bread flour
2 teaspoons kosher salt
2 teaspoons instant yeast
1/2 cup plus 1 tablespoon (4 1/2 ounces) water, at room temperature
1 teaspoon honey
1/2 cup pumpkin seeds, toasted and cooled
1.  To make the starter, whisk together the flour and yeast.  Add the water, and mix until a soft dough is formed, about 2 minutes.  Place in a small container, cover with plastic wrap, and let stand at room temperature for 12 to 16 hours, or until bubbly and risen.
2.  To make the final dough, whisk together the flour, salt, and yeast in the bowl of a stand mixer.  Add all of the starter, the water, and the honey.  Using the dough hook, mix at low speed until combined, about 2 minutes, scraping the bowl as needed.  Increase the speed to medium low and continue kneading for 5 to 7 minutes, or until smooth and elastic (see note 1 below).
3. Add the pumpkin seeds and continue kneading until evenly incorporated, either in the mixer or by hand.
4.  Transfer the dough to a lightly-oiled bowl.  Cover tightly with plastic wrap, and let sit at room temperature for 1 hour.
5.  Using a nonstick spatula, fold the dough over itself, as though you were folding a letter: 1/3 over the center, then the opposite 1/3 over that.  Lastly, fold dough in half again, perpendicular to the first folds (like you're folding the letter in half).  Dough should end up being roughly a square.  Replace the plastic wrap, and let dough rise again for 1 hour.
6.  Lightly oil a large baking sheet, or line with parchment.  Turn the dough out onto a floured work surface, and gently deflate by kneading a few times.  Shape into a round loaf, pulling the outside of the dough into the center, forming a "skin" around the outside of the ball of dough.  Transfer to the prepared baking sheet, seam side down.  Cover loosely with plastic wrap, and let sit at room temperature until nearly doubled in size, about 60 to 90 minutes.  Thirty minutes before baking, preheat the oven to 450º F.
7.  When fully risen, slash the dough decoratively with a sharp serrated knife or razor blade, making a gentle but decisive slash.  Spray or sprinkle the dough with water, and transfer immediately to the oven.  Bake at 450º F for 2 minutes, opening the door to quickly spray with water every 30 seconds.  Bake the bread for an additional 25 to 30 minutes, or until well browned.  An instant read thermometer should register around 200º to 205º F when done.  Transfer to a wire rack to cool completely before slicing.
Notes:
1.  This recipe makes a very small amount of dough, which may not work in a stand mixer. You may find it easier to hand knead this dough, on a lightly-floured work surface.  In this case, the kneading may take around 10 minutes.